San Antonio might not be the first place that comes to mind when planning a beach trip. While the nearest beaches are hours away, there are quite a few options when it comes to water fun in the sun including plenty of natural springs, swimming holes, rivers, and lakes to plan a day of fun. If you still need to get away from the city and want a classic beach, check out a local's guide to the best beaches near San Antonio Texas.
Beaches Around San Antonio Texas
With it heating up outside, it is no wonder people are headed to the beach. Beach accessories are part of what makes going to the beach so much fun, right?  There is plenty of beach gear to choose from.  I've done the work and found some of the very best beach accessories and favorite beach hacks. Check our list beach must haves. 
Mustang Island State Park
Mustang Island was named for the wild horses that roamed the island for hundreds of years. No one is sure how the mustangs got here. Spaniards might have brought them, or perhaps they swam from a shipwreck. In the 19th century, ranches began infringing on the mustangs' habitat. By the late 1800s, the herds of wild mustangs had disappeared from the island.
Mustang Island is 18 miles long and varies from only 3,000 feet wide on the south end to just over two miles wide on the north end. It is part of a chain of barrier islands which run along the Texas Gulf Coast. 
This Texas beach driving distance from San Antonio is part of the Texas State Parks. At this beach, there are a few tables and benches, restrooms, and an area you can spray off. You need to make a reservation online to make sure it doesn't sell out before you get there.
How far away is Mustang Island State Park from San Antonio? It is roughly 165 miles or 2 1/2 hrs.
Malaquite Beach and North Padre Island
Malaquite Beach is also know as North Padre Island. It is often mistaken for South Padre Island. In fact these two beaches are 100 miles apart from each other and there is no way to drive from one to the other on the beach. Padre Island National Seashore is a national park located just outside of Corpus Christi that includes about 70 miles of undeveloped beaches and natural habitat.
Malaquite Beach is one of my favorite beaches as you can drive your vehicle on the beach. There are also plenty of restrooms, spray off sections, and a visitor center.
How far away is Malaquite Beach and North Padres Island from San Antonio? It is roughly 171 miles or 2 1/2 hours.
Port Aransas Beach
One reason people come to Port Aransas is to enjoy the 6.3 miles of beach along the warm waters of the Gulf of Mexico. This is an active public beach scene that is popular for swimming, bodyboarding, and enjoying the relaxing waves coming in off the Gulf of Mexico. This is a nice beach for families since it is so centrally located and there are lifeguards on duty.
Parking a car on the beach requires a $12 annual sticker that can be purchased at City Hall. At this beach there are porta potties.
How far is Port Aransas from San Antonio? It is roughly 178 miles or 2 1/2 hours away.
North Beach Corpus Christi
Corpus Christi is an coastal city in South Texas. North Beach Corpus Christi is one of the most well-known neighborhoods in the area. At North Beach you can feel the breeze on your face as you stroll the 1/5 mile long beachwalk and wade into the bay. Anchored off this beach is the USS Lexington Museum and the Texas State Aquarium.
This beach is on the bay side of Corpus Christi. You will get a few waves, but if you're hoping for a sea horizon as far as you can see than try Rockport Texas Beach, Mustang Island, North Padre Island, or Port Aransas Beach.
How far is North Beach Corpus Christi from San Antonio? It is roughly 145 miles or a little over 2 hours away.
Rockport Texas Beach
Rockport Beach is near Port Aransas, San Jose Island, and Copano Bay. This is a very kid friendly beach as there is a playground, volleyball nets, etc. The waters at this beach are usually calmer than other beaches which is why it is considered such a kid friendly beach.
There is a $10 daily fee to use this beach. No dogs are allowed on this beach as it is a bird sanctuary. However dogs are permitted on a leash at a small beach area just outside the entrance.
How far is Rockport from San Antonio? It is roughly 161 miles away or a 2 1/2 hour drive.
San Jose Island
San Jose Island is a private island that was historically a ranch, but is managed principally for wildlife. The island is home to some of the best birding and saltwater fishing in the south.
There is a short 5 minute ferry ride from Fisherman's Wharf in Port Aransas to the island which is around $15 per person. This Texas beach is perfect for finding shells as there are tons of seashells, sand dollars, starfish, angel wings that wash up on shore. Crowds are limited and the shells make it for a great day at the beach.
How far is San Jose Island from San Antonio? It is roughly 178 miles or 2 hr 30 min away.
McGee Beach
McGee Beach stretches along the Corpus Christi Bay in the downtown area. This beautiful hideaway hosts the perfect destination for fishing, swimming and more because the waves don't reach the shore.
Enjoy the soft sands and minimal seaweed with a concession stand and restaurant nearby. There isn't a fee to use this beach either. Public restrooms are nearby and parking is close to the beach.
How far is McGee Beach from San Antonio? It is roughly 145 miles or a little over 2 hours away.
South Padre Island
South Padre Island is definitely one of those destinations you must go to. It is the subtropical southernmost part of the world's longest barrier island on the Gulf of Mexico at the Texas/Mexico border. Located 2 miles off the southern tip of Texas, it is connected to the mainland by the Queen Isabella Causeway.
South Padre Island is the finest coastal resort in Texas, with beautiful beaches, tall sand dunes, and warm clear clean Gulf waters. There are also plenty of things to do in South Padre Island that aren't on the beach as well including dolphin tours, a lighthouse, and more.
How far is South Padre Island from San Antonio? It is roughly 297 miles or 4 1/2 hours south of San Antonio.
Galveston Island Park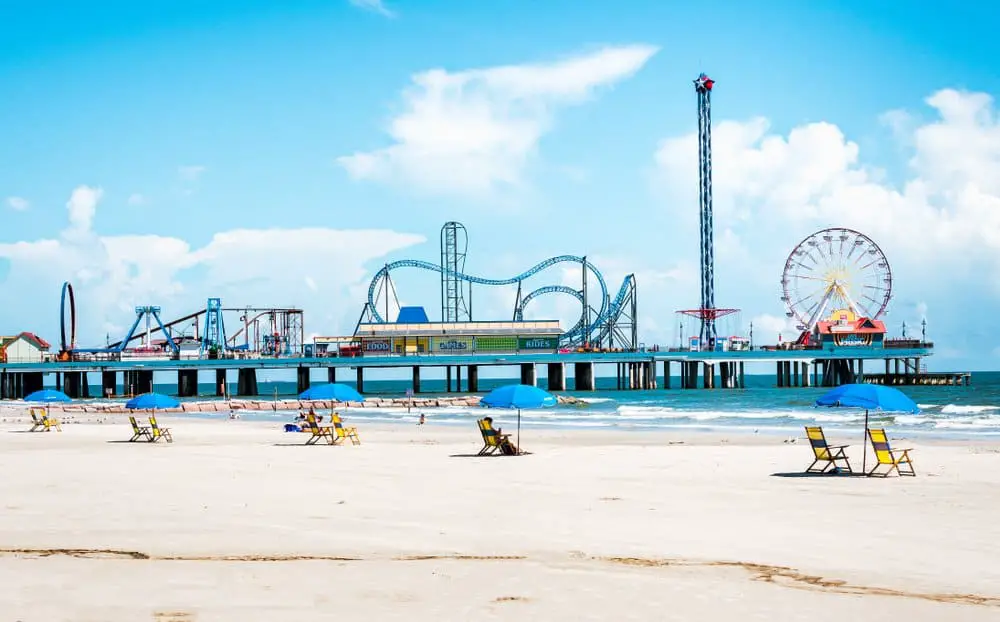 Galveston Island State Park is a great place to enjoy the beach, the gulf, and the bay. Many people that visit the park come to spend time on the beach and to camp. 
Galveston Island State Park protects 2,000 acres of upper Gulf Coast barrier island ecosystem. These natural areas are important for conservation and attract a wide variety of bird species, especially during the spring and fall bird migrations.
There is an entrance fee to go to Galveston Island Park. Once your done at the beach you can drive down to the Galveston Island Historic Pleasure Pier to ride the Ferris Wheel and see other attractions.
Galveston Island Park from San Antonio? It is roughly 258 miles or 3 hrs 56 min.
Jamaica Beach Texas
Jamaica Beach is calm, beautiful, and clean with fine brown sand, good for children's games and building castles. The water is clean and saltier than on the nearby beaches.
Jamaica Beach is located off the southeast coast on Galveston Island, Texas. It is roughly 262 miles or 4 hr 14 mins from San Antonio.
Matagorda Beach
Matagorda Beach has endless miles of beach. Here you can search for hidden treasures like sand dollars and seashells. 23 miles of the beach east of the Colorado River is open to vehicles. The remaining 35 miles of beach is west of the Colorado River and only accessible by boat, kayak, canoe or other watercraft. 
There are two entrances to Matagorda beach and both have an access fee to use this beach. This beach is great for swimming, but you always want to check the rip tide conditions before you get there.
How long does it take to get to Matagorda beach from San Antonio? It is roughly 209 miles or 3 hrs 20 mins.
San Antonio Beaches
As a local to San Antonio, going to the beach is one of the things we love to do. Although the beaches are a few hours away, they are definitely worth the day trip and the memories you will create with your friends and family.