Traveling can be one of life's great pleasures, whether you're alone or with friends and family when done well. But what does it mean to travel well? Avoid hassle, pack a single bag, and bring only the necessities. We've put together a list of the affordable, best travel gear for women who love to travel. These could be mothers, sisters, girlfriends, wives, or friend.
Check out some of out City Guides to help schedule your next trip.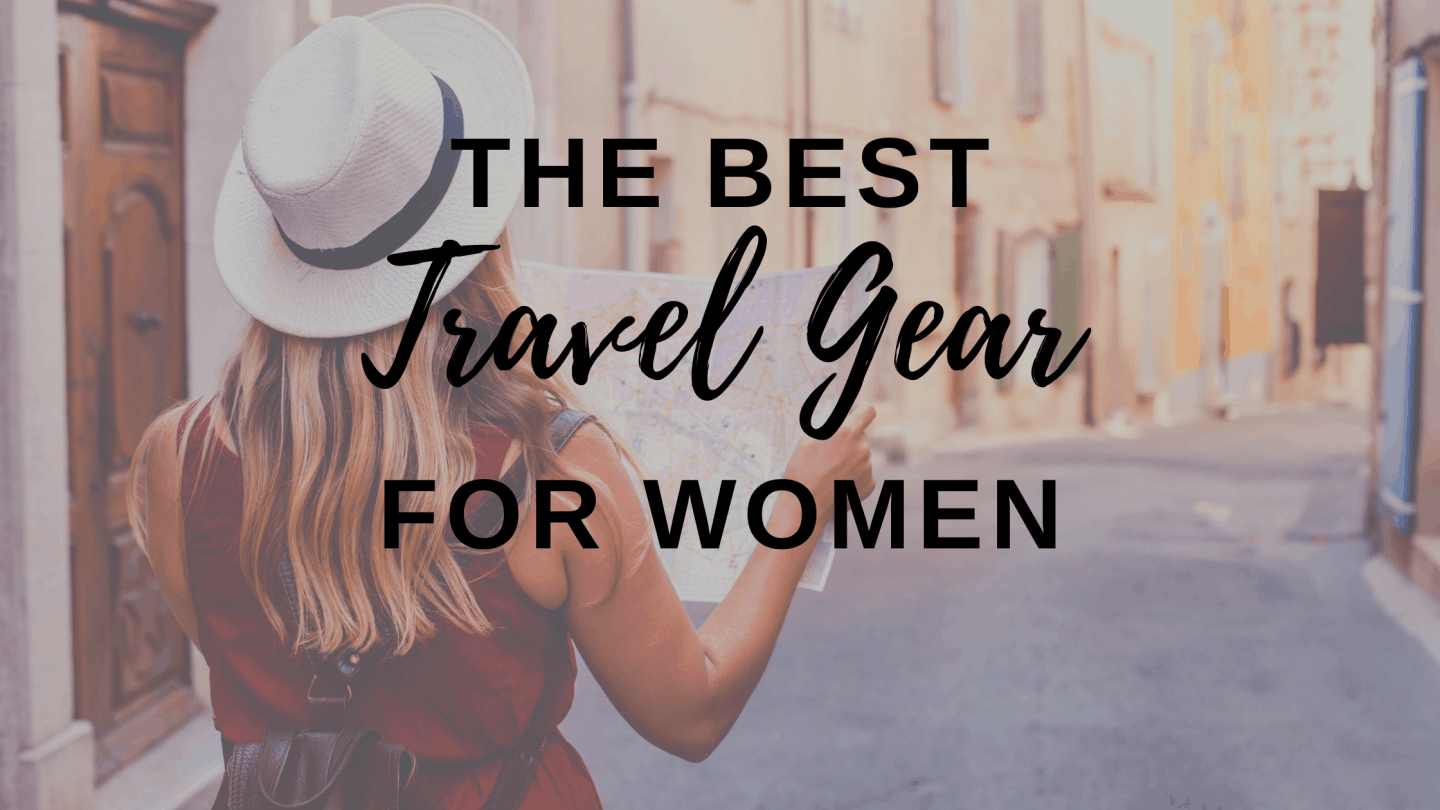 20+ Best Travel Gifts for Women
1. Scarf
A scarf is a great gift for women who travel and will her warm in the cold airports and airplanes. I love that this scarf has a hidden pocket to hold a smartphone, passport, or money when traveling.
2. Journal
I love to write down my thoughts as I travel. A journal is a great gift for any traveler who still prefers to jot notes and thoughts down as I do. The travel quotes in the first book are full and full of inspiration.
3. Suitcases
A suitcase is a very practical gift for a traveler. They might already be in need of a new set. There are some great affordable, quality ones. This time is the perfect time to snag one at a great price.
4. Headphones
Noise cancelling headphones will ensure she always has a peaceful and comfortable flight. Bose headphones are the most popular, but there are more affordable headphones available
Not only do these books made great coffee table books, but can also serve to inspire future travel or are great reads while traveling.
One of the best, more practical gifts you can give a traveler is an external batter to recharge their phone when they don't have access to an outlet. These chargers are small, come in a variety of colors, and are perfect for any women traveler.
A universal converter is a MUST for anyone who travels overseas.
Keep identity theft at bay with these stylish travel wallets that come in a variety of colors. She will love this best travel gear for women.
Everyone knows how dry the air is on airplanes.  Frequent flyers will love this gift set which comes with travel sized lip balm and other lotions to moisturize in flight.
The Instax mini camera makes for a fun travel gift. It also comes in a variety of colors.
Best Gear for Women Travelers
11. Makeup Bag
I love that you can hang this travel makeup bag up. It also has separate compartments to keep everything organized and easy to grab which makes it one of the best travel gear for women.
12. Waterproof Case
Don't let a wet smartphone ruin her vacation. This waterproof case will keep her phone dry when she is at the beach or pool.
I absolutely love my tripod/selfie stick. It makes taking pictures a breeze when I am traveling by myself. It fold us nicely and will fit in her suitcase.
14. Ereaders
Ereaders are the best for women who love to read while they travel.
15. Luggage Tags
Luggage Tags are great stocking stuffers for women who love to travel. There are a lot of options and you can also find ones you may customize, to make it even more personal. 
16. Door Stop Alarm
If the woman in your life travels solo this door stop alarm will help keep her stay safe by preventing intruders from entering into her room. She can put this under her door and it will prevent door from opening and activate a loud alarm.
There is nothing more that travelers love than free travel. If your loved one flies on Southwest (our favorite airline for flights in the US) check out their gift card for the best travel gear for women.
She will never pack another way again. These packing cubes are the best travel gear for women for getting everything you need in the suitcase and keeping everything organized.
Help pay for her trip, buy getting a gift card for her accommodations. Both gift cards can be purchased in different amounts so they are perfect whatever your budget.
The travel size hairdryer is the perfect size. It makes it easy to pack your own hair tools and not worry if you destination will have one available or not.
Packing Like A Pro: 10 Family Vacation Packing Tips
Disclaimer: We are Amazon associates which means we earn a commission if you purchase through our Amazon links. At no extra cost to you. Our commission is super tiny, so buy local if you can, but if you can't we appreciate the pennies.
Pack with a Purpose
If you know you're getting off the plane and going straight to dinner or a meeting, plan your outfit and put it into your suitcase last. That way, when you arrive, you won't have to dig through everything else to find it. Putting the items you'll need asap in easy to grab spots will save you time. 
Bag Your Liquids
You know the drill: Stash any liquids you want to keep in your carry-on bag in a separate, clear bag so you can easily pass through security. Not sure which liquids you can bring on the plane? Remember TSA's 3-1-1 liquids rule: Products must be 3.4 ounces or less and they all must fit in a one quart-size bag.
Bag Your Shoes
I like to bag our shoes with nice shoe bags .  Our shoes are covered with germs and are just dirty.  I find bagging our shoes helps keep our clean clothes from getting dirty. 
Also try to go lightweight with shoes.  Ditch the heels you might wear for one fancy night out and instead opt for dressy sandals that are comfortable enough to wear while sightseeing as well. Or pack a pair of all-purpose sneakers that can easily go from day to night.
Corral Your Jewelry
The last thing you'll want to do when you arrive at your destination is detangling your jewelry.  Kathy Roberson from Travel + Leisure says, "Buy 'snack size' plastic bags for packing necklaces. To prevent tangling, give each one its own bag and fasten the clasp." 
Roll Your Clothes & Pack the First
This is one of my favorite vacation packing tips – the best way to prevent creases and make the most of your space is to use the roll method. Lay tops facedown, fold in the sleeves and roll from the bottom up. For pants, put the legs together and roll from the waist down. Once you've rolled everything, place pants and tops in your suitcase before shoes and accessories; then, fit in other oddly shaped items like hair tools.
Use Packing Square
We love to use packing cubes when traveling.  These blocks keep your suitcase organized and stack together easily — no more trying to fit in oddly shaped items like a puzzle. Plus, the durable cubes are lightweight and thin so you won't lose any precious suitcase space.
Pack Your Steamer
Despite your best packing efforts, some wrinkles and creases are inevitable. Pack a steamer like the HiLife Steamer or a travel iron like the Steamfast SF-717 Mini Steam Iron for quick touch ups.  
Plan to Wash
You can wash and wear just a handful of outfits for the duration of even very long trips. If you're staying in a hotel, call in advance to see if laundry services are available and how much they cost. 
If a laundry service is unavailable carry a bar of laundry soap and wash soiled items at the end of the day in your hotel room sink. Now lay out a bath towel, put the damp item, that you've wrung out thoroughly, on the towel. Tightly roll and press the towel; it will absorb even more water leaving the item barely damp so that by morning if hung in a well ventilated place, it'll be dry and ready to pack or re-wear.
Avoid Over Packing or Under Packing
I know this might be hard especially when kids are involved.  When traveling with kids pack everything you'd like to take with you, and then remove half of it.  This will help you figure out what you actually need for a trip and just bring the essentials.  
Once you have empty spaces.  You can fill empty spaces with dry cleaner bags (and fill them later with mementos from your trip). It's important not to over-pack either it can make it extra tricky to repack when you're going home — or heading off to another spot.
Have a Ready to Go Health Kit
I find that it is inevitable that someone will not feel well when traveling.  For this reason, I keep a toiletry bag ready to go stocked with Band-aids, Neosporin, pain relievers, cold medicine, medicine for stomach trouble, itch relief ointment, antibiotics (you can ask your doctor for an emergency prescription before you travel), etc. If you never have to use it, all the better, but its great to be prepared.  Check out this well equipped Health Kit for an example.
Pinterest Pin for Best Travel Gear for Women