Sometimes it is nice to relax and let someone else do the cooking. It is easier to relax when the kids are out of your hair, having fun, and playing as well. San Antonio has plenty of great restaurant complete with playgrounds, scenery, fun kid activities, and more. Check out the list we have found of the BEST San Antonio restaurants with outdoor playgrounds.
This list includes kid-friendly restaurants in the San Antonio, Texas area. These restaurants include restaurants with playgrounds, restaurants with family-friendly entertainment, and restaurants featuring kid-friendly activities. That way you can enjoy your meal and let the kids enjoy their time too.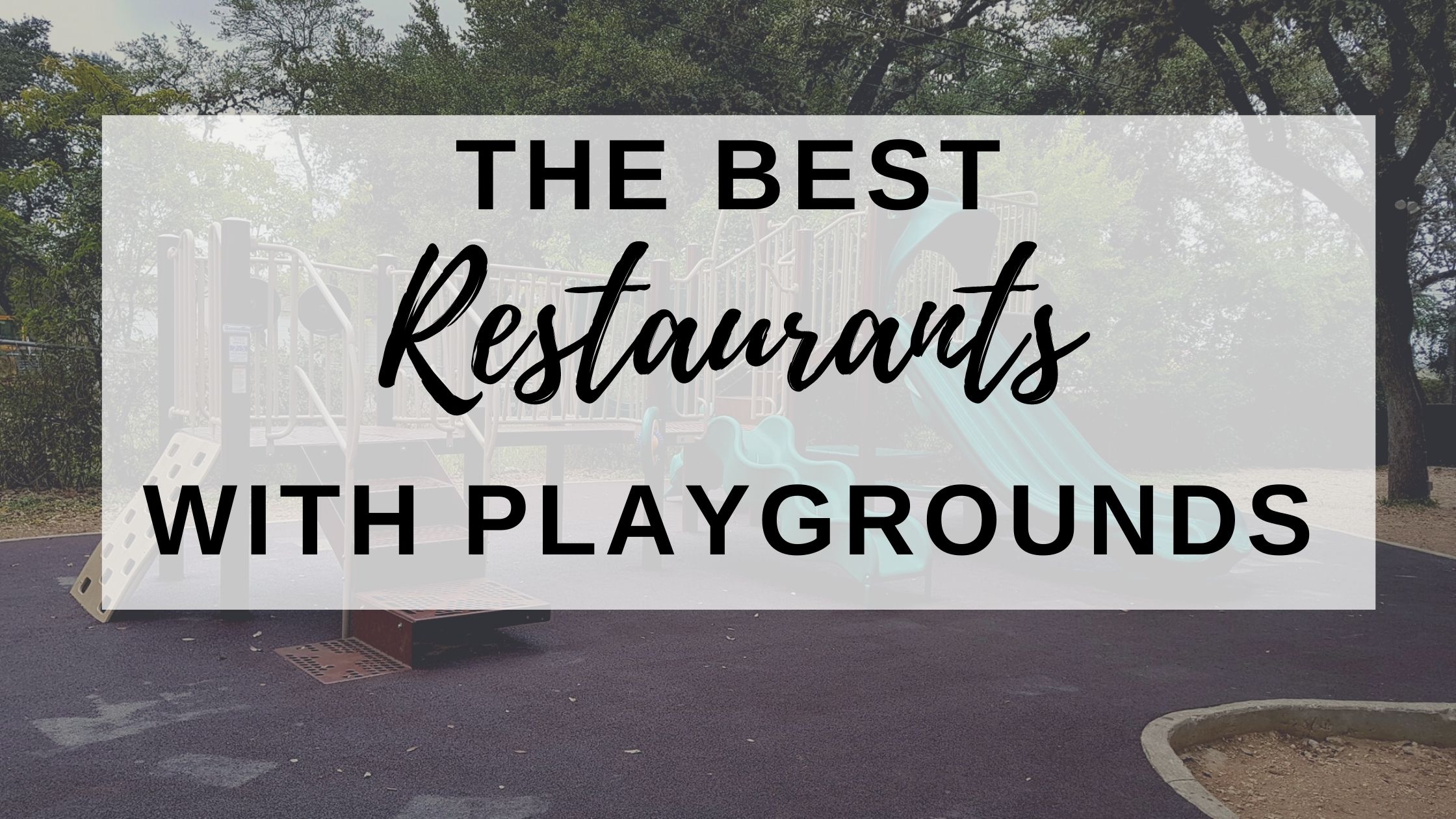 TIP: As restrictions start to lift, please note that some of the playgrounds might not be open just yet. Check with your wait staff for current openings.
San Antonio Restaurants with Playgrounds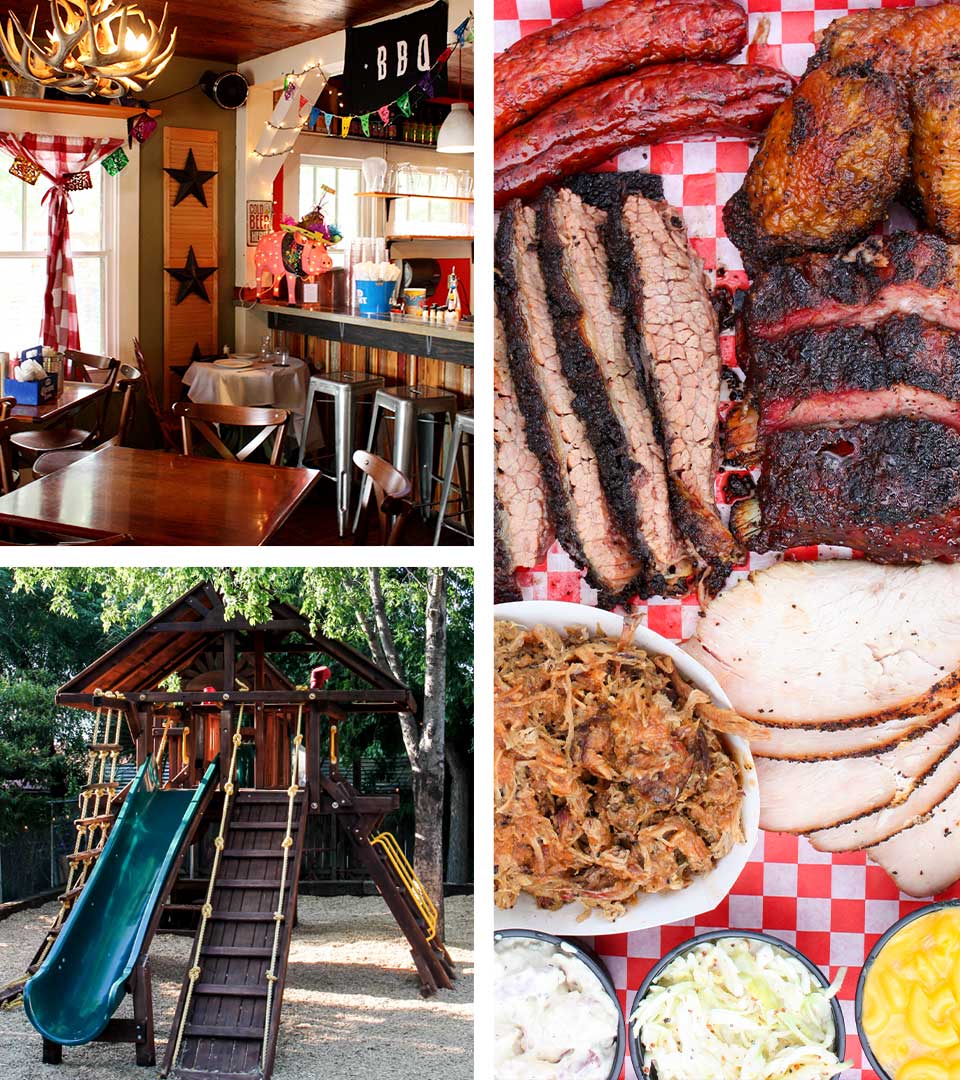 Alamo BBQ
Their large outdoor playground, live music weekends and great family-friendly Texas BBQ makes a welcoming atmosphere for all to enjoy Alamo BBQ Co. offers indoor seating and a large tree-covered outdoor patio.
Alamo BBQ Company is a popular classic Texas barbeque restaurant. It has numerous family-friendly amenities and a large menu, making it one of the best restaurants for kids in San Antonio.
Location: 511 E. Grayson, San Antonio, TX 78215
Alamo Cafe
This Alamo Cafe location has a great outdoor area where the kids can hang out, and run around. Their service is quick as well.
At Alamo Cafe, they believe in celebrating every moment by bringing the fiesta to every table. You will just love this top family friendly restaurant for their great service and delicious food.
There are 2 locations:
14250 San Pedro Ave San Antonio, TX 78232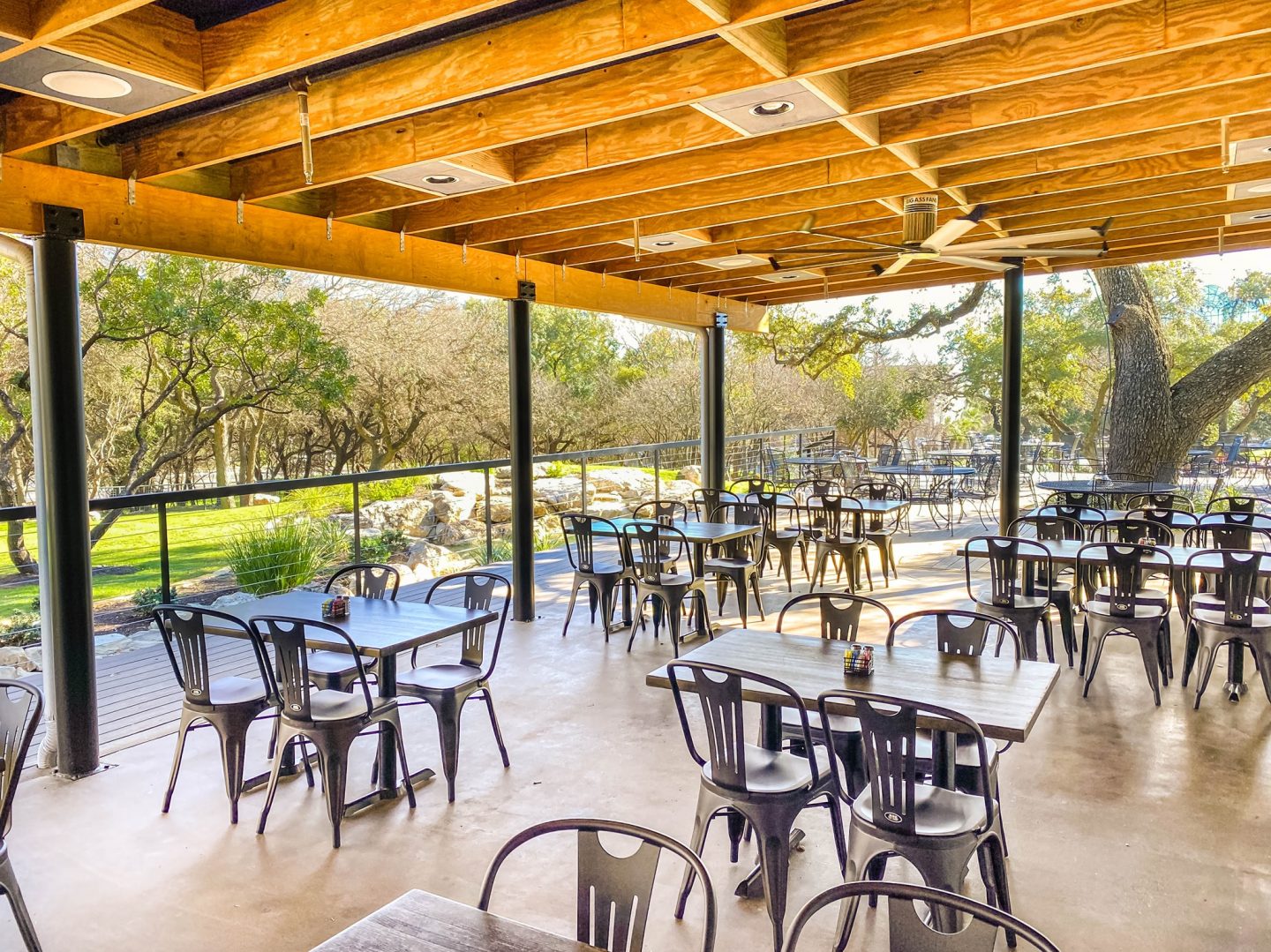 Perico's
At Perico's you'll find good food, good drinks, great patio, and the kids love the playground. You can have a margarita and relax while they play.
https://www.pericosgrill.com/home
Location: 10820 Bandera Road., San Antonio, TX 78250.
The Friendly Spot Ice House
This spacious outdoor bar and grill. This San Antonio restaurant also has a playground for kids. Your kids will love playing while you sit back and relax.
Location: 943 S Alamo St, San Antonio, TX 78205
The Cove
The Cove is a fantastic family-friendly restaurant that welcomes numerous locals and tourists alike.
f you want to dine at a more healthy restaurant serving organic dishes that even your tykes will love, The Cove is your best choice. This restaurant features organic alternatives to your favorite food, like nachos, tacos, burgers, grilled cheese, and much more. 
As you eat, you can watch live music performances as your youngsters will have a grand time playing at a large playground.
Location: 606 W Cypress St San Antonio, TX 78212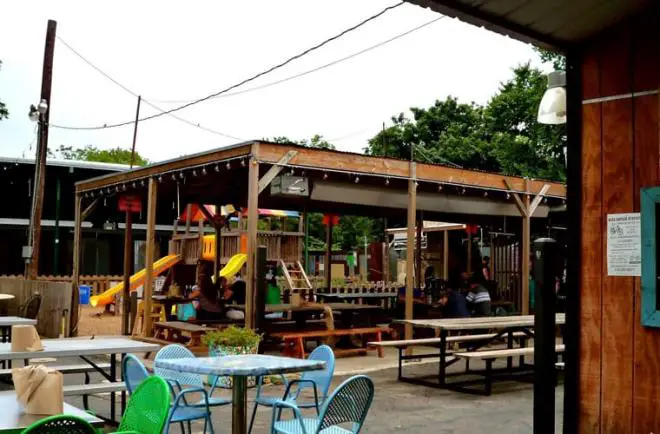 Blanco BBQ
Enjoy authentic Texan barbeque at Blanco BBQ. This San Antonio restaurant with playgrounds is one of the best on our list. It is in a wonderful location for you to enjoy warm, freshly cooked meats. You can dine indoors but, if you want some fresh air, there are outdoor tables right by the play area, so you can watch over your kids as you eat.
Your children can enjoy meals from a kid-friendly menu and keep themselves well-entertained by having fun at the playground.
Location: 13259 Blanco Road San Antonio, TX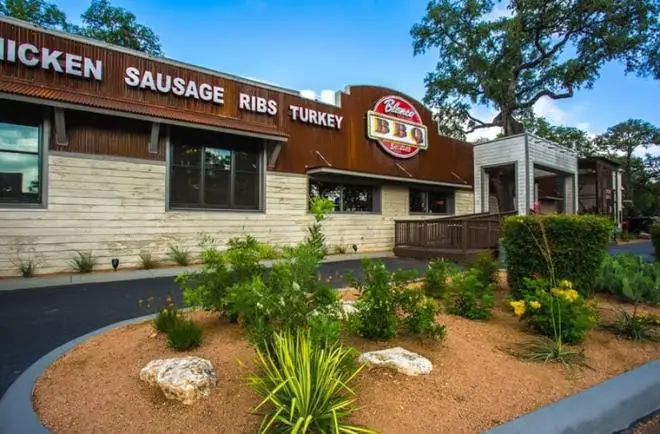 La Hacienda de Los Barrios
La Hacienda has become a landmark of Tex-Mex cuisine in north San Antonio. Drawing upon award-winning recipes perfected by Viola Barrios, they offer a variety of home-style dishes.
Their shady patio backs up to a huge outdoor playground. Their huge oak trees and twinkle lights will provide a fun, relaxing ambience and family friendly environment. It is a great place to eat and let the kids play.
https://lahaciendabarrios.com/
Location: 18747 Redland Rd, San Antonio, TX 78259
Family Friendly Restaurants in San Antonio
Tycoon Flats
Come on down and enjoy the best burgers in San Antonio that are chosen from our great selection while you cool off in the shade of our Beautiful Beer Garden and enjoy the Fabulous Food and Great Drinks.  They also serve many other house specialties from our Famous Fish Tacos and Fried Pickles to our Awesome Paninis, Soups and Salads.  Bring the family and enjoy a Family Friendly Restaurant in San Antonio with a play area for the kids right in the beer garden.
Location: 2926 N. St Mary's San Antonio TX
Two Bros BBQ
One of the best kid friendly restaurants in San Antonio, TX, is the Two Bros BBQ Market. Here, you can enjoy an authentic Texan experience as you eat mouth-watering juicy meats, listen to western music, and drink refreshing cold local favorite beverages.
Two Bros BBQ Market also has kid-friendly options that your children will love. After they finish eating, they can have a wonderful time playing in one of the biggest outdoor playgrounds in San Antonio. The playground has two slides, a sandbox, a bocce ball court, and tons more. Which is one reason why it made it to our list of the Best San Antonio restaurants with playgrounds.
http://twobrosbbqmarket.com/
Location: 12656 West Ave San Antonio Texas 78216
Beto's AltMex
Beto's is a fun, eclectic, healthy alternative to the city of Tex-Mex. All of their recipes are made in house with thoughtful steps to ensure the best possible outcome.  
This family friendly restaurant has an awesome patio with a playground for the kids plus an outdoor TV for the parents.
Location: 8142 Broadway St San Antonio, TX 78209
Longhorn Cafe
Longhorn Cafe is known for their juicy, delicious burgers. Each location has different amenities, such as playgrounds, patios, arcade games, etc. They are all kid friendly. Your family will have a great time at this San Antonio restaurant with playgrounds.
https://www.thelonghorncafe.com/
Location: 9 locations in San Antonio. Check out their website.
Chicken & Pickle
Be prepared to spend a fun time at this kid friendly restaurant in San Antonio. Chicken and Pickle is a new indoor/outdoor entertainment complex that includes a casual, chef-driven restaurant and sports bar that boasts pickleball courts, a variety of yard games and enough space to kick back and relax with your favorite peeps.
https://chickennpickle.com/san-antonio/
Location: 5215 UTSA Blvd San Antonio TX 78249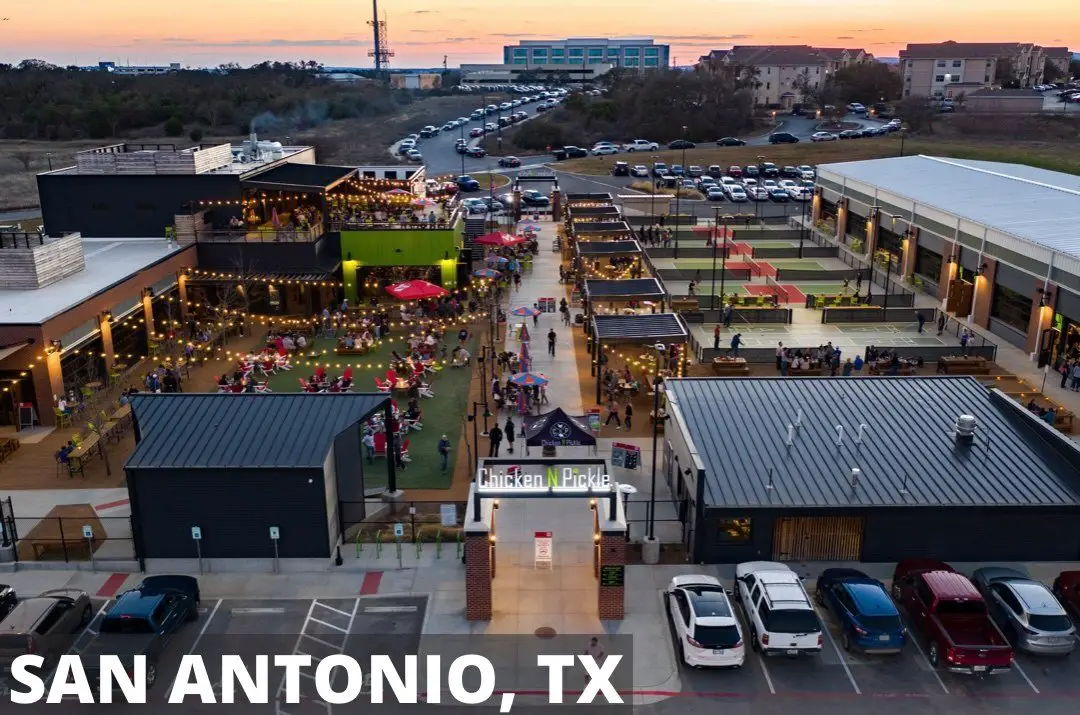 Bigz Burger Joint
Big'z is a great place for parents to sit back, enjoy home cooked delicious burgers, and watch their children play. Join them for evenings of fun for the whole family. Be sure to bring some balls or frisbees. Bigz Burger doesn't have a playground, but has an open space to run, play and be together.
https://www.bigz-burgerjoint.com/
Location: 10106 Hwy 151 San Antonio TX 78251 or 2303 N Loop 1604 W San Antonio TX 78258
Viola's Ventanas
Where families can come together around one table, and children can play on a playground. Viola's Ventanas has become a landmark of Tex-Mex cuisine in northwest San Antonio. Drawing upon award-winning recipes perfected by Viola Barrios, they offer a variety of home-style dishes. 
Viola's Ventanas is a great family friendly restaurant with a huge patio and bar for outdoor seating along with a good size playground for the kids. You can't go wrong going to this San Antonio restuarant for kids.
https://www.violasventanas.com/
Location: 9660 Westover Hills Blvd San Antonio, TX 78251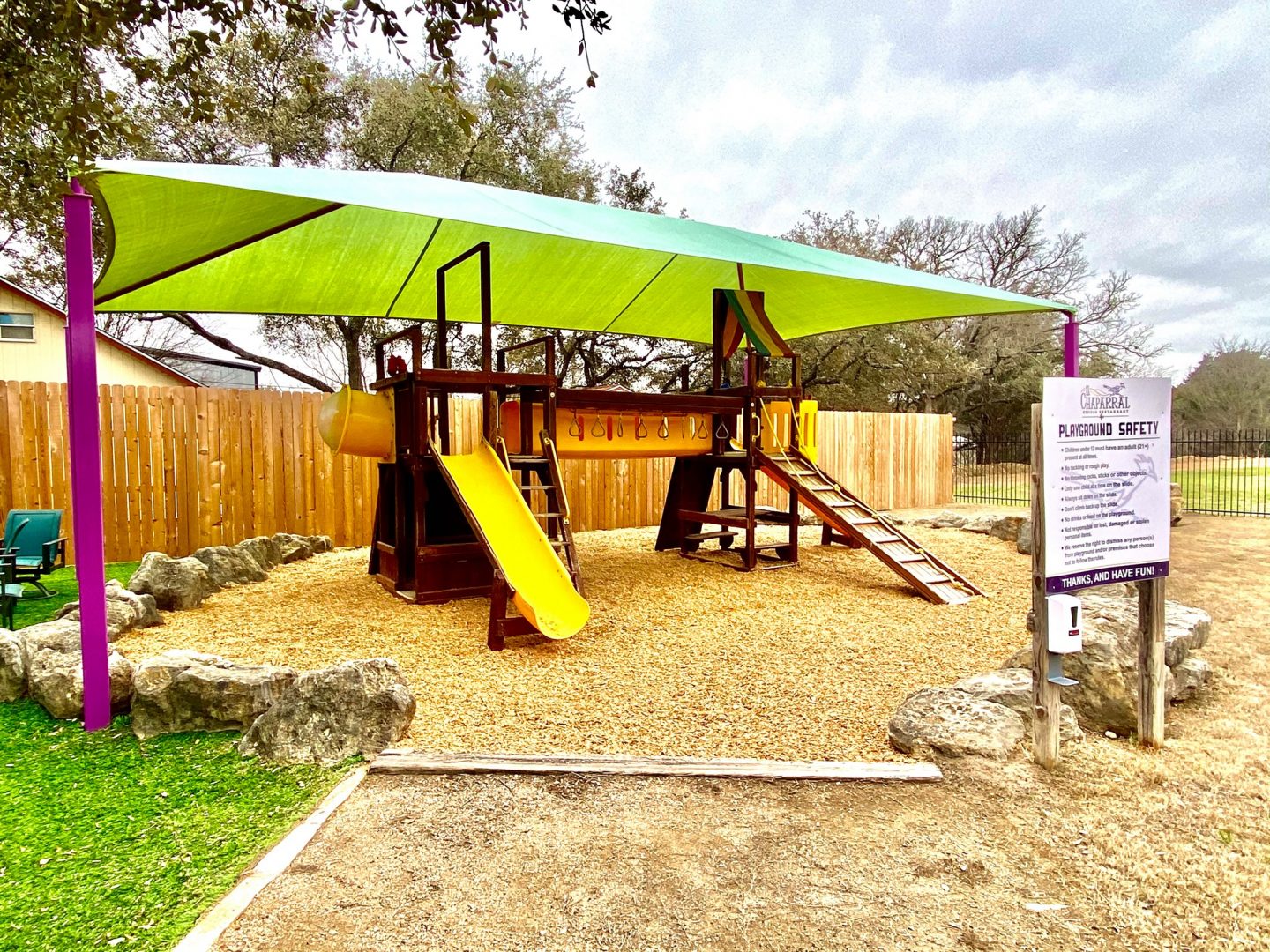 El Chapparal
El Chapparal is a charming authentic mexican restaurant located in Helotes Texas. They have great patio seating and a huge playground for the kids.
2 Locations: 15103 Bandera Road, Helotes TX and 2838 N Loop 1604 San Antonio TX
B-Daddy's BBQ
Enjoy some of Texas' finest BBQ in the quaint small town of Helotes. Sit outside at their picnic tables while enjoying live music. The kids can play on the playground and enjoy the time outside.
Once you're done, take a stroll down to the historic downtown Helotes for antique shopping and amazing gelato.
http://www.bdaddysbbq.com/
Location: 14436 Old Bandera Rd, Helotes, TX, 78023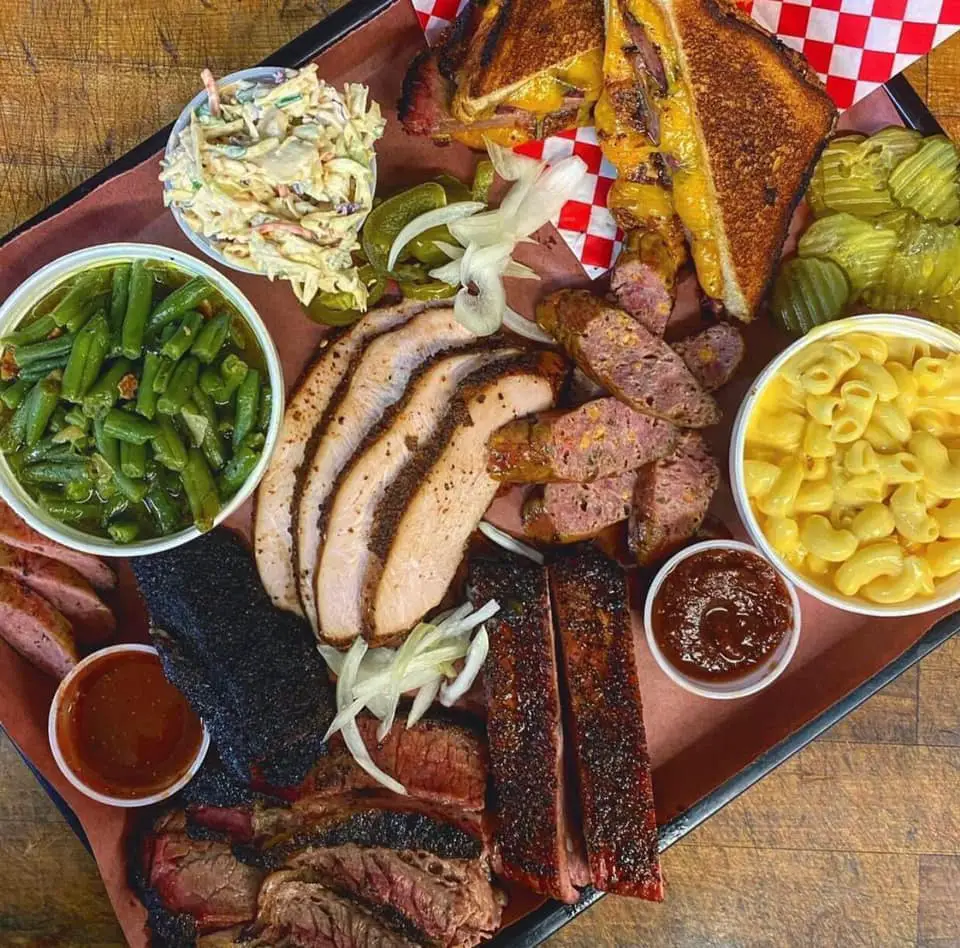 We hope you enjoy this list of fun family friendly restaurants with outdoor playgrounds and play areas in the San Antonio area. These businesses are a great way to enjoy each other's company, eat amazing food, and create those memories together. Enjoy!
Pinterest Pin for the Top Kid Friendly Restaurants in San Antonio