A balloon garland is an easy way to make a big impact for any kind of party! The best part about balloon garlands are they're actually incredibly simple to make. This easy balloon garland tutorial will help you find out how to make a balloon garland in less an an hour.
This inexpensive garland backdrop is a simple DIY project that adds major impact to your party. A bag of purchased balloons and a strip of balloon garland tape transform into a gorgeous party garland in under an hour!
Also check out how to make a Giant Mosaic Balloon Number to add more fun to your party.
Materials Needed For the Balloon Garland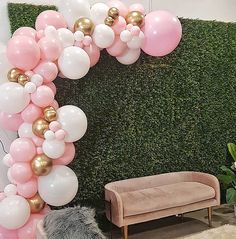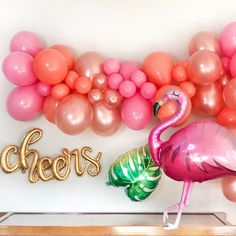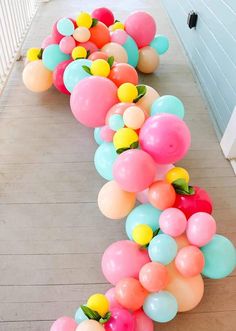 How to Make a Balloon Garland Without a Plastic Strip
You can create a DIY balloon garland without using a decoration strip or plastic strip. Instead you can thread baker's twine through a needle and pull the needle through the tail of the knotted balloon. If you go that route, you'll need to space out your balloons by eye.
You also can skip the needle and just tie the twine around the knots in your balloons, but again, you'll need to manually manage the spacing.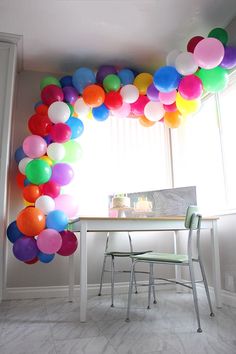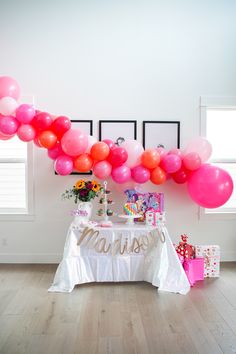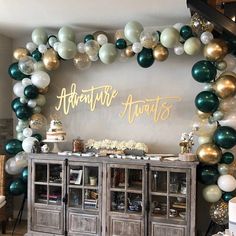 How to Make a Balloon Garland with Decorating Strips
Go all-out for your next party with a DIY balloon garland. Now that you have all your supplies, it is time to make this garland. We'll show you how to make a balloon garland in under an hour—it's that simple!
1. Blow up balloons
Start with a few packages of balloons that match the theme of your party. Blow up the balloons with your hand pump or electric balloon pump. We found that blowing the balloons only two-thirds of the way up made it easier to attach them to the garland—be careful not to over-inflate!
If you plan on adding flowers or greenery keep the balloons small enough that the added flowers or greenery don't get lost.
2. Attach balloons to decorating strip
Cut a strip of the tape that measures the length you want the finished garland to be. Starting at one end, pop the tied openings of the balloons through the small holes in the tape, alternating colors and sizes of balloons. Don't stress about the pattern. Just fill it up and remember you can always manipulate them to lay differently when you hang it up.
Be sure to leave out about 5-10 of the smaller balloons for filling in gaps. When the garland is full, it's time to hang it and add the embellishments!  
Just a note, you can always easily remove balloons if you find it to be difficult to attach it to the wall.
3. Set up command hooks & Attach the Garland to the Wall
Follow the instructions for the command hooks and apply them to the space you want to hang the balloon garland. To hang the balloon garland, tie a long piece of string to each end, and use the strings to tie the garland to the hooks. 
4. Fill in holes
Once it's up, use balloon glue dots to attach leftover balloons into spaces with holes. Make sure you don't try to pull off the balloon after it's set! I've done that a few times and it's popped the balloon. Balloon glue dots can be a hassle to use. Try to put one glue dot near the knot. Attach this toward the inside of balloon so you won't see the knot sticking out.
This is also the time to add in your decorative flowers, greenery, or other decor to make your garland pop!
Balloon Garland Frequently Asked Questions
How Long Does a Balloon Garland Last?
A garland lasts at least a week, so no need to stress yourself creating it day-of your party; it can totally be prepped days in advance.
How Do I Attach the Garland to the Command Hooks?
 If you're having trouble attaching the balloon arch by using the strip, attach some bakers twine (or fishing line or something similar) to the end of the strip in a loop and attach the loop to the hook.
How Many Balloons Do You Need?
The number of balloon you need depends on the size of the balloons you're using and the space that you are decorating. For this project, I typically use around 100-120 balloons. It is always better to have too many balloons than not enough. I would plan on getting between 100-150 balloons.
Do You Need Helium for Balloon Garlands?
No, they don't use any helium. That is what the balloon pump is for. A balloon garland uses regular air.
What is the Best Type of String to Use?
If you are going to make a balloon garland using string, we suggest to use 0.5 mm Nylon line (also known as fishing line or monofilament) for this type of balloon arch and/or garland.
It is Hard To Make a Balloon Garland and Balloon Arch?
No, it is actually incredible simple. Hopefully this tutorial give you all the help you'll need to create a breath taking balloon garland and balloon arch.
Color Combination Ideas for DIY Balloon Garlands
Coordinate colors for a birthday party balloon arch to match the theme of the party, or here are some other balloon arch color combo ideas for other events:
a girl baby shower: pinks, peaches, whites, and golds
a boy baby shower: shades of blue and white and silver for a boy
a wedding shower: champagne, white, ivory, gold – super subtle and chic