This summer throw your favorite canine pals, a fun pool party. Our puppy friends can get the same amount of fun from splashing around with friends, running in the sprinklers, and enjoying yummy treats by the pool. Get inspired with these awesome, unique dog pool party ideas for your next summer party.
You can also check out our Ultimate Guide to Throwing a Birthday Party for your favorite pup for more party inspiration.
Fun Puppy Pool Party Ideas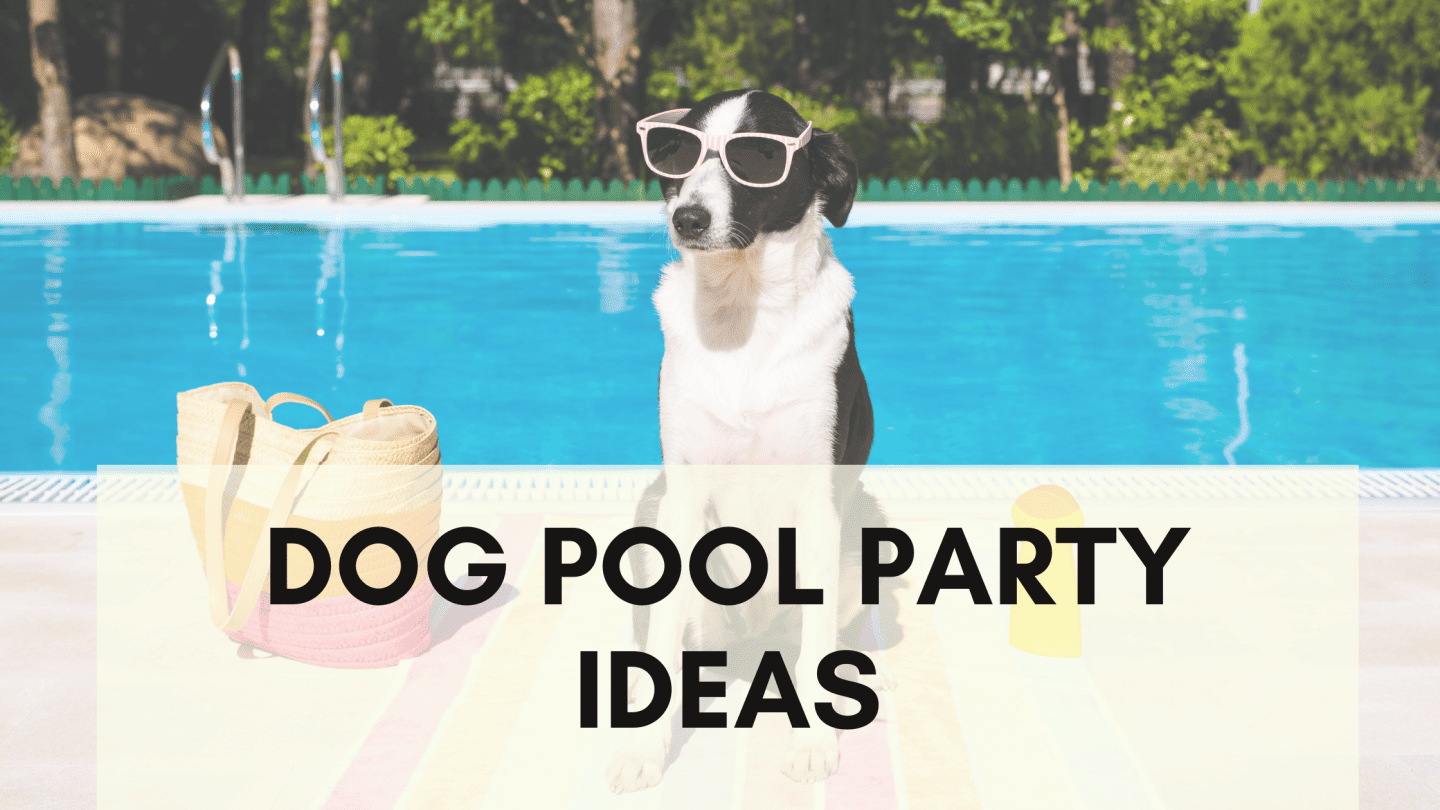 Dog Water Toys
If you're hosting a puppy pool party, you can begin by having some fun, interactive pool toys for epic water play. These toys could include your dog's favorite ball or toy along with some squeaky toys that are great to get wet. For instance, you can get some canvas ones from Amazon or your local store.
When it comes to pool dog toys, there are plenty of options to choose from. Here are some popular choices:
Floating Fetch Toys: These toys are designed to float on water, making it easy for your dog to retrieve them. Look for bright-colored floating toys like balls or frisbees specifically made for pool play.
Water-Safe Chew Toys: Look for durable chew toys that are designed to withstand being submerged in water. These toys can provide your dog with hours of entertainment while also helping to clean their teeth.
Water Sprinklers: Some dogs love playing in sprinklers, so consider getting a sprinkler toy designed for dogs. These toys shoot out streams of water, creating a fun and refreshing play experience for your pup.
Water Retrieval Toys: If your dog loves retrieving objects, consider getting toys that sink to the bottom of the pool. They can dive into the water and retrieve the toys, providing both mental and physical stimulation.
Pool Floats: Some dogs enjoy lounging on pool floats. Look for floats designed specifically for dogs, with features like puncture-resistant material and reinforced stitching.
Remember to always supervise your dog while they are playing with pool toys, and ensure the toys you choose are safe and appropriate for your pet.
Create the guest list
No party is complete without a guest list. Start by inviting your closest family members and friends with dogs who you know will enjoy a day by the pool. Next think of any neighbors or so-workers who you have a good rapport with. It can be a great opportunity to get to know them better and relax
Remember, the guest list ultimately depends on the size of your pool, the capacity of your outdoor space, and how many dogs you want at your dog pool party. Make sure you have enough room to accommodate everyone comfortably.
Puppy Pool Floats
If your dog is having a pool party, it is only fair that he has his own pool float to lounge on. You get get extra flat-bottomed floats to help your puppy guests relax, or find a new way to enjoy the water.
Dress to Impress
Your four-legged friend can't slather on sunscreen at their puppy pool party, but they can swear a fun Hawaiian shirt or swim shirt that will protect her from sun. Dress your pup in something fun and impress all your guest with your pup's fashion sense. You can get a swim shirt from your local pet store.
Set out plenty of water
It is hot out there. You don't want your guests drinking from the pool. So, have plenty of fresh drinking water on hand so the dogs can replenish themselves as needed.
Dog bowls come in various shapes, sizes, and materials. You can get a variety of bowls that go with your overall party theme. If you have larger dogs attending your dog pool party consider elevating some of the water bowls to make it easier for them to get a drink.
Have a variety of treats
When things get too hot, bring out a variety of puppy treats. To help cool down the party guests, get some puppy ice cream or whip cream pup cups.
For a dog pool party, you can portion out cups of yummy treats like bacon treats, chicken jerky, or smaller trainer treats. Don't let them have too much. You could have some dog guests that have sensitive stomachs.
Keep it simple
As it turns out, dogs are pretty easy to entertain and please. Keep it simple and let the dogs play with each other, enjoy the pool, and eat the delicious treats. If you want a theme, check out Kara's Party post on a Tropical Pool Party Theme.
Something to consider for your doggy pool party is if your pool is easy to get in and out of. If you need to get steps or a ramp to help the dogs get in and out of the pool.
Pet Splash Pad
Create a variety of ways for your canine guests to get wet and have fun. You can do this by turning on your sprinklers or getting a non-slip sprinkler toy. It is a great way to cool off and safe for dogs and kids to play together on.
Whatever you decide to do for your dog pool party, remember to have fun. Its all about creating memories together and doing something fun. On that note, don't forget about your human friends by having drinks, treats, etc for them as well.