Pools, lakes, and swimming holes aren't the only way to beat the heat in the San Antonio area. Splash pads are a great way for kids to get introduced to recreational water play and most of the San Antonio splash pads are FREE! Check out these 20 spray grounds and splash pads in San Antonio Texas.
*Please visit the individual websites for the splash pads to make sure they are open before heading out the door.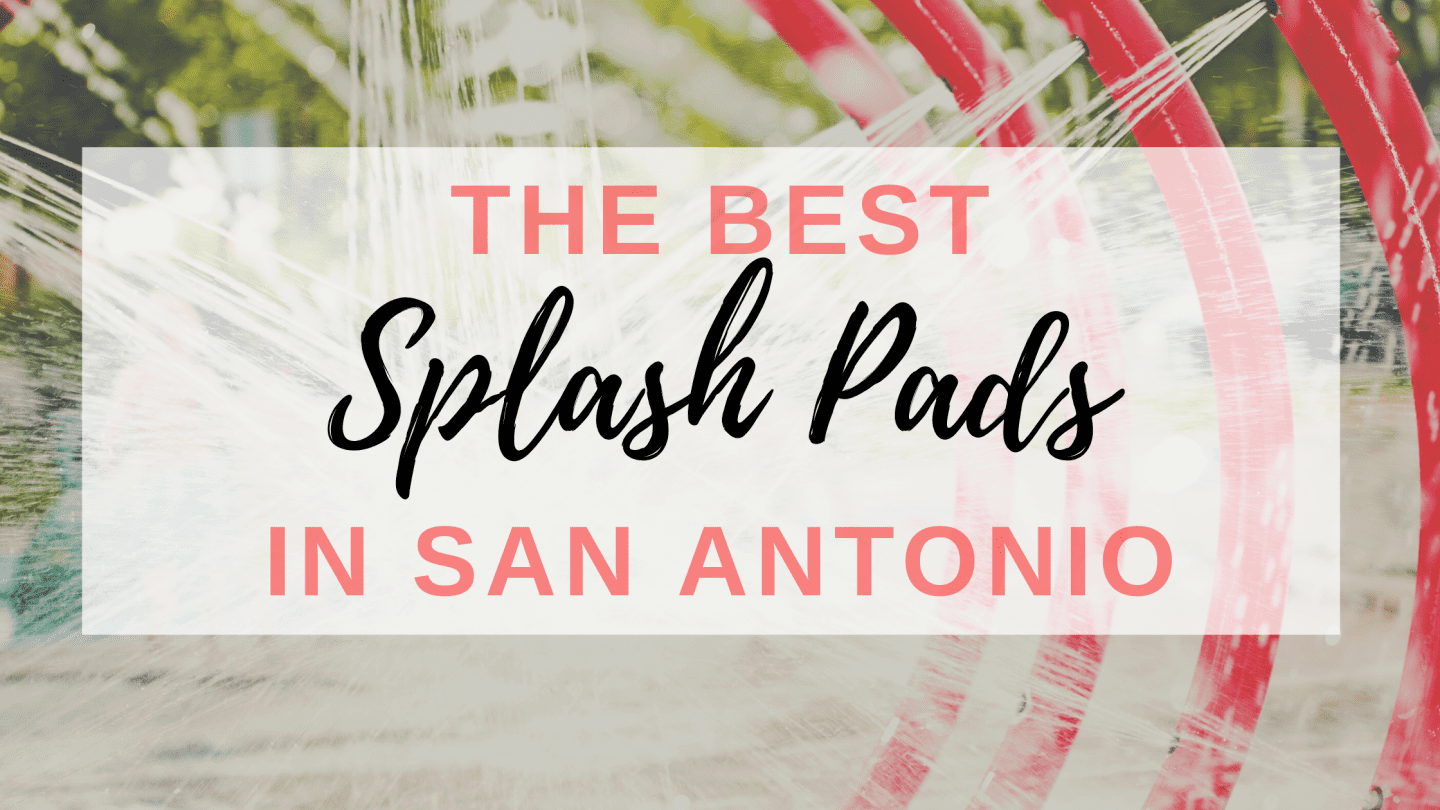 Free San Antonio Splash Pads
1. Pearsall Park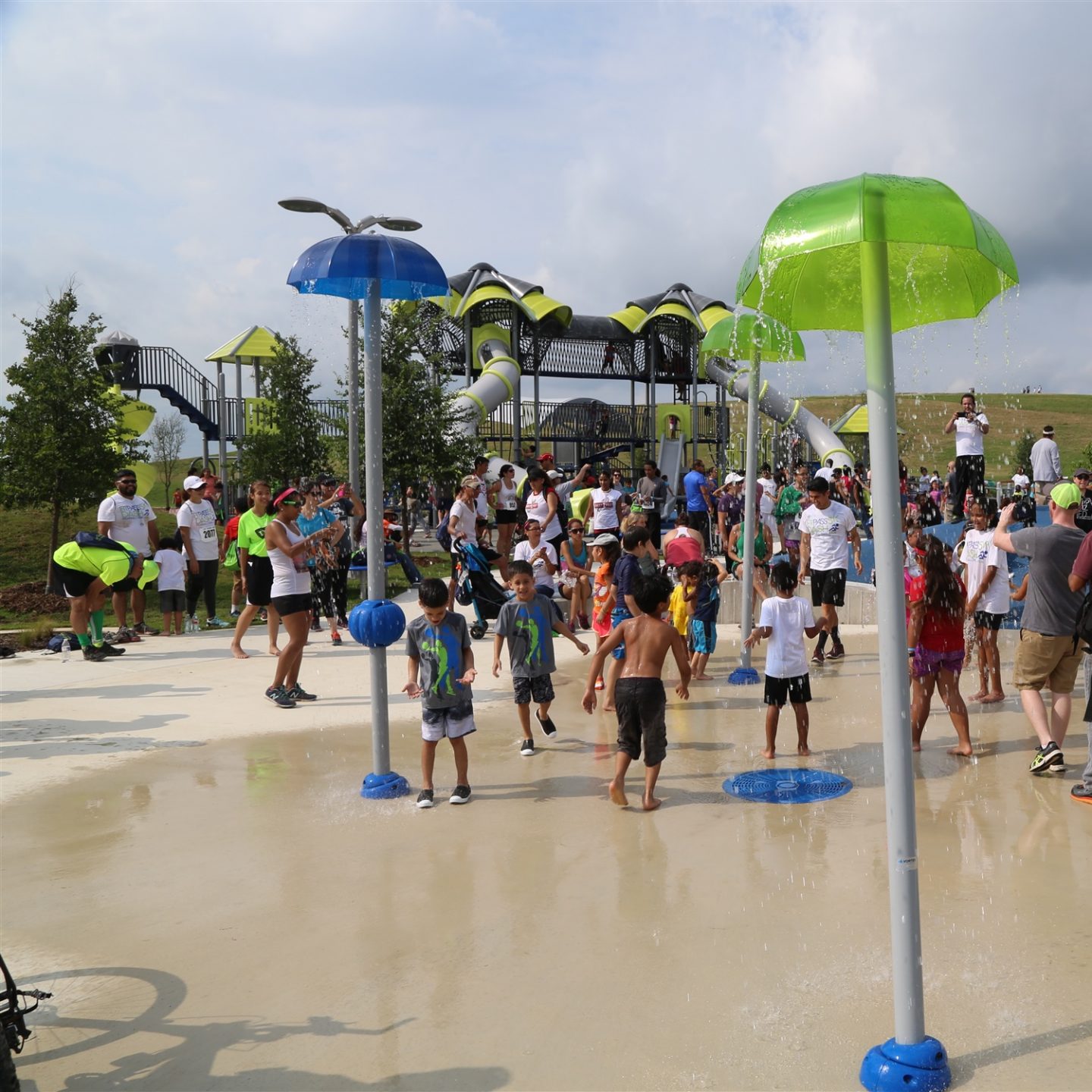 Pearsall Park is 505 acres and is designed to offer a dynamic open space with fitness and recreational amenities ideal for facilitating health/wellness/sports activities and outdoor family/social gatherings. The splash pad has many water features and the park is right next to it. There are a few places for shade and a couple of tables. Be sure to get there early to claim a spot before it gets busy.
Open daily from 9 a.m. to 9 p.m. at 5102 Old Pearsall Road in San Antonio.
2. Hemisfair Park
Hemisfair Park is a hidden gem located in downtown San Antonio. This park has a giant chess board, rope playground with swings, a place to dig in the sand and of course a splash pad. There is a restroom, water fountains, and a changing area. After you get done playing make sure you stop by Paleteria San Antonio for an amazing paleta. You'll thank me later.
Open daily from 9 a.m. to 9 p.m. at 600 Hemisfair Plaza Way in San Antonio
3. Elmendorf Lake Park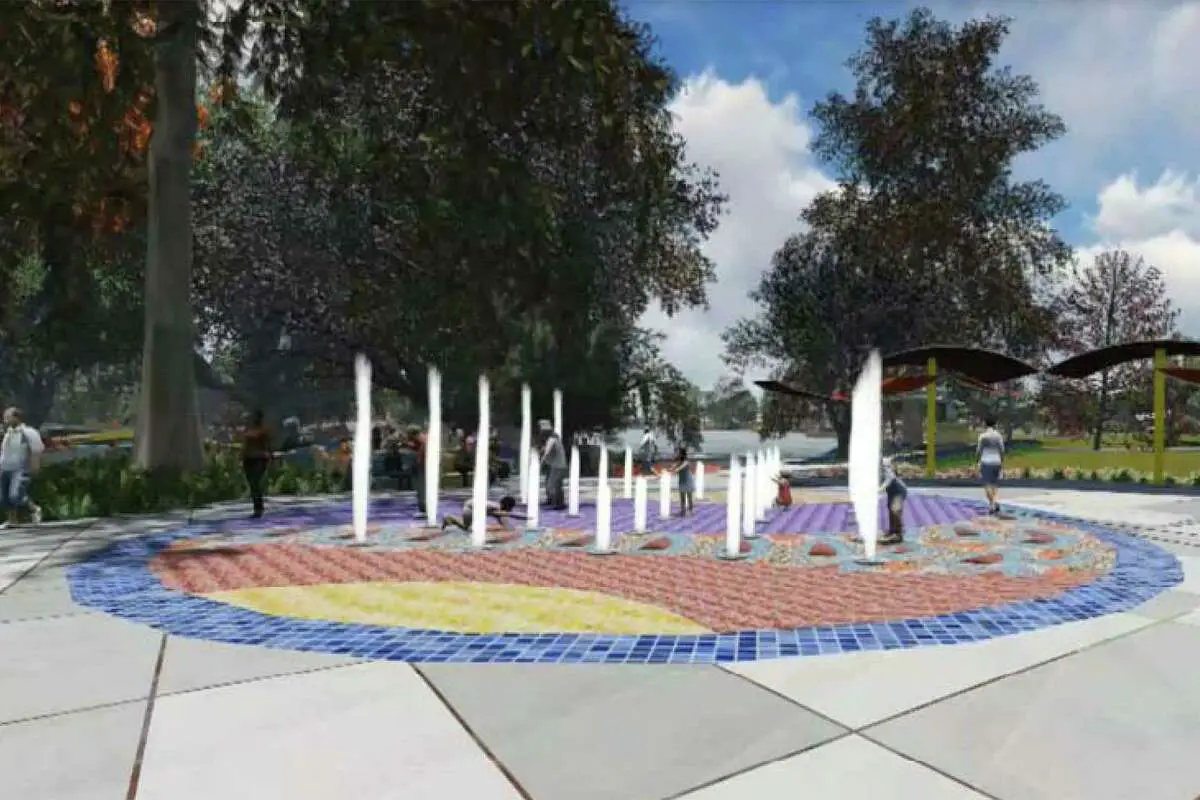 Elmendorf Lake Park is a scenic place for a walk or a picnic. It serves as a trailhead for the Apache Creek greenway trail. There are many birds, including ducks, geese, and swans, that visit the park. There is also a splash pad and park where the kids can play.
Open daily from 9 a.m. to 9 p.m. at 3700 W. Commerce Street in San Antonio.
4. Emmitt Park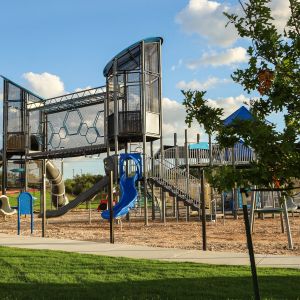 Emmitt Park is a Community Bible Church park that's open to the public in San Antonio with a basketball court, sand volleyball court, wheelchair accessible playground, splash pad, and a walking trail.
Open daily from 7 a.m. to 6 p.m. except on Wednesdays and Sundays when it closes at 5 p.m. The park is located at 2477 N Loop 1604 E in San Antonio.
5. Lincoln Park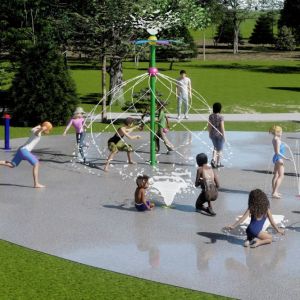 Lincoln Park was improved as an official Tricentennial initiative, general park rehabilitation and Park improvements include a splash pad, walking trails, playgrounds, fitness stations, lighting upgrades, a pavilion, Wi-Fi and further connectivity and accessibility to the surrounding neighborhoods
Open daily from 9 a.m. to 9 p.m. at 2915 E. Commerce Streetin San Antonio.
6. Northview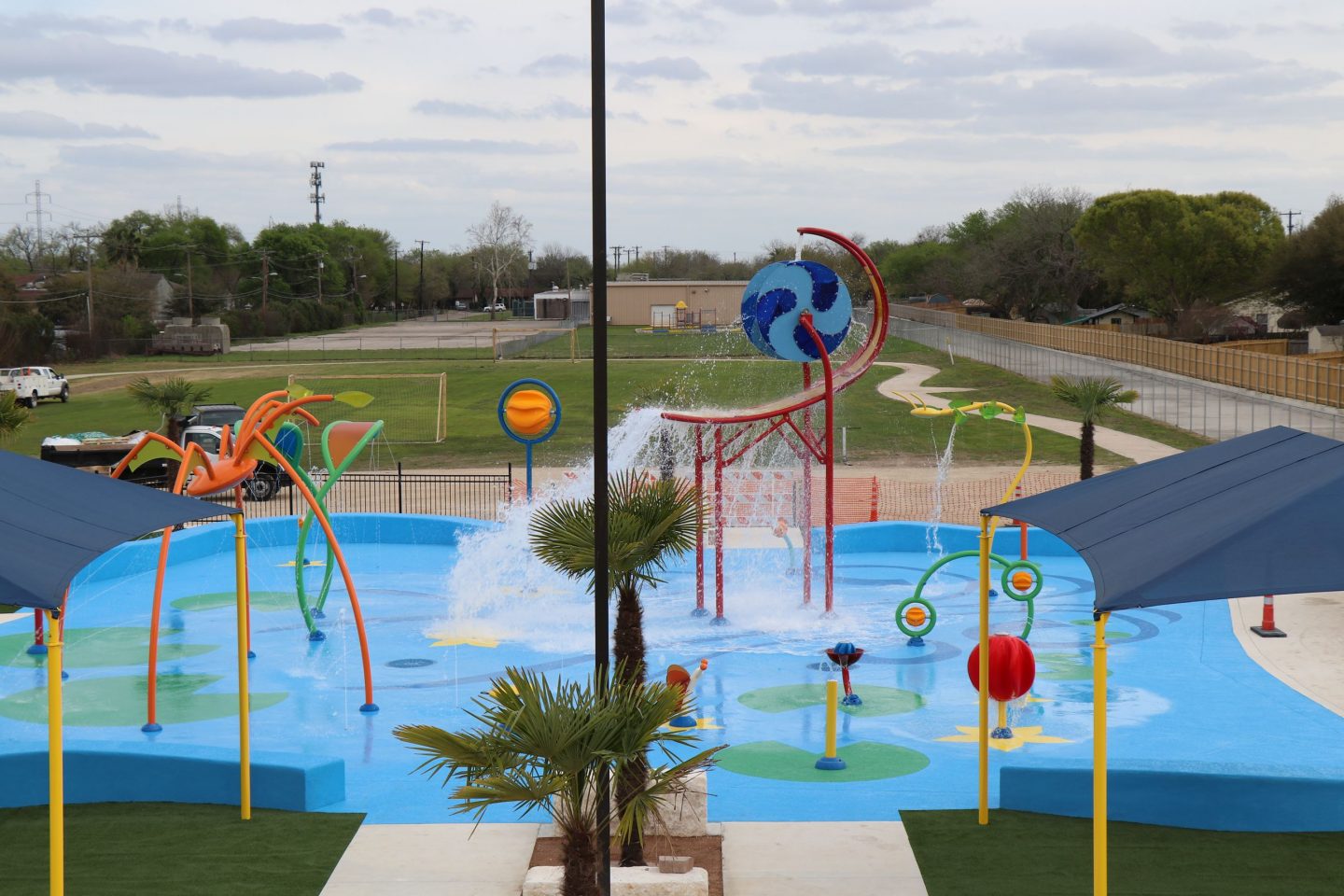 Northview is located at Northview Park, next to the UC Library, the Splashpad in Universal City will include 16 water features spread throughout a 4,000 sq. ft. pad painted with shades of blue and green lily pads.
Open daily from 10 a.m. to 8 p.m. at 100 Randolph Plaza in Universal City.
7. Park West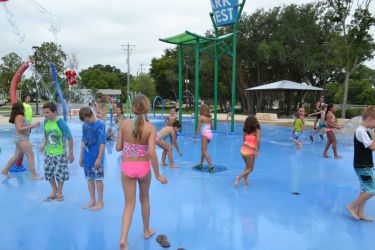 Park West splash pad's claim to fame is its prevalent shade, located right next to it, providing parents who don't want to get wet with a way to stay cool while watching their kids.
Open daily from 9 a.m. to 9 p.m. at 205 N River Street in Seguin.
8. The Pearl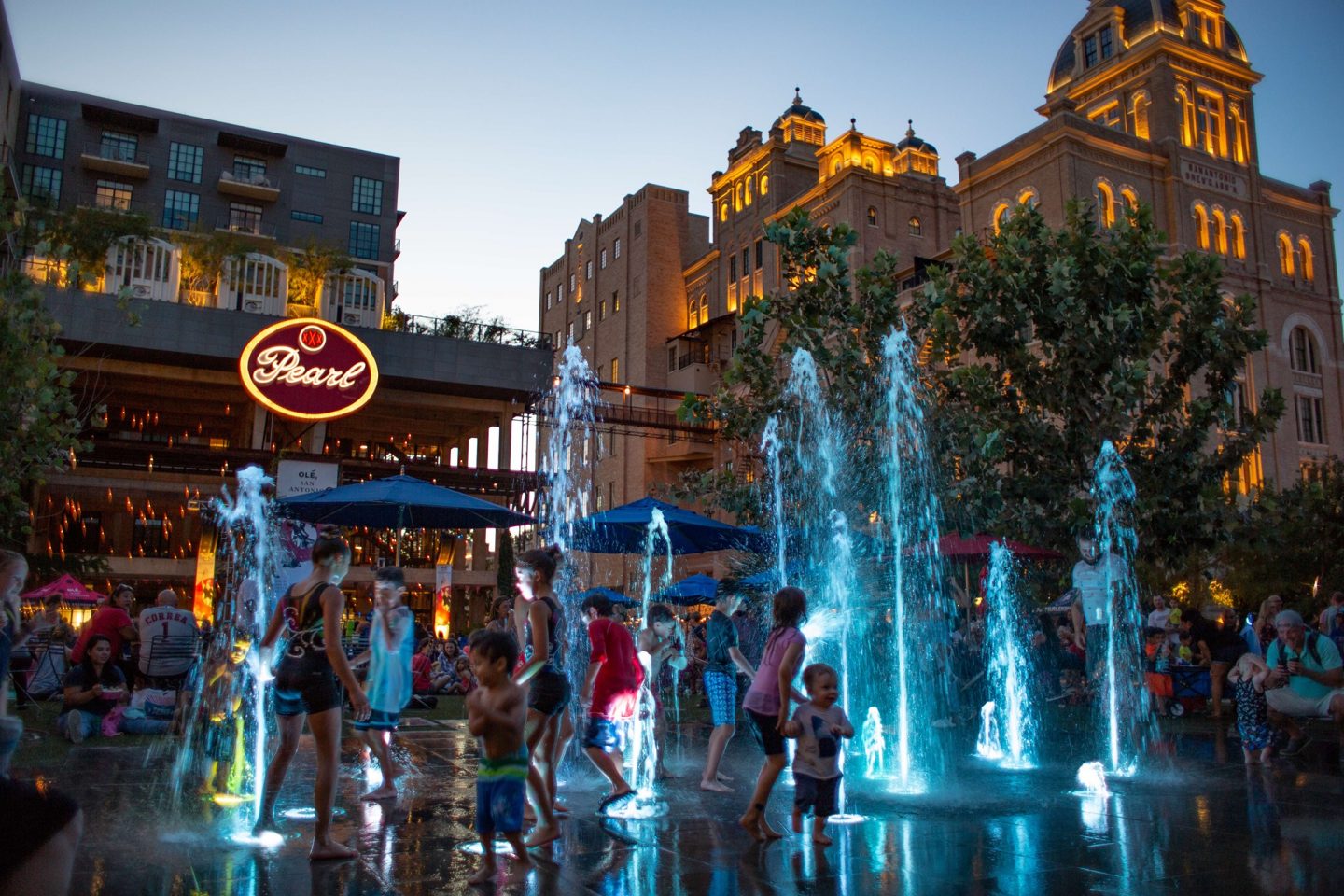 The splash pad at the Pearl is located near The Twig. This splash pad in San Antonio is a fun place where parents can sit nearby to chat and sip coffee while kids cool off in the spray.
Open daily from 9 a.m. to 9 p.m. at the Historic Pearl located on Pearl Parkway in San Antonio.
9. Benavides Park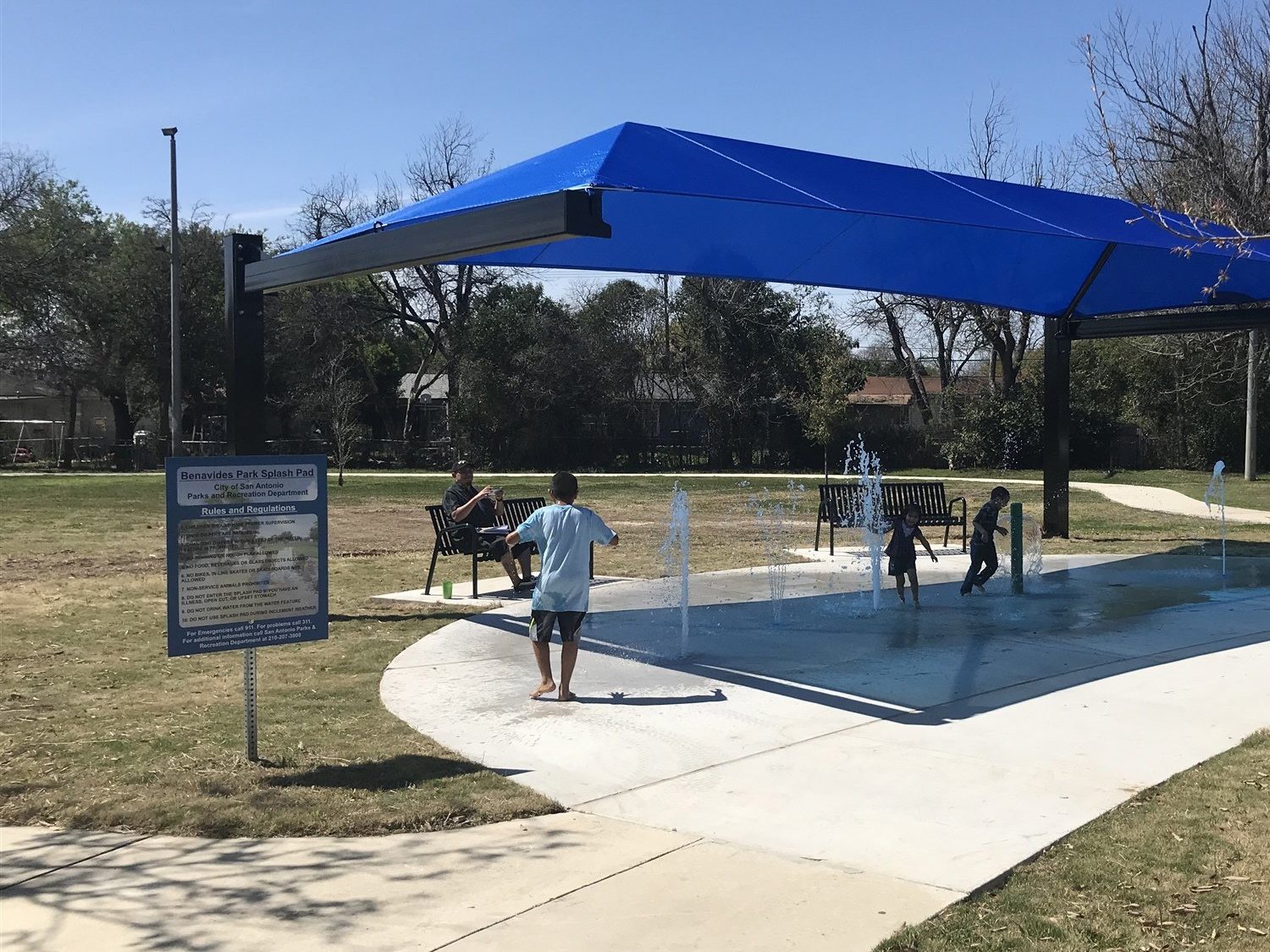 Father Albert Benavides Park offers our residents the opportunity to enjoy quality time with their family and friends in the great outdoors. Pack a picnic lunch and head out to the park to enjoy the fresh air and sunshine today.
Open daily from 9 a.m. to 9 p.m. at 1500 Saltillo Street in San Antonio
10. Bulverde Community Park
Bulverde Community Park Splash Pad is located behind the basketball court and large steel water tower. This splash pad lets kids control the water feature. There is plenty of shade and a playscape is nearby.
Open daily from 6 a.m. to 11 p.m. at 29815 Bulverde Lane in Bulverde.
11. Escondido Creek Parkway
Escondido Creek Parkway splash pad is the new favorite outdoor hub in the City of Kenedy, a gathering place for the community to relish their time in nature and with each other. The kids will enjoy cooling off in this splash pad.
Open daily from dawn to dusk at 208 N. Sunset Strip in Kenedy.
12. Fischer Park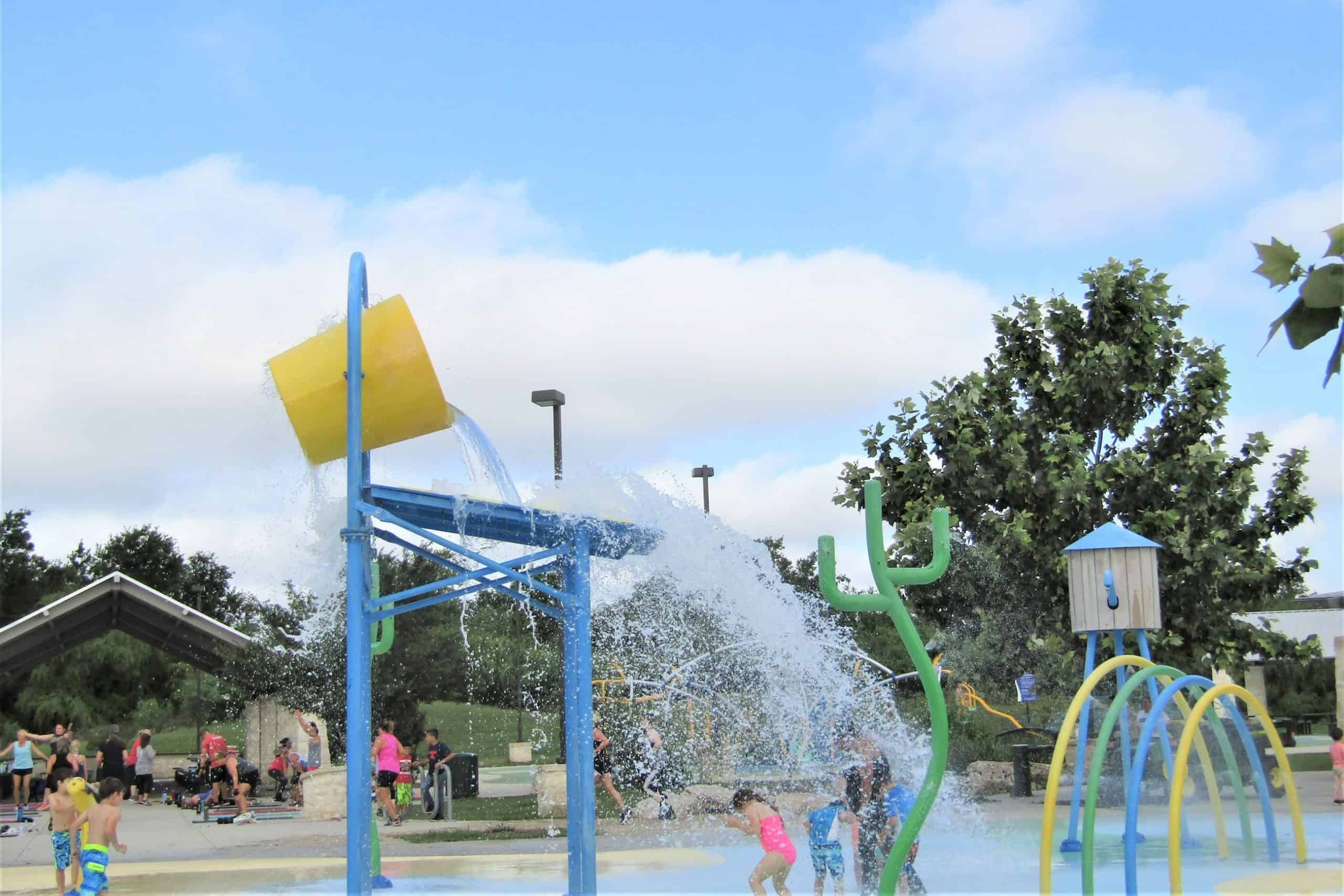 Fischer Park features a variety of interactive water toys that spray, spout, mist and pour, providing fun for children of all ages. Water from the sprayground is captured in the fishing ponds and reused for park irrigation.
Open daily from 9 a.m. to 9 p.m. at 1935 Hilltop Summit Road in New Braunfels.
13. Voigt Park
Voigt Park has a small sprayground perfect for the little ones. There's also a pool you can swim in for a fee.
Open Monday: 5p.m. – 8p.m. and Tuesday – Sunday: 9a.m. – 8p.m.
14. Stage Stop Splash Pad
Stage Stop is a park with a playground, basketball courts, restrooms, trails, splashpad and open green space.
Open Monday-Satuday 11 a.m. – 7 p.m., Sunday 12 p.m.- 6 p.m.
San Antonio Splash Pads
We gave you a great list of Free splash pads in San Antonio. There are a few other places around town that have splash pads. However the following places you have to pay to get in the park.
15. San Antonio Botanical Gardens
The Botanical Garden's No Name Creek is a favorite place to play this summer. With spraying geysers, a waterfall, and plenty of room for kicking and splashing. There's plenty of room for dozens of kids to play without feeling too crowded. When you're done tour the gardens before cooling off again.
16. San Antonio Zoo
If you're going to the San Antonio zoo you're probably not going just for the water. However, there creek is a great way to beat the heat while you are visiting the animals.
17. Morgan's Wonderland
Morgan's Wonderland is truly one-of-a-kind and has become one of San Antonio's well-known attractions. Morgan's Wonderland has more than 25 Ultra-Accessible™ accessible rides, playscapes, and interactive elements that the whole family will enjoy.
18. Doseum
The Doseum is a great place for children of all ages to explore and play. Located along the west side of our building facing Broadway, the West Yard is the active outdoor zone, with large scale exhibit features where kids can get active while learning. Learn about the forces of physics at Waterworks, test your logic with our giant checkers board, or see who can get to the bottom of our giant slide the fastest!
19. Sea World
At Sea World San Antonio you can connect to the sea and each other through exciting rides, amazing shows and up-close encounters with the sea's most extraordinary animals. There is a fun splash pad area in the Sesame Street kids play area. It is a great way to cool off.
You can also spend the day at Aquatica if you're looking for a full day of water play.
20. Six Flags Fiesta Texas
Six Flags Fiesta Texas is the home of ten world-class roller coasters and our giant White Water Bay Water Park!