Sometimes you need new ideas for date night. Trying to come up with new ideas can be difficult, but don't worry we've got you covered. Whether you're a local trying to brainstorm new ideas or a tourist looking for romantic things to do as a couple in San Antonio, you will find something fun, easy and exciting with this list of unique San Antonio date ideas.
Fun San Antonio Date Ideas
Save this list for the next time you're in need of some fun, unique date ideas that are based in the San Antonio area. Even those this list is made for couples, it would also be great for group dates or for simply exploring San Antonio with fun adventures.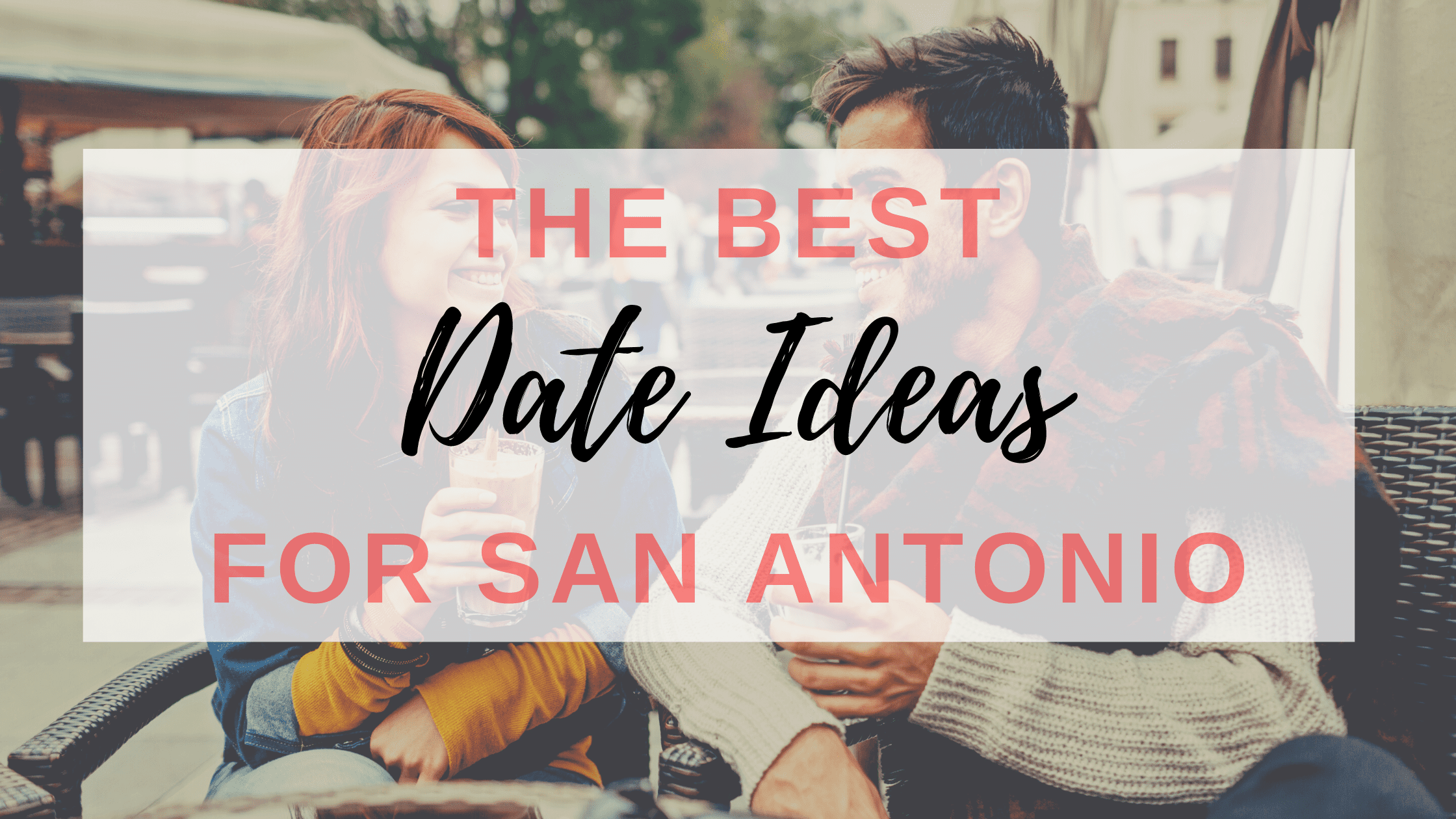 Get a coffee and play pinball – Let your inner child free by planning pinball games with your date at What's Brewing. What's Brewing is locally owned and has a rotating selection of pinball machines.
Grab an ice cream – Getting ice cream or any dessert for that matter is always at the top of my list. You can go to your favorite place or try something new like Kuma with colorful ice cream shop serving Hong Kong waffles or Congelato! in Helotes for authentic Italian Gelato.
Kayak the San Antonio River – check out downtown San Antonio by kayak. You can choose from guided or unguided tours by Mission Kayak.
Drive in Movie – There isn't anything quite like going to the drive in movie. Stars and Stripes in New Braunfels is one of our favorites as you can stop at Bucee's along the way for a treat. If you want something a little closer, try Mission Marquee Plaza. They play older movies, but you still get to get out and enjoy the evening together.
Star-gazing at the Scobee Planetarium– Head to the San Antonio College for a date at the Scobee Planetarium. The Scobee Planetarium offers Friday night public presentations you won't want to miss.
Paintball – you can go by yourself or grab a few other couples for a round of paintball. We went to Predator Paintball Park in Helotes and had a great time.
Laser Tag – Laser tag can also be fun. Andretti's and Main Event are two venues that offer laser tag. While you're there you can grab a bite to eat, bowl, or play arcade games.
Bouldering or Rock Climbing – San Antonio is not known for mountains. This shouldn't stop you from experiencing a laid back night of bouldering at Armadillo Boulders or The District Bouldering. Both have a laid back vibe and have plenty of wall space to test your skills.
Paint Throwing – At Pinspiration you get to throw paint on a canvas in their splatter room. You can throw as much as you need while you create a masterpiece and have a creative time. Also try creating a neon painting at Short Tempered. Both places making a mess is a requirement.
Play a round of golf – make your date a day date by playing a round of golf together. Try Oak Valley Golf Course to play a round of par 3 holes. It is also has lights which make it easier to play if you'd rather keep your date at night.
Mini golf – Mini golf is a classic date night idea. You can still make this date unique by going to Cool Crest as it is a historically significant family-owned course. You will feel as though you've stepped back into the 1950's to play a round of mini golf.
Zipline – Prepare for highflying fun as you harness up and glide through the air on a thrilling, action packed zipline adventure. Check out this list of the top 5 ziplines in San Antonio.
Unique San Antonio Date Ideas for Couples
Comedy Club – Head to LOL Comedy Club for a great night of entertainment and laughing. There is complimentary parking. Check out their website for upcoming comedy acts. By the way, Tuesday nights are open mic night which is free to attend.
Cheer on a sports team – Bond over cheering together during a game. San Antonio has the Spurs and the Missions just to name a few professional teams in the San Antonio area.
Take a cooking class – Learn some new skills by taking a cooking class together. There are plenty of options when it comes to what type of class you're looking for. Check out classes at Sur La Table, The Culinary Institute of America, William Sonoma (has free classes), Central Market, or the Culinary Cottage.
Go to the water or theme park – San Antonio has plenty of theme parks you could go to. Take your date for a few evening rides at Six Flags or Sea World.
Two-Step – Take your date and go two-step at Floore's Country Store. Floore's Counry Store has a live band and is a good time. You can also try places like Wild West, Thirsty Horse Saloon, and Cowboys.
Ice Skating – You can get your ice skating on even if it isn't winter at Northwood Ice Rink. This is the perfect opportunity to hold hands and snuggle to stay warm.
Roller skating – If you don't want to be cold from ice skating why not try roller skating instead. The real magic is clinging to each other and trying to remember how to skate. Embrace this activity for a night of roller fun.
Karaoke Night – share your love of song with a Karaoke night. Even if you don't sing well, karaoke is still a fun date as it shows you are cheering them on no matter what they sound like.
Bingo! – Bingo can be a fun date night since it is mostly left up to chance. Try your luck at Bandera Late Night Bingo.
Axe Throwing – Throw axes together to let loose or let out some frustration. Each session usually lasts for an hour. Try Stumpy's Hutchet House SA or Axe Master Throwing.
Pottery Class – With this class you won't be able to recreate the scene from Ghost, but you can enjoy a night with clay all over your hands and the memory of your lopsided creations. Try Throwin' Gold Ceramics. or Sunin Clay Studio
See a Show at the Theatre – Oh how I love the theatre and have seen many shows here in San Antonio. The Majestic Theatre is San Antonio's oldest and largest theatre. They always offer a great variety of shows that will please anyone. Check out their website for information.
Enjoy Art Together – One of the most beautiful museums in Texas is the McNay Art Museum. Enjoy an evening looking and discussing art. Make it an extra cheap night by going on Thursday night. It is ually free from 4-9p. Check their website before going.
Easy San Antonio Date Ideas
Flea Market – Traders Village is one of the best flea markets in San Antonio. You never know what treasures you will find there.
Antique Shopping – If you like antiques and shopping, try heading to Old Town Helotes. They are quaint shops and lots of antiques to choose from. While you're there head up the road a bit for some authentic Italian gelato at Congelto!
San Antonio Natural Springs – There are a handful of natural springs around San Antonio where you and your date can beat the heat and go swimming together.
Take a dance lesson – Whether you're learning how to box step or two-step, there are plenty of dance studios in San Antonio that offer dance lessons. This could turn into a regular thing if you both enjoy learning new dances.
Pretend to be Royalty – The Spanish Governor's Palace is a historic home located in Downtown San Antonio. It is the last visible trace of the 18th century colonial Presidio San Antonio de Bexar complex. Walk through this beautiful home with all its Spanish architecture and design.
Take a River Taxi – Play tourist in your own city by taking a river boat ride on the Riverwalk. The Go Rio Cruises have a discount for locals and offer great tours of the Riverwalk.
Snap a Pic – Need pictures for your social media. San Antonio is known for their variety of murals. There is always new art popping up around town.
Couple's Massage – If you're looking for a relaxing date idea, look no further. Book yourself and your date a couple's massage and enjoy getting pampered together.
Magic Time Machine – For a more unique night, try the Magic Time Machine for dinner. At this restaurant the wait staff dresses up in different characters and stays in character all night.
See the Bats – If you haven't heard yet, there are a few bat colonies in the San Antonio area. A great place to see them is at Bracken Cave. It is home to one of the largest bat colonies.
Go horseback riding – horseback riding might not be such a unique San Antonio date idea, but just think of all the amazing views and natural you will see when taking a trail riding tour.
Try a new restaurant – it would be a lifelong dream of mine to try all the many unique and delicious restaurants in San Antonio. For this date night, try a new place. Check out our list of restaurants on the Riverwalk you must try.
Free San Antonio Date Ideas
Free Movie Night – Slab Cinema offers free movies at various venues over the summer. When you go don't forget your blankets and lawn chairs for ultimate comfort and snacks to nibble on.
Picnic at the park – San Antonio has so many hidden gems you can picnic at. First try Denman's Estate Park with its traditional South Korean pavilion.
Find a great bike or walking trail – Between the city parks, natural green belts, and local state parks, you will have your choice of some of the best parks in San Antonio to hike or bike. There are plenty of gorgeous places with beautiful scenery around.
Volunteer – The Humane Society and the San Antonio Food Bank are always looking for those who want to help. Spend time together giving back with a little bit of your time.
Bike the San Antonio Missions – Did you know there are 5 missions in San Antonio including the Alamo? Grab your bikes and bike down the San Antonio River trail to visit all of them or just a few.
Walk downtown – Be a tourist in your own city by walking downtown at the Riverwalk. This area is always busy that you might not know what you may come across. If you happen to go during the holidays, enjoying all of the Christmas lights.
Catch a Sunset – You can catch some pretty amazing sunsets in Texas. Some great places to try are Hays Street Bridge, Comanche Park, and the Animal Crossing Bridge in Brackenridge Park.
Tour SAS Shoe Factory – SAS Shoemakers create footwear one shoe at a time with the highest attention to detail and standard of comfort. Take your date and walk a tour of the SAS Shoe Factory and General Store. You'll be amazed to see the interesting tools they use for their trade.
Explore a new part of town – Explore all the different sides of San Antonio like the King William Historic District, Midtown, the South side, etc.
Japanese Tea Gardens – One can't talk about free San Antonio date ideas without discussing the Japanese Tea Gardens located in Midtown. This garden has shaded walkways, stone bridges and a 60 foot waterfall that runs into the many ponds filled with Koi fish.
Fitness Date – Hemisfair park offers weekly rotating free fitness classes. Check out their website for details.
Go Geocaching – San Pedro Culture Creek Park is a great place for geocaching. You can even bring your own treasures for other to find next time.
Window Shop at Market Square – Do some window shopping, catch a performance, or if you're going during the day watch SALive at Market Square downtown.
Stay at Home Date Ideas
Another idea is to put the kids to bed and have a special night in. Here are some San Antonio date night ideas if you don't want to leave the house for an evening.
Cook up a pantry surprise!
Play checkers or chess after the kids are in bed
Follow a YouTube dance tutorial.
Bake up some goodies and deliver them.
Make a music video
Play video games together
Look through old photos and reminisce
Take a bubble bath
Have a beach treasure hunt.
Movie Marathon Night
Have a bonfire or make smores
Find a free movie night