Everyone wants to feel loved on their birthday. Why not start the day with some birthday morning surprises. These fun and unique birthday morning surprises for kids of all ages will provide a touch of unexpected and spontaneous fun for your loved one's day.
Budget-Friendly Birthday Morning Surprises
From notes and balloon decorations to scavenger hunts and birthday surprises, these easy and budget-friendly ways to celebrate a birthday will leave anyone beaming and feeling loved.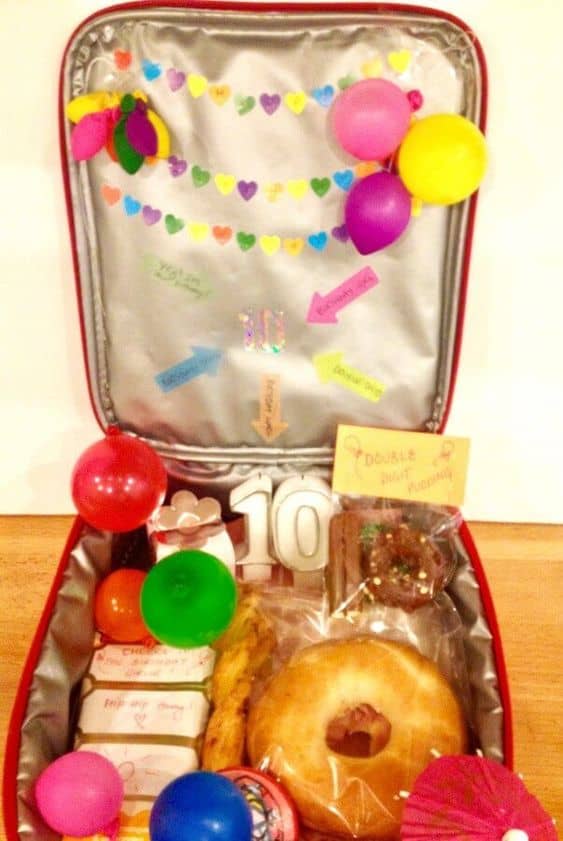 Happy Birthday Lunchbox Note
Put a special Happy Birthday note in their lunch box if they are going to school that day. To add more fun, decorate the inside lid of the lunchbox with stickers, balloons, creative bunting, and other fun birthday decorations.
Birthday Message in the Bathroom
For this unique birthday morning surprise, use a sharpie and leave a fun message on the bathroom mirror for your loved one.
Decorate with Balloons
Decorate your loved ones room while they are sleeping. Fill the room with dozens of colorful balloons that cover the entire floor or you can use helium balloons. When they wake up they will be surprised by all the balloons.
Surprise Birthday Bedroom Door Sign
Wish your loved one a happy birthday with the many reasons why they are amazing. I love this idea of uplifting them and letting them know how much we care with a surprise birthday sign hung on their bedroom door.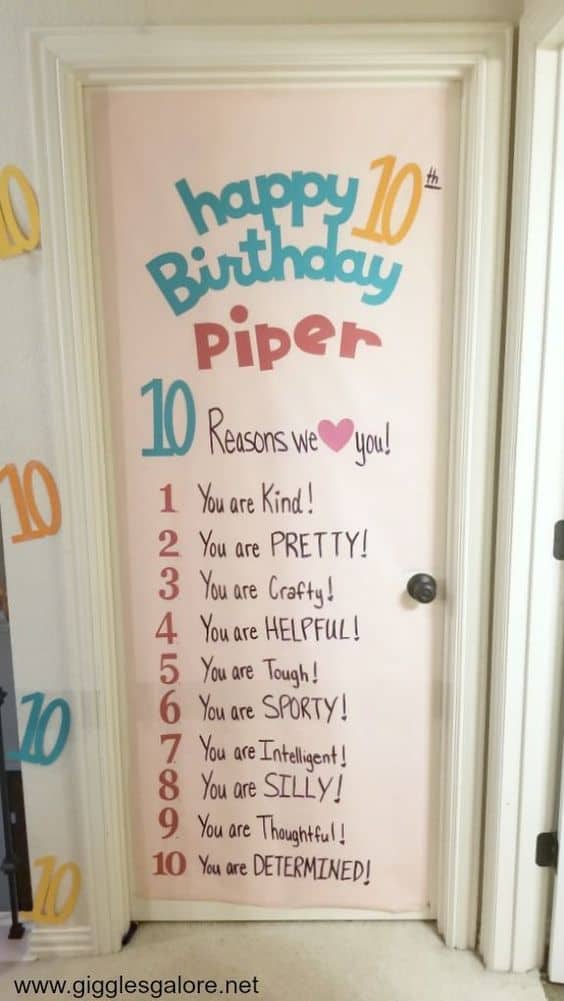 Breakfast in Bed
If they aren't in school that day or if you have time bring them their favorite breakfast in bed. Add a personalized colored birthday card for an extra special touch.
Hang a Birthday Banner
Hanging a birthday banner is a simple idea, but can make a huge difference in making someone feel loved on their birthday. This sign can be hung up in their room, in the kitchen, or really anywhere in the house.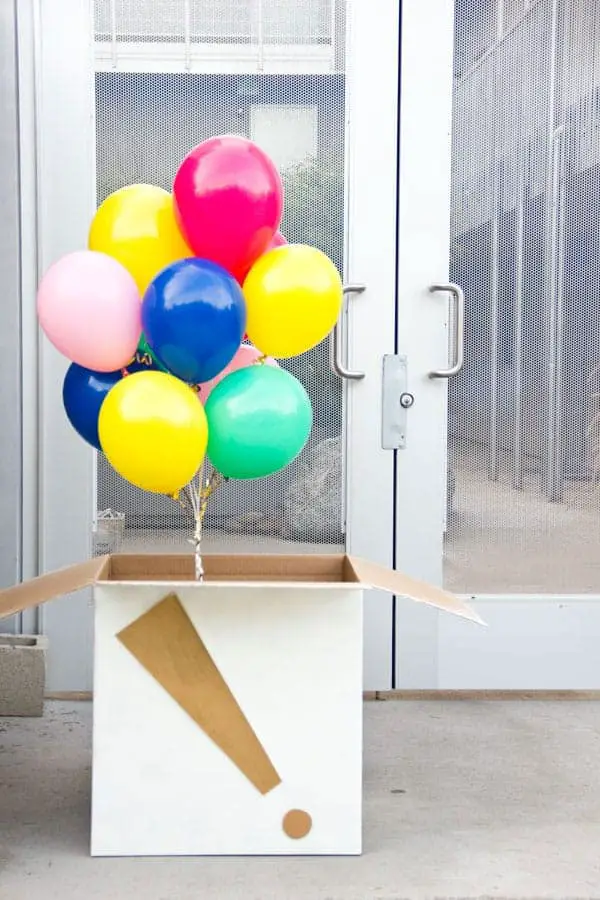 Surprise Birthday Balloons
Nothing says morning birthday surprise quite like a Balloon Surprise which is a big, mysterious box with your kid's name on it. When they do open it, they'll be greeted with an amazing and uplifting birthday message.
Birthday Breakfast Surprise
Serve a breakfast muffin, pancakes, or waffles with a candle on top. To make it extra special add funfetti sprinkles to the pancakes or waffles to add extra color and fun.
"Honk, its my birthday!"
Add a fun birthday message to your care with window markers. With ever honk, they will either be super excited or dread of embarrassment. Either way, it is a fun and unique birthday morning surprise.
Birthday Balloon Avalanche
There are two ways you can do this. The first way to create a balloon avalanche is by using streamers, tape, and balloons. Close your loved ones door and keep the balloons contained by taping the streamers to the wall.
The second way to create a birthday balloon avalanche is by using 2 trash bags and balloons. Tape the trash bags to the wall so when the door opens they come tumbling down.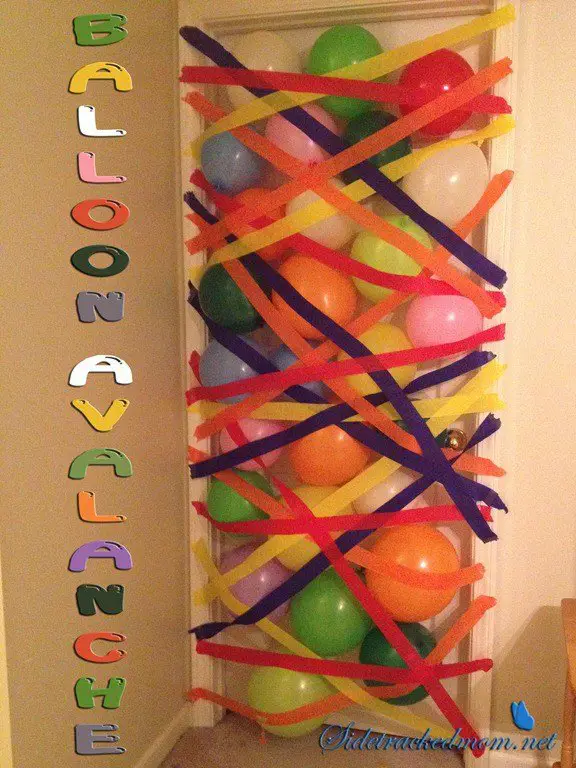 Sprinkle Birthday Rimmed Milk Glasses
This is such a cute idea from Dip It In Chocolate. Dip the rim of the glass in melted white chocolate before you dip it into sprinkles.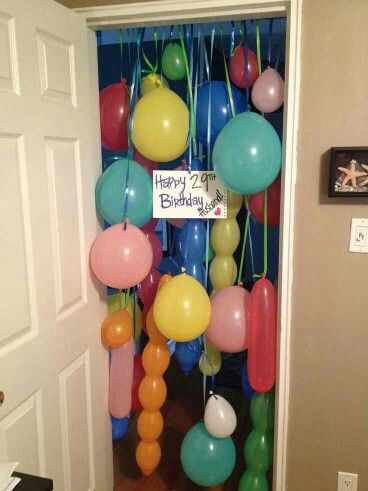 Doorframe Balloon Wall
Another way to decorate your loved ones bedroom door is by creating a balloon wall. Hang balloons from streamers and tape to the door frame.
Birthday Playlist and MixTape
Remember when we used to make mixtapes with our favorite songs? Why not do that as a birthday morning surprise. Have a playlist of birthday-themed songs playing while your loved one wakes up and gets ready.
Birthday Treasure Hunt
When your loved one wakes up, send them on a treasure hunt. You can leave several clues leading them around the house until the find the "treasure" or birthday surprise.
Birthday Photos
This is one of my personal favorite birthday morning surprises. Add a unique twist to decorating their bedroom with balloons by attaching their picture at the end. These pictures could be their favorite memories, loved ones, or whatever else that would make them feel special on their birthday.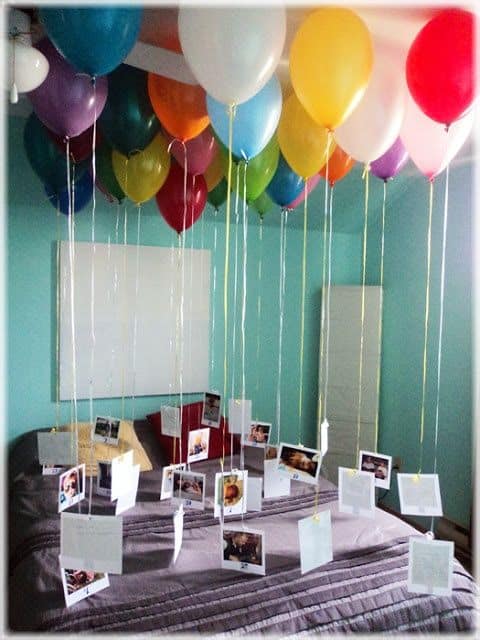 Surprise Birthday Clothes
Purchase and have ready a special birthday shirt, hat, tiara, or badge for them to wear throughout the day.
Birthday Texts and Calls
If your loved one is old enough to have a phone, arrange for friends and family to send texts and calls throughout the day with birthday wishes. They will feel the love all day.