Balloons can add a splash of color at any event. What I love about balloon decorations is you can pick any color to go with your theme and they are simple and inexpensive to make. Whether you want to make a majestic DIY balloon arch, a giant mosaic balloon number, a fancy centerpiece, garland or an epic balloon backdrop — you can be sure to find both inspiration and easy instructions on how to make your own unique DIY balloon decorations. Check out our list of over 20+ DIY Balloon Decor Ideas.
Giant DIY Balloon Christmas Wreath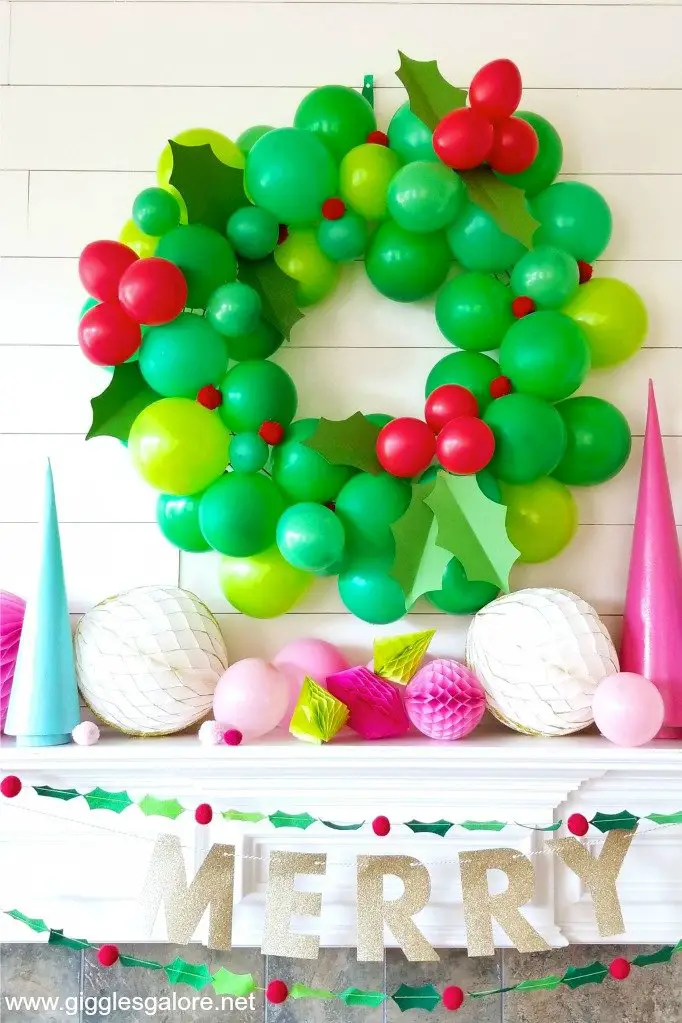 This DIY balloon wreath from Giggles Galore is a great, inexpensive way to add some color and whimsical feel to your holiday party! Balloons are a great for Christmas parties and for photo ops.
We also have a tutorial to making your own birthday balloon wreath in 4 easy steps.
DIY Balloon Christmas Tree
Isn't this balloon Christmas tree from Creative Heart Studio the cutest thing you've ever seen?! She has a step by step tutorial on how you can make your own. She uses an old lamp as the center and ties balloons around it for this balloon Christmas tree. I love all the cute colors and the balloon garland that goes around the tree.
This would be perfect if you have little ones or in a kid's room for Christmas decorations.
Don't have the time for figure out how to make it on your own? You can also grab a Christmas Tree Kit from Amazon.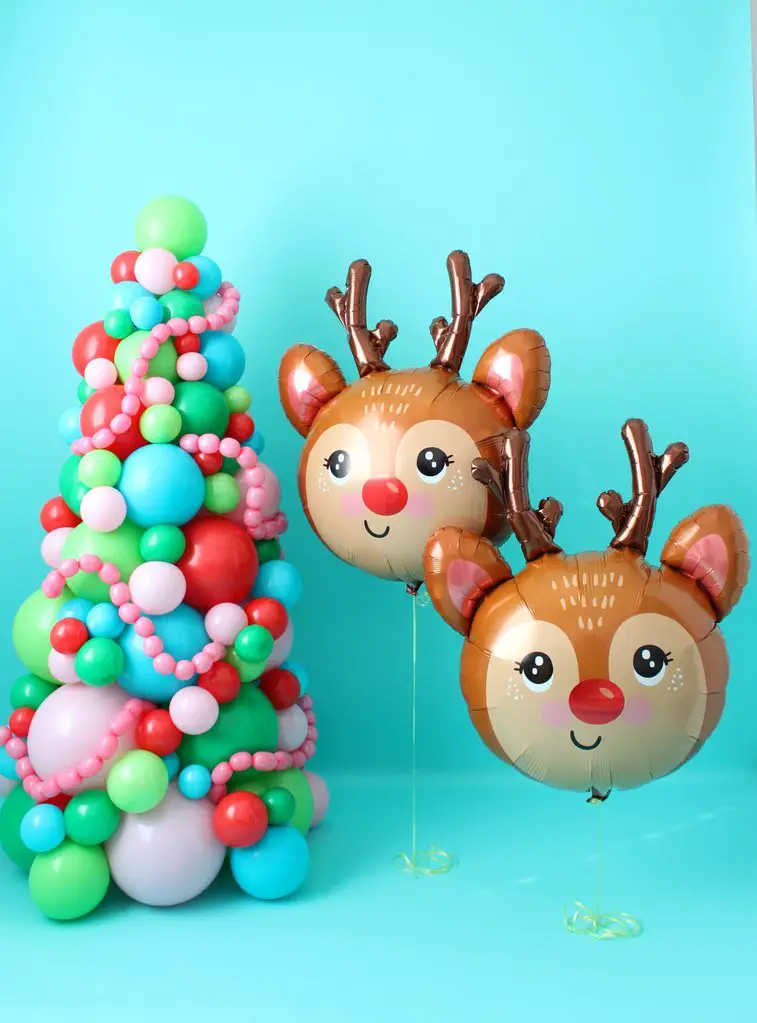 Giant Confetti Filled Balloons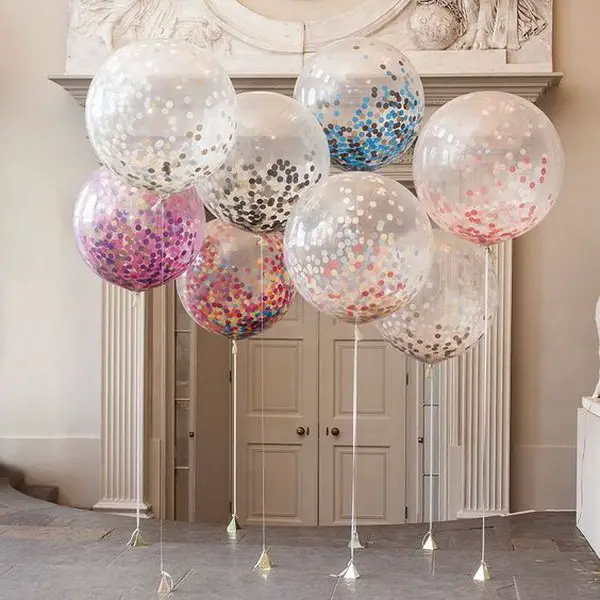 These beautiful giant confetti filled balloons are sure to add the wow factor to any party! You can get them in a variety of colors and sizes.
I love these multicolor ones. It added the splash of color I was looking for.
DIY Face Decal Party Balloons
Wouldn't it be awesome to have the person of honor's face on a balloon?! To make this DIY balloon decor idea you'll need an inkjet printer, white tissue, tape, Mod Podge, and white balloons. Start by taping the tissue to a piece of white computer paper, tape all the way around the tissue to ensure it doesn't get caught while printing. Check out the rest of the tutorial on a subtle revelry
Giant Balloon Wrapped In Tulle
We use lovely, light bridal tulle for a soft and stunning effect. It is often paired with flowers and silk ribbons to complete the look.
These are great because they are something totally different from the your usual DIY balloon decor ideas. It's really has a stunning jaw-dropping effect and we have had lots of great feedback about these!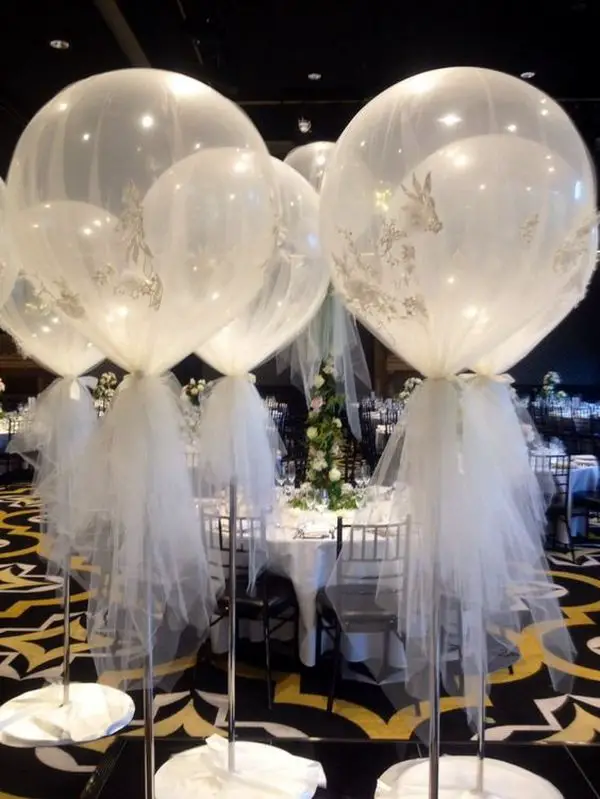 Shop these Balloon Kits to Make One Yourself
There is nothing wrong with purchasing a fun, festive balloon kit and having all the materials ready to go to create your own balloon decoration without all the headache of figuring how many balloons you need. These are great kits I've used and love.
DIY Giant Balloons with Tassels
I'm just loving these tassel balloons from Balloons.net especially with the funky full length and mid length tassel design.  Each bespoke tassel is handmade and threaded together in the perfect color combination for each event.
This party balloon decoration is super easy and adds a fun look to any party decoration.
DIY Giant Balloon Marquee Number
Marquee balloon letters or numbers are afforable and super easy to make. They will pack a punch at your next event! These numbers are made from foam board and make a huge impact.
Check out our tutorial on how to make a marquee balloon number. We have free templates for 0, 1, 2, 6, and 8.
You can also check out our tutorial on how to make the fringe wall as well here.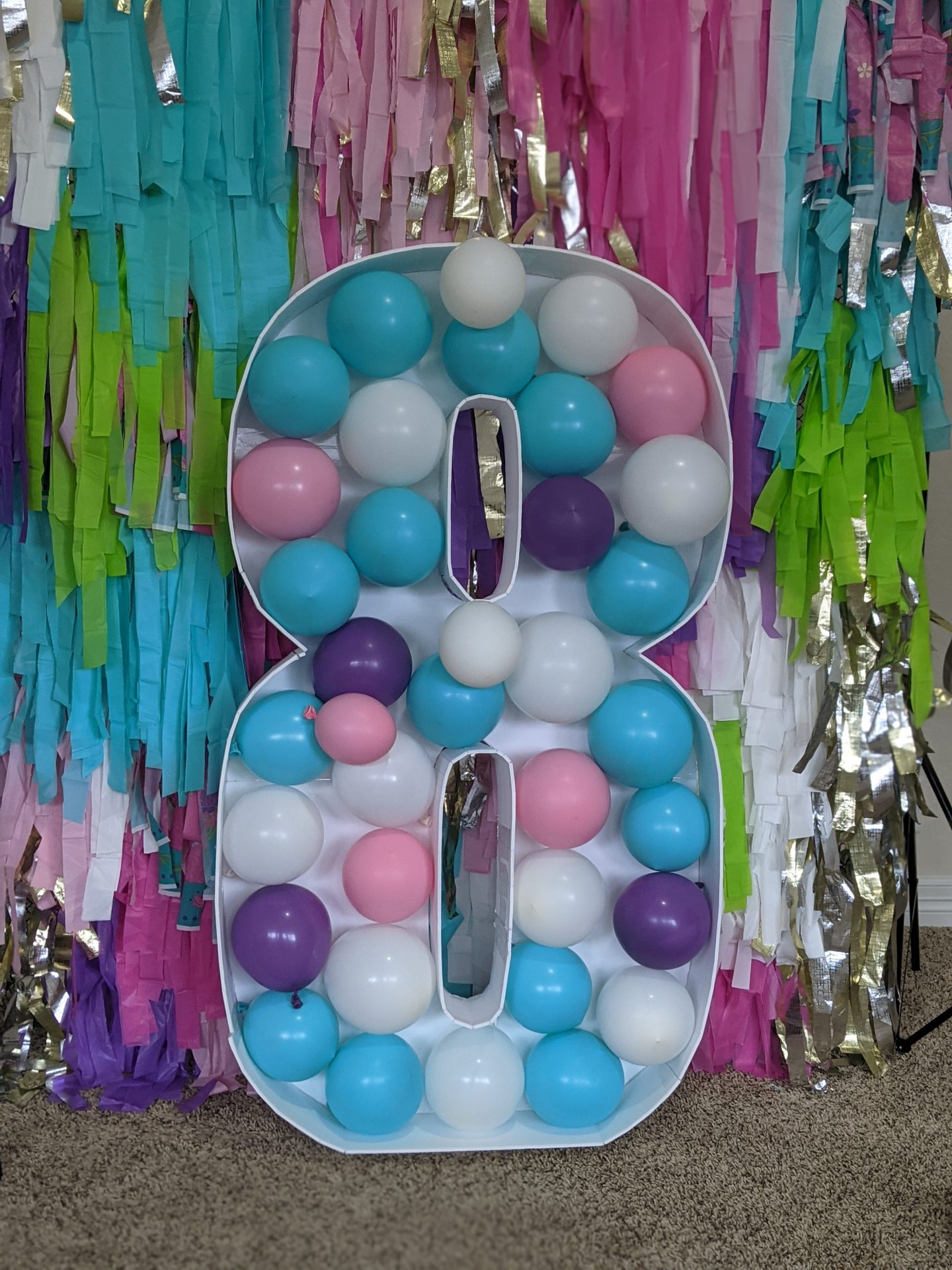 DIY Balloon Chandelier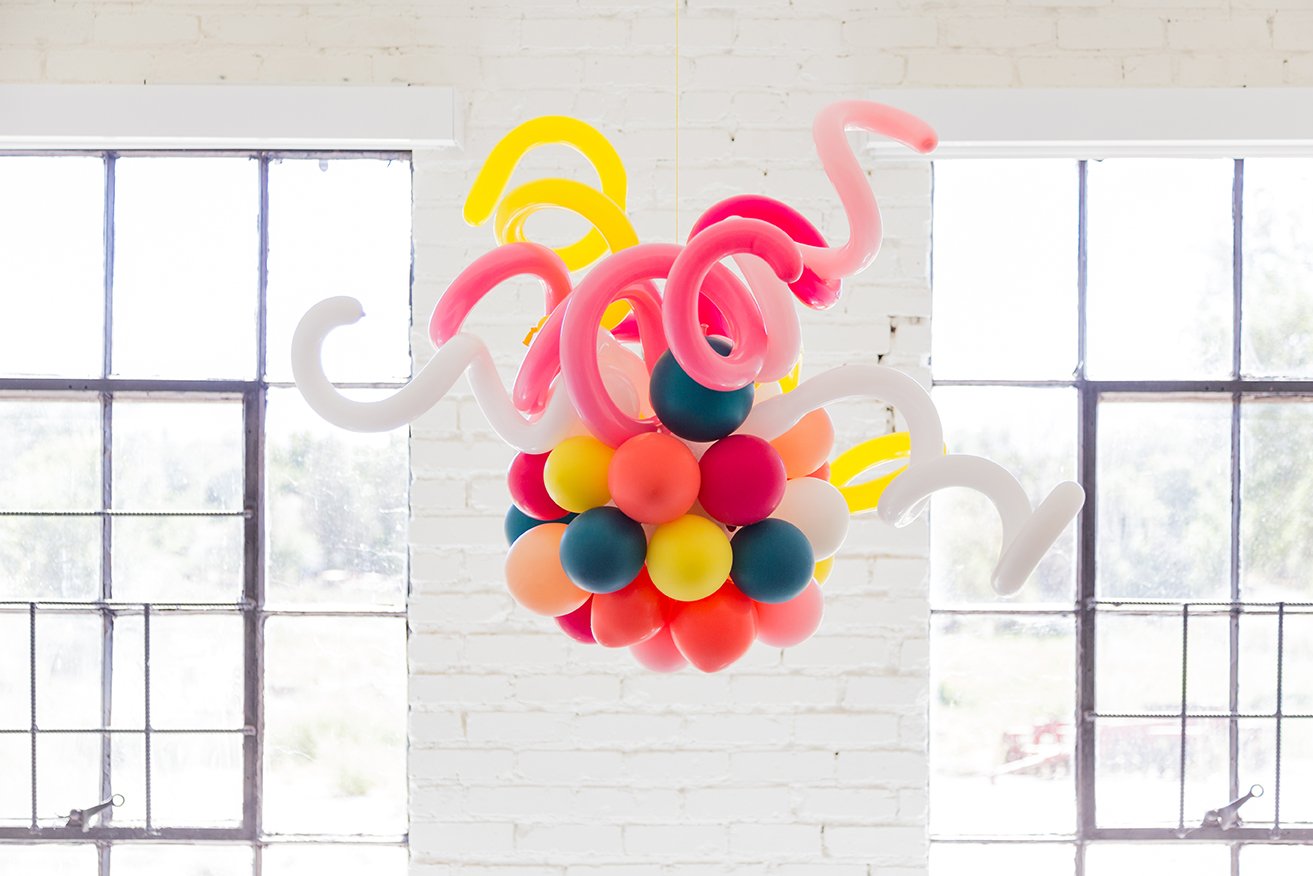 We love all the colors of this make it yourself balloon chandelier. It is a unique way to decorate with balloons for your next party.
For this tutorial you'll need a styrofoam ball, balloons, yarn, and pins. The House that Lars Built has a step by step tutorial on how you can make your very own.
DIY Hot Air Balloon Centerpiece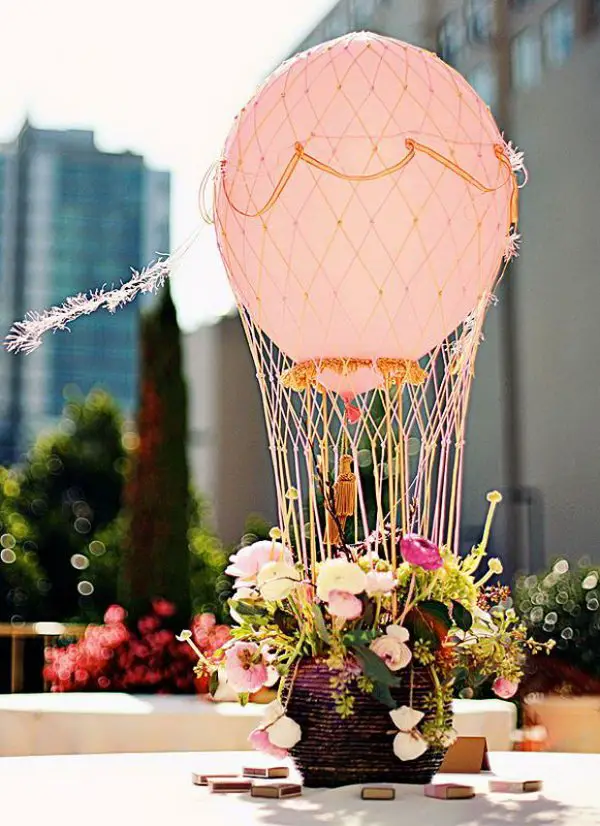 You can make these hot air balloon centerpieces as elegant or as simple as you need.
DIY Apple Balloons
These apple balloon decorations would be perfect for a back to school party, New York City party theme, or You're the Apple of my Eye theme. These are super cute and so easy to make.
All you need are red balloons, green paper for leaves, and brown paper for stems.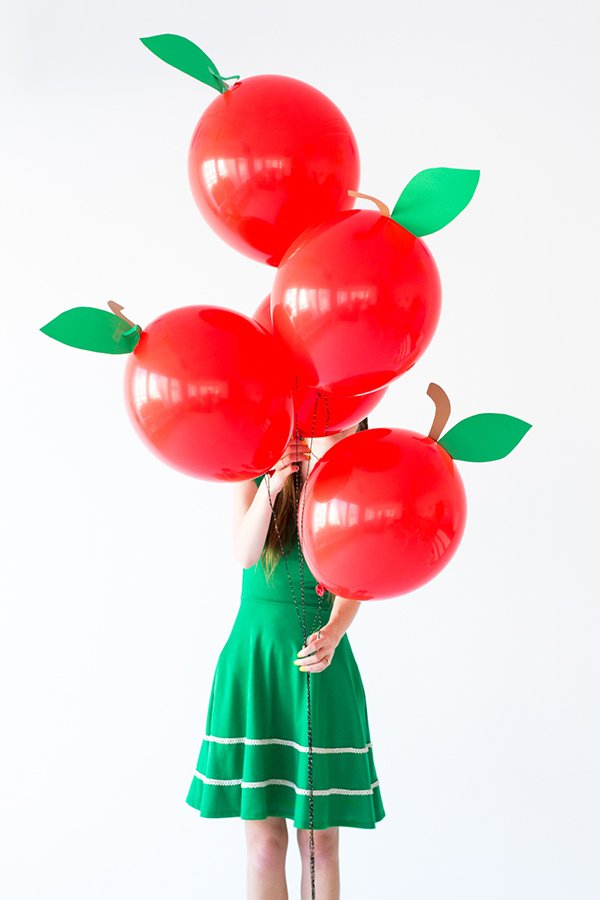 DIY POM POM Balloons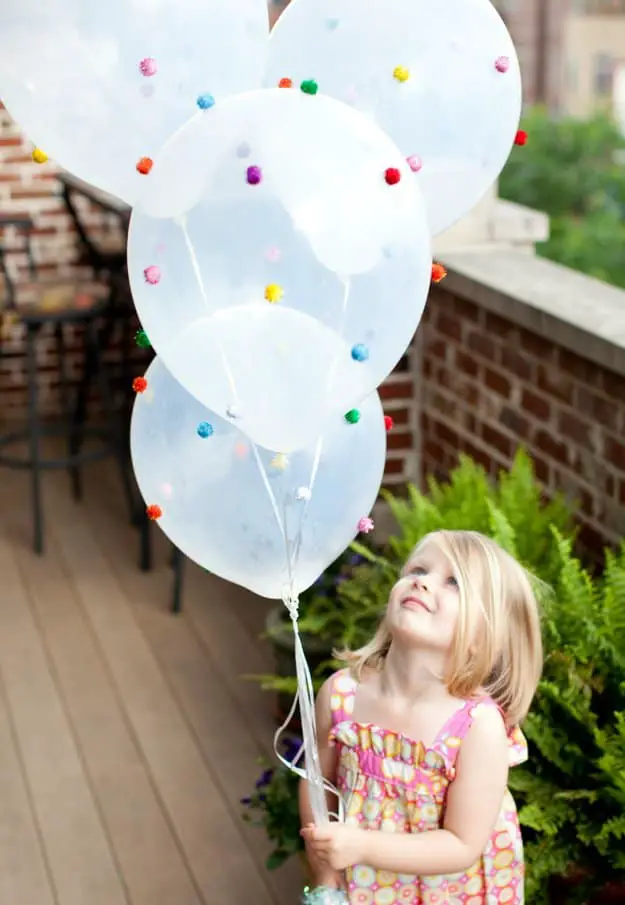 Glue some pom poms and you have a high end balloon! Another simple idea to change the whole look of your DIY balloon decor idea is by gluing pom poms to the outside of your balloons.
This gives the balloons color and texture. You could even have pom poms on the inside.
Check out the full tutorial over at Design Improvised
DIY Balloon Farm Animals
How adorable are these balloon farm animals? This simple birthday balloon idea is perfect for a farm-themed party! 
If this is a party for the littles, you can even give them as party favors to your little guests. Make fun animal balloons for your party from Martha Stewart
DIY Glitter Dipped Balloons
My Sister's Suitcase has a great tutorial on how to make glitter dipped balloons. This is a easy, cheap, but messy way to decorate for your next party.
Although they are messy, you can't deny how pretty these balloons look in a room and under the lights. These glitter dipped balloons will be the highlight of your next party.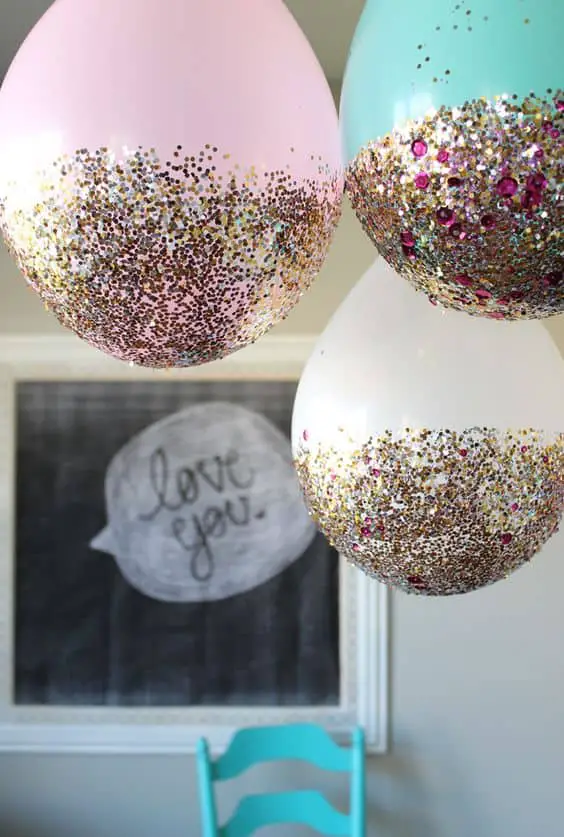 DIY Cactus Balloons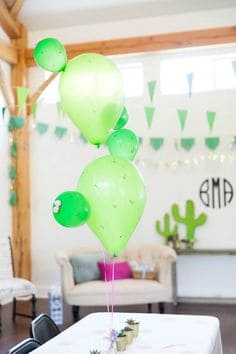 These cactus balloons are the perfect centerpiece for any southwest party theme. For this DIY balloon decor idea all you need are two shades of green balloons, a black marker, and a low temp glue gun .
DIY Donut Balloons
If you're hosting a donut-themed party, you have to make these adorable DIY donut balloons!
For this tutorial you'll need acrylic paint, a foam brush, crepe paper, and double stick tape.
After you blow up the balloon, you'll make the frosting with your acrylic paint. What is a donut without sprinkles?!
Once that is dry, you'll add the crepe paper for your sprinkles. You can get the whole tutorial over at StudioDIY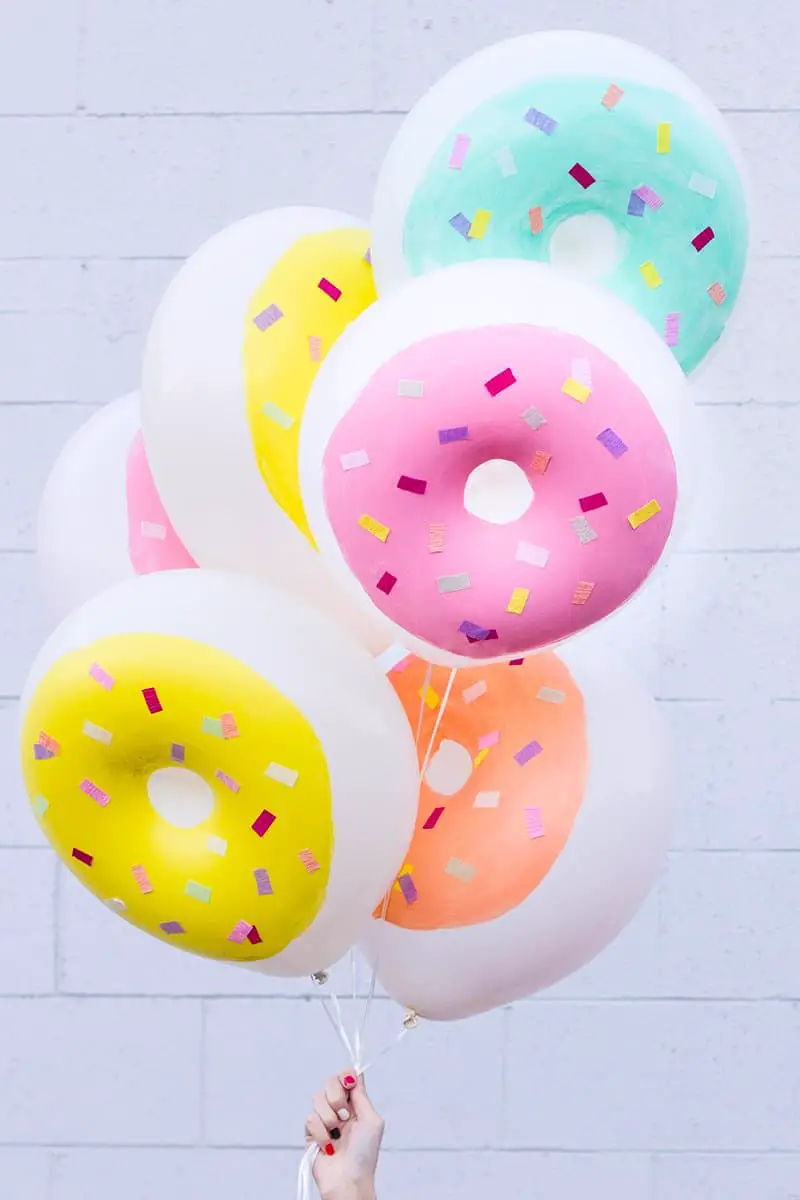 DIY Ice Cream Balloons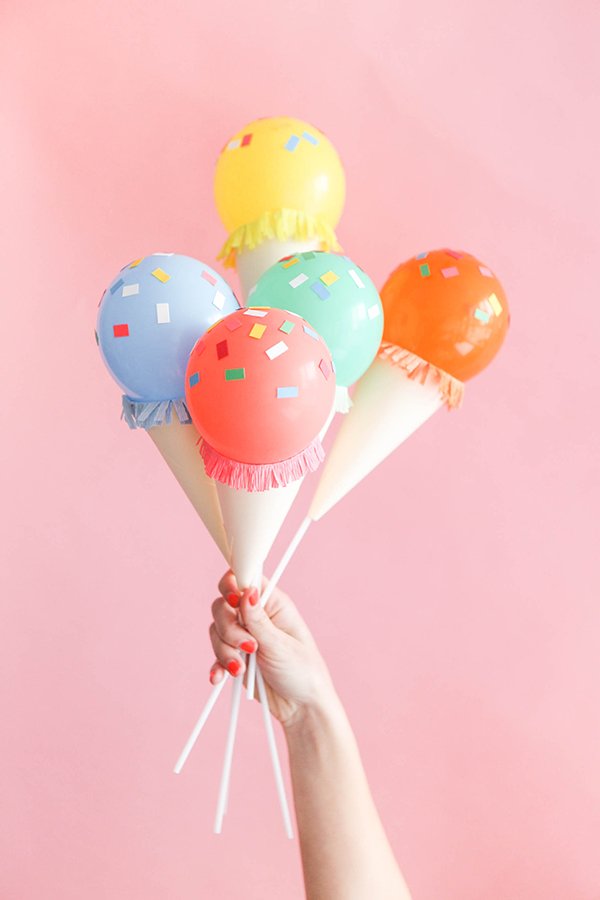 These balloon sticks look great as centerpieces for a party and the best part is you can send them home with the kids as party favors. They are really simple to craft and make the sweetest decoration for an ice cream theme party. Check out Oh Happy Day for the full tutorial.
DIY Balloon Wall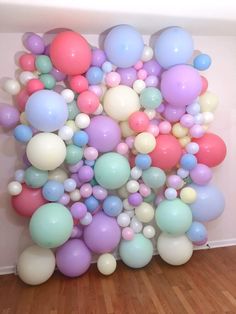 Contrary to popular belief, balloon wall backdrops or balloon garlands aren't just for kids' birthday parties. They are easy to make.  I have been obsessed with balloon walls. 
Check out our tutorial on how to make a balloon wall
Meri Meri Glittered Balloon Party Kit
These balloons are perfect for a birthday party, signing party, or for New Years Eve. These simple balloons are sticker letters on the balloon with added tassel.
If you have a cricut or anything else that can cut vinyl you're set to make your own custom glitter balloons.
DIY Circle Frame
Circle frames are the next big thing at party photo op stations. They are fairly easy to make, but can be a little time consuming. Check out these great tutorial on how to make your own DIY Arch Circle Balloon.
DIY Balloon and Streamer Wall
Combining balloons and streamers is another creative yet unique way to decoration for your party.
You can create a rainbow for a first birthday or change the colors for a more elegant look.
The color possibilities are endless for this simple balloon and streamer wall party decoration.