Contrary to popular belief, balloon wall backdrops or balloon garlands aren't just for kids' birthday parties. They are easy to make.  I have been obsessed with balloon walls.  Here are a few of my favorites for inspiration. I'll also share the secrets to making your own.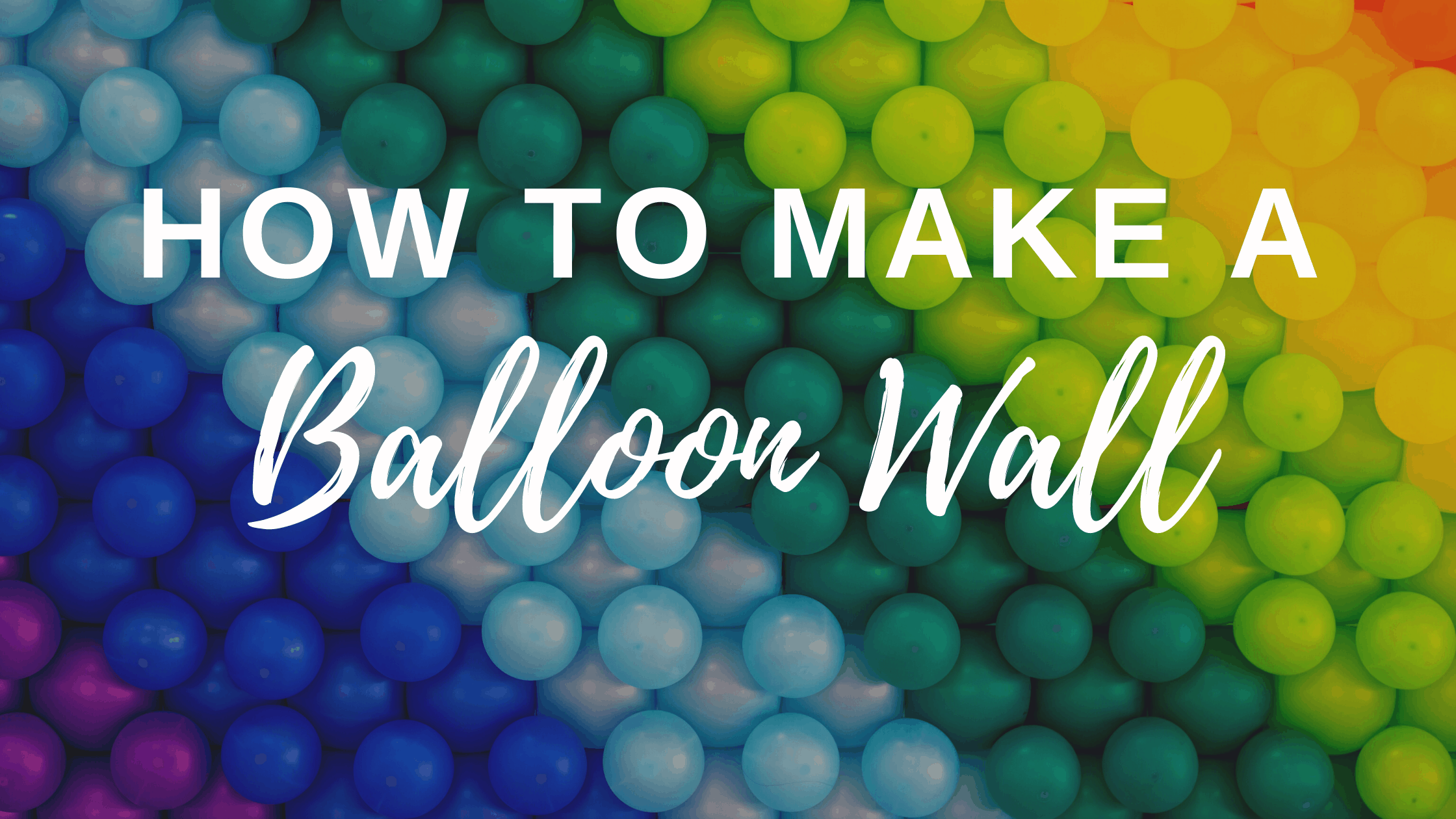 Disclaimer: We are Amazon associates which means we earn a commission if you purchase through our Amazon links. At no extra cost to you. Our commission is super tiny, so buy local if you can, but if you can't we appreciate the pennies.
How many balloons do you need for a Balloon Wall?
The amount of balloons will vary.  It will depend on how big your balloon wall is.  For my project I used roughly 241 12" balloons.  The Balloon Wall measurements are  7 feet H by 6.5 feet W.  My suggestion is to purchase more balloons that you think you'll need and return what you didn't use.
How to Make a Balloon Wall Backdrop
What materials do I need?
Low Temp Glue Gun (It's important you use a low temp one. A regular glue gun will be too hot and the balloons will pop.)
24″ Latex Balloons
12″ Latex Balloons – Red, White, and Blue pack I used
Fishing Line
Foam Board
Gorilla Tape
Hand Pump to inflate balloons- trust us, you do not want to blow all these up yourself!
Step 1: Inflate your Balloons
First thing's first: you need to inflate all of your balloons using your hand or electric pump. For the best effect, inflate them to various sizes – some small, some medium and some large. It's much easier to inflate your balloons before you start than to have to keep stopping to blow them up!
If you are using a frame to complete your balloon wall, you'll want to tie two balloons together to create a cluster.  This cluster of two balloons make the balloon column necessary to create the balloon wall. 
Step 2: Create Your Frame or Foam Board
There are a couple different ways you can construct your balloon wall. You can use a foam board or a photographer backdrop frame.  Either way is pretty simple.  It just depends on the location of your balloon wall.  
Foam Board Option
Create the shape of your balloon wall using pieces of foam board. Then attach the foam board to the wall using double-sided gorilla tape. If you want something large and statement,you could cover an entire wall in foam board. If you're after something a little more understated, try arranging your pieces of foam board into an arch or semi-circle shape. You may need to cut through the foam board to create the desired effect. Just remember – once the balloons are attached, you won't see the foam board anyway, so it doesn't need to be super neat.
Photographer Backdrop Frame Option
Create a background by purchasing a photographer's backdrop frame.  A backdrop frame is a collapsible and lightweight support system. You can adjust the height and length easily. If creating backdrop is something you will do frequently, this might be the way to go.  I found it very easy to attach the balloons.
Step 3:Create Your Pillars & Attach to Your Frame
Foam Board Option
Now for the fun bit: it's time to start attaching your balloons to your wall! Add your largest balloons first, then fill in the gaps with the smaller ones.
You can do this in one of two ways: either by gluing the balloons directly onto the wall, or by gluing each balloon to the previous adjoining balloon. The more balloons you add the less of the foam board you will see.
Photographer Backdrop Frame Option
Now that you have the frame completed, it is time to start connecting the balloon clusters together to create columns.  These columns will hang from the frame and drape to the floor. 
Tie the fishing line to your bottom balloon cluster.  Place another balloon cluster on top of the bottom set.  Wrap the fishing line around the newly placed balloon cluster putting the two clusters together.  You will want to add another cluster and add it onto the existing clusters.  Continue to do this until you have reached the height you need for the frame.  
Once you've reached the height needed, cut the fishing line and tie it to the backdrop frame.
Step 4: Add Your Extras for the Balloon Backdrop
Once all of your balloons are attached to the wall or frame, you can play around with decorative extras. Your party theme will help you decide what extras you want to add to the balloon wall. 
At this point, you're pretty much finished, but we'd recommend going to do something else for half an hour before returning to look at your balloon wall with fresh eyes.
Doing so will enable you to see where you want to add more balloons or extra decorations like tassels, flowers, fairy lights or foliage. You may find that you don't want to add anything!
Balloon Wall Tutorial Pinterest Pin