Getting out in nature around San Antonio is one of our favorite things to do.  We were overjoyed when the Texas State Parks were open for daily use again.  I was so excited about this that I made a list of Texas State Parks that are within 2 hours of San Antonio and am happy to share it with you.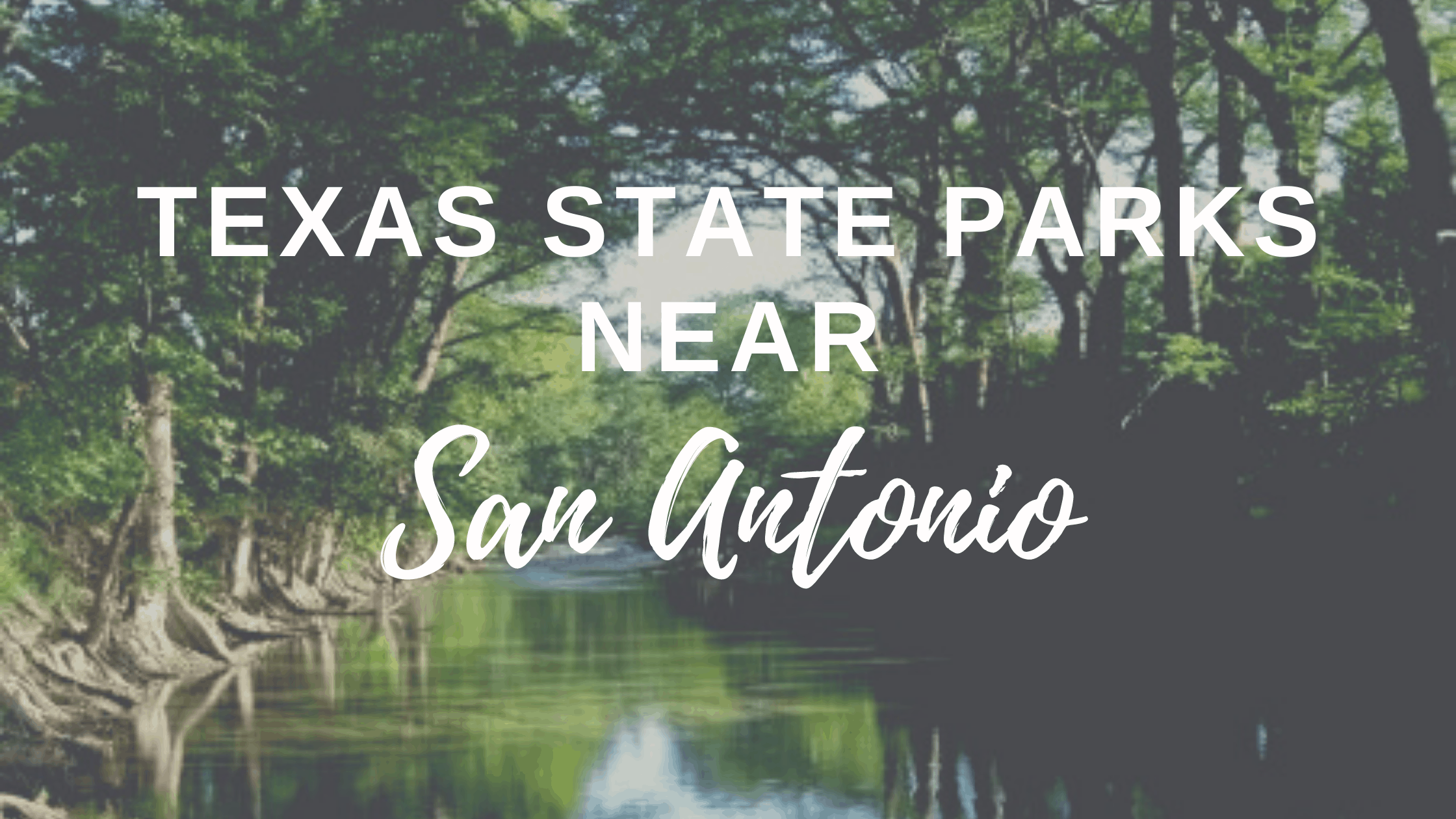 It is important to note that currently (May 2020) you have to make a reservation online before you will be admitted into the park.  Don't let this stop you from going.  Online registration is super easy.  All you need to do is create an account if you don't have one already, select the date you plan on going, and reserve your daily pass.  
I have found that passes sell out rather quickly. Especially in the morning.  The hotter it gets, the more demand for morning passes.  So plan in advance.  The more popular parks are the more likely they will be unavailable for a couple weeks out.  If you think you will be headed to the parks frequently, think about investing in their annual pass.  This will save you money in the long run.      
Government Canyon is by far the closest state park for us over on the Northwest side of San Antonio.  With this beautiful park so close by, it is no wonder that we venture there often.  I should note that this particular park is only open Friday through Monday. 
Government Canyon State Natural Area offers more than 40 miles of trails.  Their trails cross gently rolling grasslands and remote, rugged can­yon-lands. Explore by hiking, mountain biking, or even trail running. Some trails are only for hiking – check their trails map and trail signs. 
We enjoy taking our Great Dane on the trails in the frontcountry.  There is a tree arch that my kids love to climb on.  This arch is about half way on the trail. The frontcountry trails are pretty easy to hike if you're a beginner or have younger children.  You can also take your bikes on this trail for a fairly easy ride.  
You can also take the trails leading to the backcountry.  Here you can take a hike to see the only known dinosaur footprints on public land in Bexar County. Scientists think that Acro­can­thosaurus and Sauro­po­sei­don dinosaurs left the tracks, nearly 110 million years ago.  These trails are a little more hilly, but you will still enjoy yourself.
The Hill Country State Park offers 36 miles of trails for horseback riding, hiking, backpacking, and primitive camping. With over 5,000 acres of rugged canyons, scenic plateaus and tranquil creek bottoms at this former ranch northwest of San Antonio. You will find an escape from the bustle of modern life to a more relaxed time and place. Their trails are rates: easy, moderate, and challenging.  You can pick whatever type of trail you're up for.  
If you're looking for lots of amenities for a day use area, this isn't your park. Unaltered nature is in abundance here.  With that being said, make sure you bring plenty of water.  There aren't places to get it at this park.    
Guadalupe River State Park is one of our favorite places to float during the summer.  You can find my other favorite watering holes here.  Many people come to this state park to go to the river, but there is so much more to do. Beautiful scenery and colorful history await, just a short drive from San Antonio and Austin.
With four miles of river frontage, the Guadalupe River takes center stage at the park. Step away from the river to find the more peaceful areas. On the river, you can swim, fish, tube and canoe.  If you'd like to fish, but don't have any fishing gear get a loaner from the park.   
Explore 13 miles of hike and bike trails. You can camp, hike, bike, picnic, geocache, and bird watch.  Trails range from the 2.86-mile Painted Bunting Trail to the .26-mile Barred Owl Trail, which leads you to a scenic overlook of the river. The Bauer Unit offers less-traveled trails. Some park trails are open to horseback riders. 
Blanco State Park is a small park. This small park hugs a one-mile stretch of the river. Don't let the size discourage you though.  There are numerous scenic views and the river is slow-moving and clear, ideal for kayaking and tubing. You will have a blast playing in the water, fishing, or paddling.  
If you'd rather not get wet, you can still hike, camp, and watch for wildlife. My kids love going fishing here. This park is great for trout fishing. You do not need a license to fish from shore within the park,
Lost Maples is known for their fall colors, but you can find beauty any time of the year.  It features a population of Big Toothed Maples, very rare as far south as Texas. These trees only survive here because of the microclimate that is much cooler than most of South and Central Texas. 
At Lost Maples, you'll find hiking trails that are easy to follow; one is less than a mile and the other is about a five mile round trip hike. Don't miss Monkey Rock, a large granite outcropping that looks amazingly like a large monkey. You can plan a picnic at Lost Maples to round out your visit.
I will add to pay attention to the directions on how to get there.  We had no service.  Luckily we remembered which direction to go.
Enchanted Rock is a must!  No matter what time of year you go, there are amazing views to be seen.  The scenery, rock formations, and legends are magical as is the massive pink granite dome rising from the ground.  
Explore nearly 11 miles of hiking trails. The climb to the top can be slightly challenging but plenty of places to rest along the way if needed. The climb is steep, especially toward the top and would be slippery if rainy. There are other trails if unable to do the climb to the top but recommend the climb if willing and able.
The view is worth the effort, but don't try it in hot weather.  If you do, take lots of water and take your time.  This park always sells out of daily passes quickly.  Be sure to plan this one in advance.  
You won't be disappointed with any of the Texas State Parks you go to.  So get out and make some fun family memories! How many Texas State Parks have you been to?