After such a crazy year I'm sure you're asking yourself, "Are the parks in San Antonio open?" The answer is Yes! There are amazing San Antonio parks and Texas State parks that are open and ready to be played in. In fact, there are quite a few public spaces where you can get some fresh air without traveling far from the city. Check out our list of parks in San Antonio that you won't want to miss out on.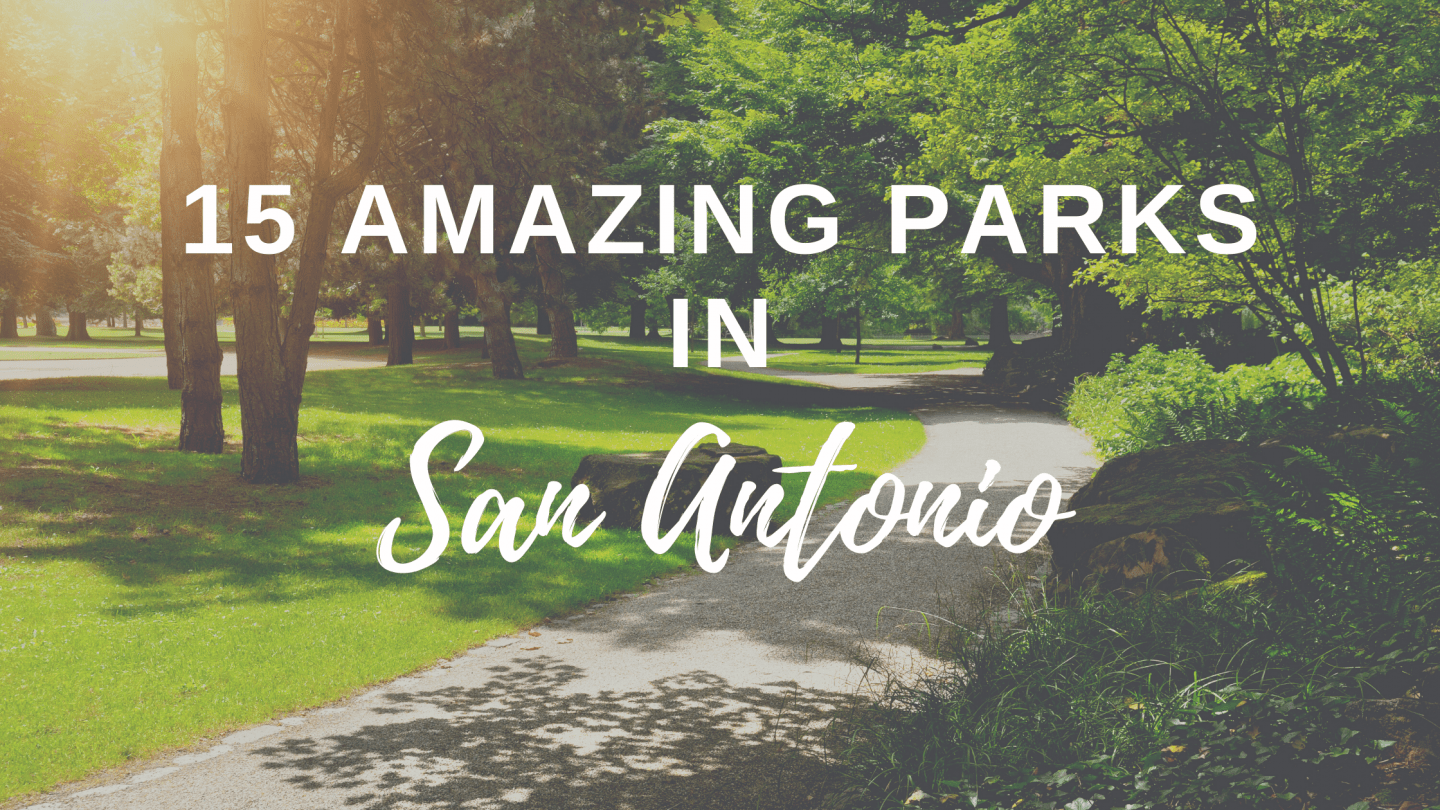 Best San Antonio Parks
Normally the weather this time of year is decent. You do have a few days when it is cool, but normally there are warm sunny days. This is the perfect time to get outside. A few of our favorite parks are:
O.P. Schnabel Park – O. P. Schnabel Park includes 202 acres. The park is filled with oak trees, mountain laurels and other native vegetation. You will feel as though you aren't in the city anymore with frequent deer sightings. This park has basketball hoops, a pavilion, playground and many hiking and biking trails. Be sure to be on the lookout for the many dirt bike trails off the main trails.
Cathedral Rock Park – At Cathedral Rock you can enjoy the biking and biking trails as well as the big grassy areas. Picnic tables are perfect for stopping for a picnic lunch or sitting back for a bit. There's also playgrounds so the kids can run around.
Walker Ranch Historic Landmark Park – Walker Ranch Historic Landmark Park is actually jammed packed with history. During the Spanish Colonial period, historians believe the area was probably occupied by Spanish soldiers and settlers. There is considerable archival evidence that the land where the park is now located was within the boundaries of the Monte Galvan, which was a supply ranch for Mission San Antonio de Valero, later known as the Alamo. Cool, right?
You can rent out the main pavilion or hike and bike on the paved trails in this tree-filled park.
Medina River Nature Area – Medina River Nature Area is a best kept hidden gem. This 5-11 acre area is perfect for hiking and biking. There are lots of terrain and wildlife to explore, you won't wait to explore. They also offer camping. Be sure to check out the website to get a reservation.
Phil Harberger Park – You will love Phil Harberger Park with their new land bridge. This park is a stunning landscape, with some of its trees having stood here since the Battle of the Alamo. Kids can play on the playground. They playscapes have a variety of equipment that encourage the development of motor skills while kids play, as well as rubberized ground cover for safety.  You can also hike the many trails or take your furry friend to the dog park. There is so much to do at Phil Harberger Park.
Parks in San Antonio for Full Day Exploring
San Antonio Missions Hike & Bike Trail – The historic San Antonio Missions Trail can be a great hike for your Spring Break adventures. You can customize your journey: from a 20-mile round trip that starts at the Alamo and goes all the way to Mission Espada and back, or something simpler. The trail is also great for cycling, hiking, or kayaking. You can check out our experience in this blog post.
Tom Slick Park – Tom Slick is conveniently located off of Hwy 151 and is another hidden gem. It is a versatile park with a dog park, basketball courts, baseball field, playground, hiking trails as well as a grassy area to hang out or play in.
Friedrich Park – Friedrich Wilderness Park offers approximately 10 miles of hiking trails with varying degrees of difficulty. It is home for rare birds, terrestrial orchids, steep hills and deep canyons. It is internationally known for bird watching. Take a lunch and make it a day of hiking.
Eisenhower Park – Eisenhower Park has a variety of different level hiking trails. You can see the beautiful Texas scenery. Once you are done hiking, the kids can play on the rock wall and playground. This is a favorite park in our home.
Camanche Lookout Park – Camanche Lookout Park is a 96-acre public park with an almost five-mile nature hiking trail. The park includes the fourth highest point in Bexar County with an elevation of 1,340 feet. The park also sports a few picnic tables, but the highlight is the great hill and history of this landmark.
Hidden Gems Parks in San Antonio
Brackenridge Park – Brackenridge Park extends into the Japanese Tea Gardens, Witte Museum, and San Antonio Zoo. This beautiful park is covered with Live Oak trees and offers visitors dozens of picnic tables and barbeque pits. Brackenridge offers three pavilions (available for events), a playscape for children, a softball field, a walking path around the pond, where you'll find all sorts of ducks. The Zoo Train also runs through this park.
Government Canyon – Government Canyon is a Texas state park in San Antonio that offers more than 40 miles of hiking. The trails range from easy to moderately strenuous and from grasslands to rugged canyons. These trails are great for either a half-day or full-day hike. Don't forget to check out the dinosaur tracks. It is about a 2 mile hike to the tracks. It is a bit of a hike, but it will be worth it.
Culebra Creek Park – Culebra Creek Park  is the perfect park to play sports with the family. It also has walking trails and wooded areas for you to indulge in some much-needed time in nature. Be on the lookout for the minature waterfall and fun paths.
Did we miss your favorite hiking park? San Antonio has so many parks, we were bound to forget one of them. You can find a full list of local parks here.
Surrounding Area Parks
Cibolo Nature Center – Cibolo Nature Center is not too far north of San Antonio in Beorne. Much of the original 10,000-acre ranch has been developed, but the Friends of the Cibolo Wilderness group was able to acquire 62 acres of historic farmland across Cibolo Creek from the CNC's nature preserve. This beautiful area has walking trails, a creek to play in, and a playground. You can even check out their dinosaur tracks.
Fischer Park – Fischer Park is located in New Braunfels. It is the largest park in the New Braunfels park system, offers a variety of amenities for discovery and exploration. Stroll or run around the park on over two miles of greenway trails, where fresh air, sunshine and nature are abundant. Relax at the two fishing ponds, splash at the sprayground, enjoy the playgrounds or take in the dramatic views of New Braunfels from the 62-acre hill top park.
Floating Down the River
It might still be a little cold to head to the Rivers to float, but incase we have a few really warm days check out our Guide to the Best Rivers.
The Beach
Now I know I said we usually stay close by, but sometimes I can convience the kids to go to the beach. The nearest beach is in Corpus, 2-3 hours away. We usually make a day of it. We pack a lunch, leave early, spend all day making sandcastles, flying kites, swimming, etc. When it starts to get too cool (usually around dinner), we head home. You can pick up dinner on the way home and enjoy a nice quite car ride home. Which Trail or Park are you going to try?
Pinterest Pin for Best Parks in San Antonio