Growing up I always dreamed of being a mom and how much fun it would be. Now that I'm there with 2 kids of my own it's not quite what I imagined. I imagined running and skipping and playing with my kids. I imagined laughing and joking with them and enjoying…. just being with them. That doesn't always happen, but with this list of 100 things to do this Spring I'll be prepared.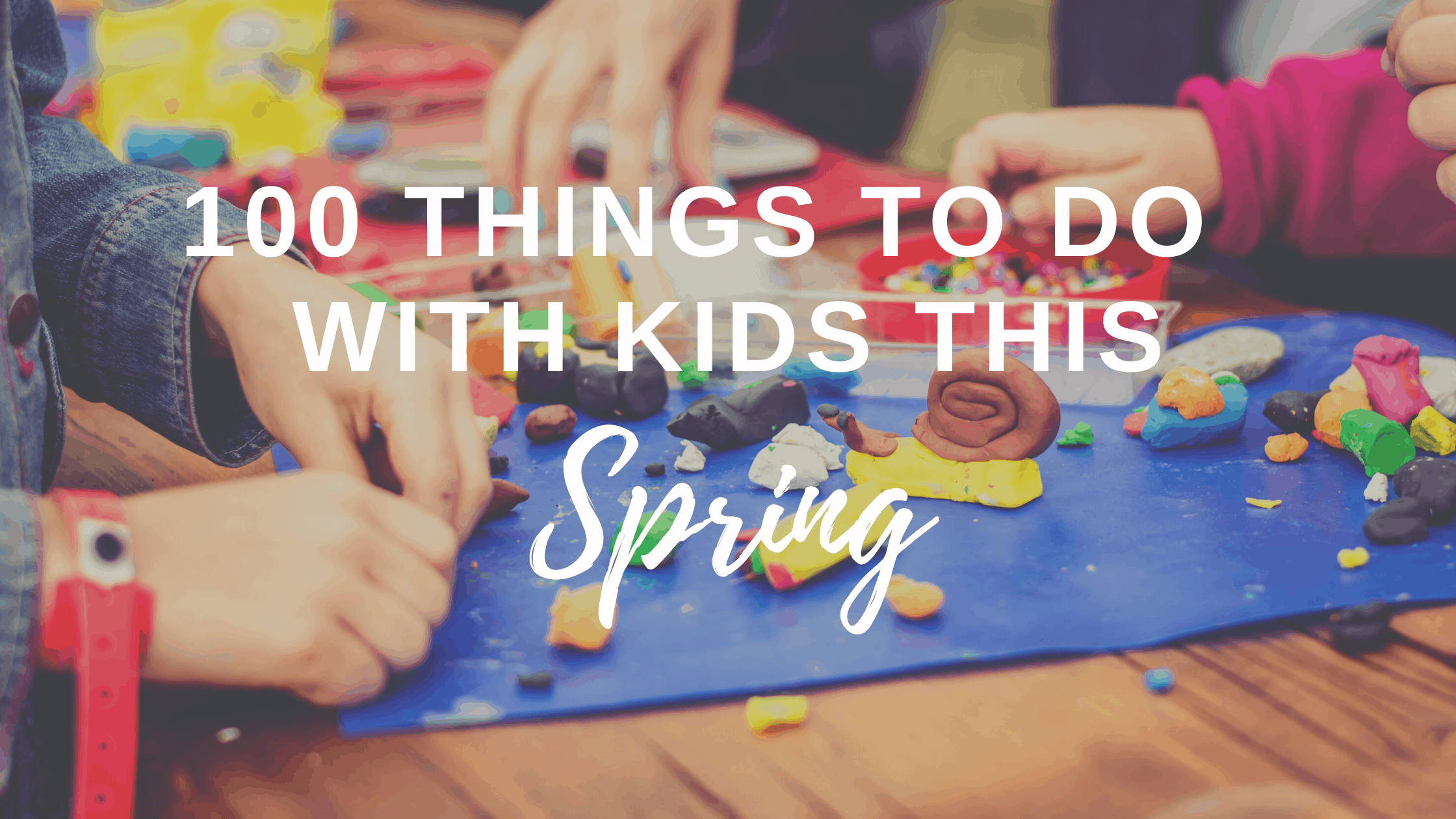 Things To Do This Spring
Sometimes I'm so busy taking care of responsibilities and cleaning up my kid's messes I've become the mom who is dull and boring. I've become the mom who doesn't laugh much and frankly, that scares me. I don't want them to remember me as the mom who never smiled. What about you?
Now more than ever I've decided to be the mom who laughs and jokes; the mom who plays and enjoys her time with her kids, right along with the mom who cleans up poop messes and milk spills. Do you want to be that happy mom with me?
Because these kids aren't going to be little long we have to enjoy the precious moments we have with them. Before we know it they will be grown and gone and memories will be what they have left of their beautiful childhood.
What memories do you want your kids to have of you? I don't know about you, but I want my kids to remember me as being a happy and fun mom. So, here are ways to be a fun, laughing, smiling, happy mom.
100 Ways to Have Fun With Your Kids this Spring
Things to Do With Your Kids Outside
Plant a garden
Collect wildflowers
Build a fort
Fly a kite
Go for a hike
Nature scavenger hunt
Nature walk
Fishing
Dog Walking
Go stargazing
Read outdoors
Dance in the rain
Egg hunt
Beach day
Play a sport at your local park
Make a bird feeder
Play Pooh sticks
Bug Hunting
Catch Butterflies
Create sidewalk art with chalk
Blow bubbles
Play Frisbee
Play a sport outside
Picnic in the park
Backyard picnic
Go for a bike ride
Smash water balloon pinatas
Camping in the backyard
Train for a race
Jump on the trampoline
Play hopscotch
Go swimming
Make an obstacle course in the backyard
Climb a tree
Play a prank on daddy
Things to Do Inside this Spring
Spring cleaning
Painting with flowers
Decorate the house for the next holiday
Dye Easter eggs
Make a wind chime
Play hide-n-go seek
Make flower crowns
Create a Spring sensory bin
Create a fairy garden
Make lemonade
Have a dance party
Make Playdoh
Paper airplane races
Play horses and let them ride you
Play their favorite board games
Read a book
Watch a movie – read the book, then watch the movie
Movie Night with popcorn
Read alouds
Bake cookies for neighbors or first responders
Bake cinnamon rolls
Have a Fiesta
Make paper chains to decorate your house or child's room
Take a family portrait
Indoor picnic
Do a puzzle
Shadow puppets
Skype with long distance family/friends
Paint by numbers
Try a new hobby
Spa day
Online Art Class
Make Snickerdoodles
Family sleepover in the living room
Balloon volleyball
Create new Lego figures
Play dolls or Barbies
Make sock puppets and put on a play
Paint by numbers
Draw a treasure map and go for an indoor treasure hunt
Play with Lego
Make with still images
Learn a new language
Start a new tradition
Build a blanket fort
Color in boxes
Make a box car and have a drive in movie
Make crafts together
Places to Go in San Antonio or Your Local Town
Visit a Farmer's Market
Read books at the Public Library
Pick berries at your local farm
Play tourist in your own town
Check out your local Museum
Science Center
Humane Society / SPCA to volunteer
Volunteer at the Food Bank
A friend's house
Grandparents' house
Playground
A book store
To the movies
To a play
Donate old toys or books
Bowling
Take a class
Feed the ducks at the park