The Holiday season is upon us which means it's time for a fun, holiday get togethers. If you are planning a Christmas party for your teens and tweens you've come to the right place.  Although teenagers can be hard to please, teen Christmas parties don't have to be difficult.  Check out our list of ultimate Christmas party ideas for teens that includes party themes and games.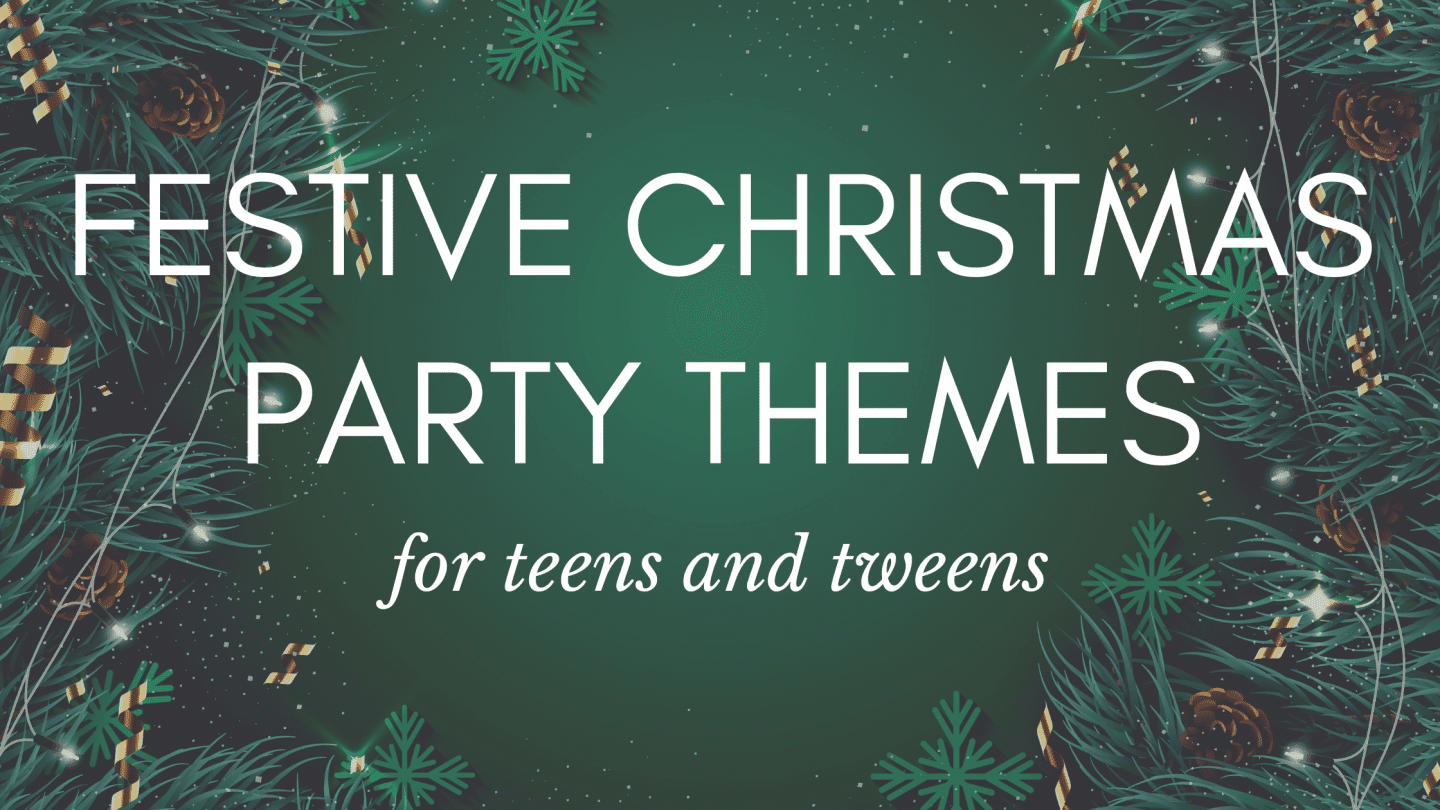 10 Christmas Party Themes
There are plenty of Christmas party ideas for teens and themes to choose from including Christmas movies to book themes, winter wonderland to luau.  Here are a few Christmas party ideas your teens will enjoy.
Classic Christmas Party Theme Ideas for Teens
Winter Wonderland
Christmas Sock Exchange
Christmas Bake Off
Buddy the Elf
Santa's Workshop
Ugly Sweater Contest
Carol-oke Party
Toys in Toyland
Candy Canes
Christmas Luau
Christmas Party Games for Teens and Tweens
Throwing your teen or tween a Christmas party is a great way to have some holiday cheer. We have a great list of Christmas party games that your teens will enjoy.  You can also check out these free printable Christmas games and coloring pages.
Donut Racing Game
Honestly a game involving food is always a hit.  For this idea you'll need to tie donuts to a string.  This string will be tied to a rop that is draped across so that the donuts hang down.  Guests will have to eat the hanging donuts without using their hands.
Christmas "Who Am I?"
For this game you'll need to use post it notes.  Everyone will write a Christmas character or item on a card without showing it.  Once they have written down the character or item, they will stick it to someone else's forehead.  That person will ask a series of questions to try to figure out what character or item is on their forehead.
Christmas Truth or Dare
This games is a Christmas twist to the classic game of truth or dare.  The dare items can be minute to win it hype of Christmas games or dance to Jingle Bell Rock.  The truth questions can be centered around Christmas time.  For instance: "Have you ever peeked at your presents before Christmas?" or "What is the weirdest thing you asked Santa for?"
Birthday Party Ideas 4 Kids has some great ideas for Christmas Dares.  Check them out here.
Secret Santa
A classic Christmas game is Secret Santa. Have each person draw a name and secretly buy or make a small gift for that person, then have a fun reveal at the party.
Holiday Charades
Charades is a game of pantomimes.  You have to "act out" a phrase without speaking, while your team members try to guess what the phrase or person is.  Your team members must guess the phrase as quickly as possible for time runs out.  
We have a free printable for Christmas Charades.  Simply print and cut out.  Get yours here.
Christmas TikTok Challenges
For this activity, you will set up TikTok Challenge stations for your guests to complete.  Make sure your stations have a fun holiday backdrop, ring light, and phone stand.  Some of the Christmas TikTok Challenges include: #HereComesSantaClaus, #SugarPlumFairy, #JingleBellRock, and #LastChristmas.  Elite Daily has more TikTok Dance Challenges perfect for your Christmas party for teens. 
Christmas Movie Trivia
Test your guest's knowledge of classic and new Christmas movies.  The winning team can get a prize. You could also add in Christmas music to your trivia night.
Christmas Scavenger Hunt
Set up a scavenger hunt around your house or in the backyard with Christmas theme clues.  They will be excited to find the Christmas treat at the end of the scavenger hunt.
Decorate Gingerbread Houses
Provide your guests with the gingerbread or graham cracker house along with icing.  Ask your guests to bring their favorite candy to decorate with. Add a contest to see whose gingerbread house turned out the best.  
Christmas Mystery Stocking
Fill a stocking with different holiday items.  Have your guests reach into the stocking and try to guess each item by feeling it.  After one person guesses, they pass the stocking to the next player to guess and so on. See who can guess the most items.