Sometimes having a birthday around a major holiday can be disappointing especially when you're a kid. This year why not throw a Halloween themed birthday party instead?! Halloween can be a really fun holiday and would make a very memorable birthday party. Here are some of my favorite ideas for making your kid's spooky birthday celebration the BEST ever.
If you're in the San Antonio area, check out our ultimate list of pumpkin patches in San Antonio and add more fun to their already fun, fall birthday.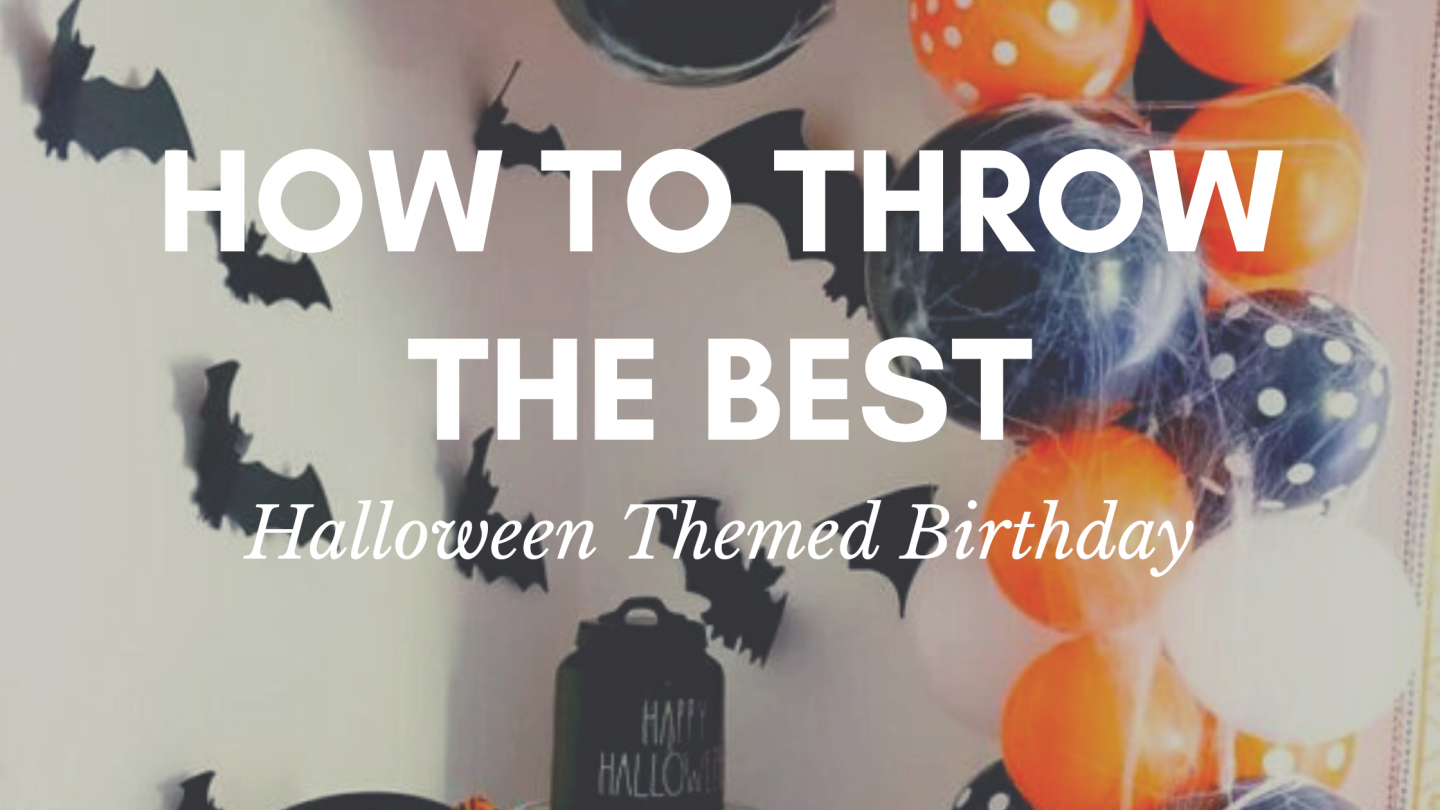 Tips for Throwing the Best Halloween Themed Birthday Party
Choose a Theme: One of the first things you want to do to throw the best Halloween themed birthday party is to come up with a party theme. This can help you determine what kind of Halloween decorations, cake, games, etc. The only difference is your cake has a candle and you sing happy birthday.
Here are a few ideas for a Halloween themed birthday party:
Witches themed party
Sweet Temptations themed party aka candy themed
Haunted house/spooky themed party
Halloween craft themed party
Pumpkin carving themed party
Zombie themed party
Monster themed party
Black and Orange themed party
Costume themed party
How Long Should My Kid's Halloween Party Be: You might be wondering how long this party should be. Well, depending on the age of the kids, decide how long the party will run. Two to three hours is usually enough time for young children.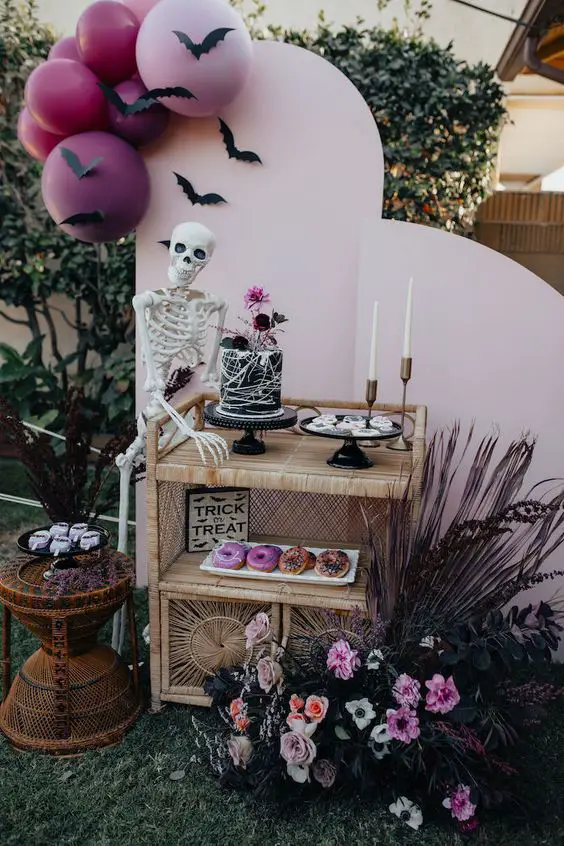 Now that you have a theme in mind, lets continue planning. In all honesty planning a Halloween themed birthday party for you kids is no different than planning any other party. Lets look at some games and food ideas that will help you throw the best birthday party.
15 Halloween Themed Birthday Games
There are so many games you can play that are easy to put together and mess free. Here are some ideas of games you could play.
Have the kids paint decorate or carve pumpkins to take home. Decorating pumpkins is super easy for a crowd and the kids will have a blast. The pumpkins can start off as a decoration, and can go home as part of the party bag.
Poke a Pumpkin and get a treat. See the picture below
Halloween themed scavenger hunt
Tin can bowling
Make a monster bean bag toss game
Black Light Halloween Candy Game – Play this game as a fun alternative to trick-or-treating. Your little ghouls and goblins can hunt for sweet treats using only a black light, scrap paper, and candy.
Shoot the Skeleton – The kiddos will have a bone-rattling good time with this game! Just hot glue mini skeletons to a foam board and then let your little ones take aim with mini squirt guns.
Witch Hat Memory Game – Use witch hats to hide silly Halloween trinkets and then see what they can remember!
Pin the Spider on the Web – To play, just grab a blindfold and try to pin the cute creepy crawlies onto their web.
Halloween Egg Hunt – Swap the Easter baskets for cauldrons and trick-or-treat bags and send the kiddos off in search of Halloween-themed eggs.
Mummy Sack Race – Turn a sack race into a mummy sack race by wrapping white crepe paper streamers around contestants' legs.
Make a Mummy – Choose one guest to be wrapped in toilet paper and make them into a mummy. Fastest group wins.
Guess the Food – In this game, players are fed things like "eyeballs," and the first person to correctly guess what it really is (peeled grapes in this case) wins.
Candy Corn Relay – Divide children into teams and instruct them to run spoonfuls of candy corn over to mini cauldrons without dropping any candy along the way. The team with the most candy corn in their cauldron at the end is the winner
Marshmallow Toss – You need a few small cups for this one, which you will decorate in a cool Halloween theme, and them some tiny marshmallows. 
Halloween Birthday Food
Luckily Halloween is all about sweet food. However, you should have lots of treats that are both savory munchies and sweet. Here are some ideas on Halloween themed food.
Halloween Snack Mix
Spiderweb Pizza
Chocolate Dipped Ghost Pretzels – Microwave white candy melts and 1 tsp coconut oil in 20-sec. increments, stirring until melted and smooth. Then, dip ends of pretzel rods two-thirds of the way in candy melts, shaking off excess, and place on a parchment paper-lined baking sheet. Let set until firm. Use black edible marker to create your ghost faces.
Severed Toes in Bandages – this creepy take on pigs in a blanket brings new meaning to on-theme party snacks
Halloween Fruit – see picture below
Black Cat, Bat, Spider, and Mice Doughnuts
Decorated Cookies – Set out a platter of Frankenstein, bats, coffins, pumpkins, spiderwebs, and tombstone cookies, and watch them disappear.
Crude-Ités with Green Slime Dip – make veggie and dip more exciting by cutting them up and accompanying them with an herb dip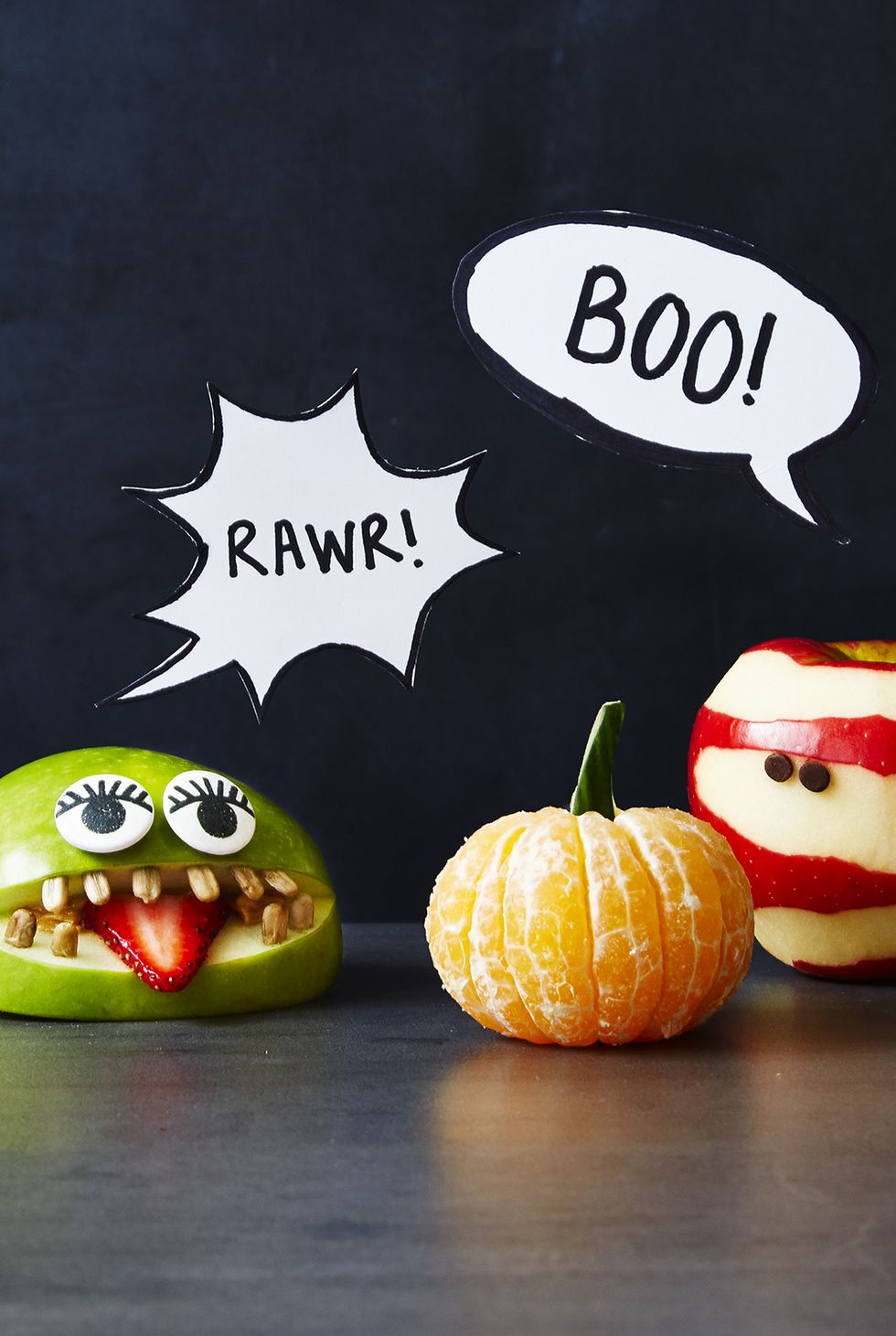 We hope these gave you some ideas to throw the best Halloween themed birthday party. It's something a bit unique and we sure the other little kids would love coming dressed up. You certainly wouldn't need to worry about your party being the same as everyone else's.