Forget what you thought you knew about Northwest Arkansas. We discovered the beautiful scenic drive of rolling Ozark Mountains and jaw dropping canyons as we drove from San Antonio to beautiful Bentonville, Arkansas. When you step into downtown Bentonville, you will feel like you've stepped onto a movie set and back in time to a charming town. Bentonville is one of Northwest Arkansas best kept secrets, but it won't be for long. This is a must see trip for anyone, but most of all for your family. Here is a list of things to do in Bentonville and why you need to take your kids to Bentonville, Arkansas immediately.
Check out our other City Guides like South Padre Island here.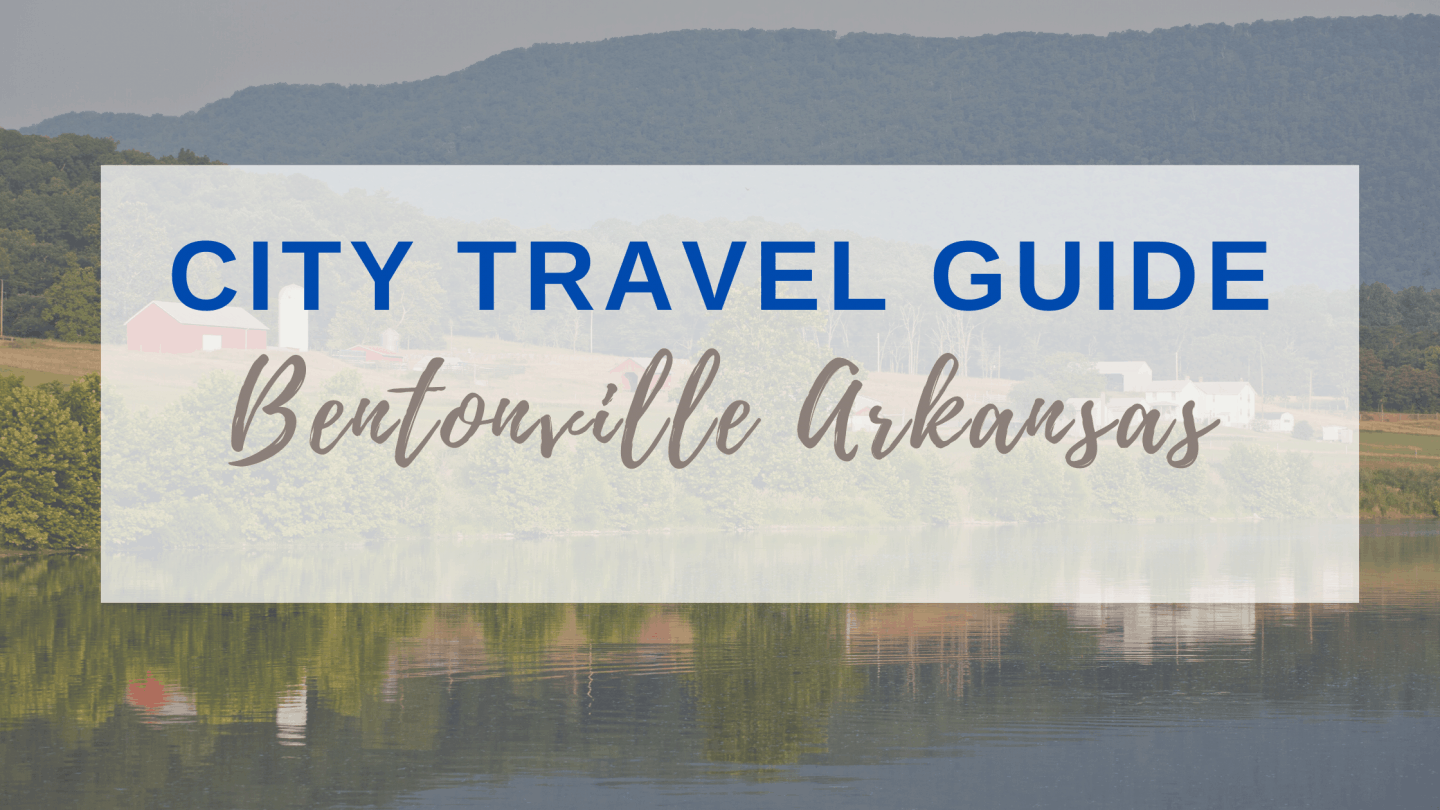 City Travel Guide: Things to do in Bentonville Arkansas
Best Places to Stay in Bentonville
When it comes to staying in Bentonville, there is a little bit of selection for you. We loved these two locations. Both were convenient and did the job for a quick afternoon quiet time or bedtime.
21C Museum Hotel
This charming hotel located in downtown Bentonville is a mix of modern art and comfort. The first floor of the hotel is a 12,000 square feet 24/7 art museum. There are plenty of opportunities to discover art around every corner. Additionally each floor of the hotel has a different theme. The guest rooms are spacious with a great modern contemporary feel. This was by far one of our favorite places to stay. If you get hungry head down stairs to their amazing restaurant, The Hive. They also have a exercise room, business center, and free wifi.
Courtyard Marriott
The Courtyard Marriott is conveniently located off of I-49 a few minutes away from downtown Bentonville. Their on-site amenities include The Bistro, an exercise room, and indoor pool. Trust me when I say we used that pool quite often. The hotel has complimentary wifi along with pullout desks.
Best Places to Eat in Bentonville
Half the fun of going on vacation is trying all the local restaurants. You won't be disappointed with Bentonville. We found so many great places with amazing family friendly dining and cuisine. More of a visual person when it comes to food? See all the photos from our favorite restaurants here.
This restaurant is casual dining with delicious gourmet food the whole family will enjoy. It is located just a short distance from the main square in Bentonville. With an ever changing menu, you will find unique foods that aren't on your everyday menu. Whether it's bison, boar, or blue fin, the quality of food matches the presentation. And the customer service is up to par as well.
In keeping with its name, the Hive decor features large bees and honeycombs on the walls – unusual but fun and fitting for an "art" hotel's restaurant. We were staying at 21C so it seemed only rational to drop in to The Hive downstairs for breakfast. We were pleasantly surprised by the amount and quantity of food. The breakfast is a must for your next trip. A word of advice. You will want the homemade biscuits and jam. I will definitely be going back just for that.
Eleven is located at Crystal Bridges which makes it the perfect place to grab a bite while you are at the museum. The southern influence was evident in several of the items on the menu. I was pleasantly surprised to find out the entire menu is gluten free. The view from the restaurant is lovely. It is very large, so there plenty of tables for guests. With the large windows on both sides of the restaurant, there is a lovely view for every table.
It is a little known fact the father of the owner of Preachers Son use to give his service across the street at an adjacent church. The restaurant is in an old church and has modern stained glass windows that let the sunset shine through giving the dining room a beautiful orange glow. Preachers Son gluten free menu and atmosphere will not disappoint. We tried many dishes and none disappointed.
Louise is a modern cafe in Thaden Fieldhouse which serves a diner-style menu for breakfast, brunch, lunch, and dinner. This cafe has both indoor and outdoor seating facing the runway. While there for breakfast, we were excited to watch a helicopter lesson and multiple small planes take off. You can also check out the museum in the front and store. Both are interesting to walk through. Our food was quite yummy. I had a full breakfast – eggs, bacon, toast, hash browns. They were cooked to my exact request. Not sure what they do to scrambled eggs, but they were great.
I believe this was my kids' favorite place by far in Bentonville Arkansas. Trash Creamery is a 80's dream. So many toppings and mixed perfectly! At Trash Creamery you get to create custom combinations of cereal, candy, ice cream, and FUN! The atmosphere is an 80's theme that reminds me of being a kid. There is plenty of 80's decor and games to play while you wait for your customer ice cream.
Must do Kid Friendly Activities in Bentonville
Bentonville has plenty of things to do with your family. The best part is majority of these places are free, which is the best part. We found out that you can do most of these within a few hours. Don't be scared to do a couple within one day. The kids will love it.
Can I just say, that I absolutely love when things are family friendly. Crystal Bridges is a wonderful way to spend a day, or only several hours, if you have little ones. Before you begin your tour pick up a free Family Guide for an interactive tour the kids will enjoy.
Be sure to check out The Studio. The Studio is an artmaking space for both children and adults designed to guide guests through various ways of looking at and thinking about works of arts and crafts. I found this to be a great space for my art & craft loving daughter. She was able to create her own masterpiece.
General Admission is always free of charge. This museum is A MUST if you are in the area! Beautiful grounds, the Crystal Bridges Structure itself is amazing!! Grounds are open sunrise to sunset. While general admission is free, you will need to purchase tickets for some of their special areas.
Just down the street from Crystal Bridges the Amazeum is a magnificent introduction to art and to science pertaining to weather, agriculture and engineering interactive displays – and the kids don't even know they're being educated. With areas designated for every age group there is something to do for kids of all ages. There's water, so be ready and dress appropriately, and Hershey's (among others) sponsors a tasty experiment on a scheduled basis. Parking can be tricky – the place is quite popular. There's a great gift shop for all ages as well. A nice – and recommended – place for the whole family.
Going to the Walmart Museum was such an interesting experience. It is a super cool, FREE, museum which illustrates the history of the great Sam Walton and the Walmart retail chain.  There are so many fun and interesting things to see, interact with, and read. It was really fascinating to see the Sam Walton dream, and appreciate his kindness and generosity as a human being.  This is a worthwhile time investment, probably an hour or less, it ends in a great candy / ice cream store – consider this a sweet treat when visiting Bentonville, Arkansas.
My kids also loved shopping in the Walton 5 and 10, which is the entrance to the museum itself. They have products that look vintage along with a great selection of candies and fun small toys.
If you haven't been to the Museum of Native American History than you are missing out. This FREE museum is the gem of Native American artifacts is fascinating. Upon entering the museum each person is offered an "awesome wand". With this device, we could listen to an explanation of each of the displays throughout the museum. It was very informational, and it really kept the children–ages 7 and 10–engaged. There is an amazing collection of arrowheads on display, Indian clothing, weapons, headdresses, and other artifacts. We spent a few hours here and enjoyed the gift shop and hunting for arrowheads (one free and the rest were .50 cents) near the outdoor tee pee afterwards.
Best Parks and Trails in Bentonville
What I absolutely love about Bentonville are their hiking and biking trails. Some might not know about this destination, but it needs to be known Bentonville has some of the best biking trails around the country. Be sure to check out Bike Bentonville for more information.
Compton Gardens
Compton Gardens is a small, heavily wooded area just north of the Bentonville town square. It lies next to the Razorback bike trail, but bikes are not allowed in the Gardens. It's a pleasant but short walk through the Gardens. The local vegetation is labeled along with art displayed along the trail to make it fun. You can also take this trail to the south entrance of Crystal Bridges. We loved being outside and exploring nature.
Lawrence Plaza Splash Park and Ice Rink
We took our children to the Lawrence Plaza splash park and had a great time! We were there first thing in the morning so it wasn't too crowded! My kids loved it! If you go at night, there are fun lights to watch while the kids play. Not going to Bentonville during the warm months? No problem. The splash park turns into an ice rink.
Bentonville has so many amazing places to go and things to do. You won't be disappointed. Have fun!
Photos provided by VisitBentonville.com
Disclaimer: The links in this post contain affiliate links. If you click through and buy something I will get a small commission used for keeping the blog up and running smoothly.
Pinterest Pin for Best Things to do in Bentonville