San Antonio is best known for being the home to the Alamo. However, there are so many other great things to do in San Antonio with kids when you come to visit. San Antonio has numerous museums, theme parks, athletic teams, etc. There are also plenty of family friendly things you can do for free. So, lets get to it. Here is the ultimate family travel guide to San Antonio that contains some of the best places to visit and things to do in San Antonio with kids.
Still need ideas? Check out the best beaches near San Antonio, restaurants with outdoor playgrounds, and the best parks in San Antonio for more ideas.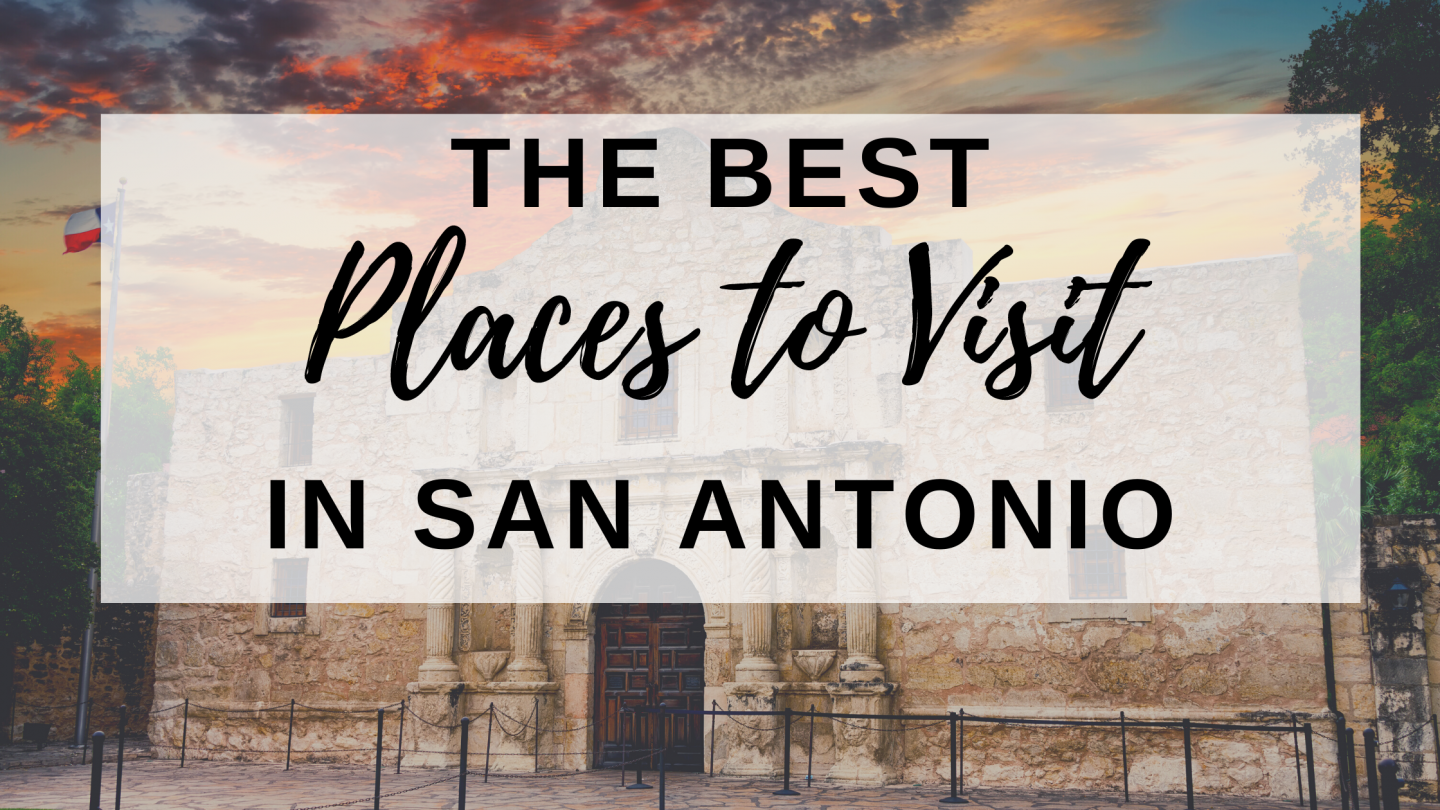 The Ultimate List of Things to do in San Antonio
San Antonio is known for their River Walk and is a must. The River Walk is a pedestrian zone that sits one level below the main city streets. It has restaurants, bars, shops, public artwork, and it allows you to get around the city and between many of the city's major attractions without having to worry about traffic and crossing roads. You will want to take a Riverboat tour to listen to the history of the city and the San Antonio River. The tour lasts about 35-45 minutes and is worth the time and money which is why it a fun thing to do in San Antonio with kids.
San Antonio is home to 4 Missions plus the Alamo. From north to south: Mission Concepcion, Mission San José, Mission San Juan Capistrano, and Mission Espada. Each mission is about 2.5 miles from the next mission. It is very easy to drive from mission to mission, and parking is available at each mission site. The Missions are free to enter and explore. The Alamo, of course, is the most popular of all the Missions. It is downtown San Antonio. Depending on if you like to stop and read or not it won't take long to explore the Alamo. However it is still worth it to stop by and mark it off your bucket list.
The "Pearl" is one of the hottest spots in town and one of the trendiest places to visit in San Antonio. Located at the former Pearl Brewery site (from back in the 1800's and closed shop after prohibition), this area has been transformed into a place to see and be seen. Featuring a food hall and 17 other eateries and establishments, it isn't surprising that the Culinary Institute of America has opened a campus here. It also has free parking and fun boutiques to window shop at.
The Tower of the Americas is to San Antonio what the Space Needle is to Seattle. The view is amazing. There is a restaurant on top called The Chart House. People come to the Tower of the Americas for the view, but a drink or dessert is a nice bonus while you're taking in the mesmerizing cityscape.
Right next to the Tower of Americas is Hemisfair Park. The city has done so much to this fun park. You will want to spend a couple hours letting the kids play on the fun playscape, ping pong tables, giant chess and checkers boards, play in the giant sand box, and the splash pad. If you happen to go on a hot day, you can cool off by getting palettas at Paleteria San Antonio.
We love to walk through Market Square. It normally has lots of vendors and live music. The ambiance, food, music and drinks are like non other. We spend at least an hour or more and walk around through the crowds and just enjoy the afternoon. There are plenty of shops to walk through, restaurants to eat, etc. If you're there around 1pm you will be able to watch the live show of SA Live. Once you've eaten and shopped to your heart's content, you can walk across the street and let the kids play at the park.
Things to do with Kids in San Antonio
The Doesum is San Antonio's children's museum. It is a safe, smart entertainment for all ages that will help you get out of the heat. The exhibits are interactive, thoughtful, and really fun. Very few exhibits are age-specific. Most engage all kids at some level based on the child's age, interest, and ability to read/pay attention. Bring a change of clothes for the kids. There are a few water features they can play in.
If you're kids are animal lovers, than the zoo is a must for you. The San Antonio Zoo is great place to spend hours with family watching and learning about animals from all over the world. Though it's mid size zoo, get ready to walk a lot, there are tons of exhibits with many creatures both common and rare. The zoo has a few indoor exhibits of reptiles, birds, and aquatic life, that is a great place to escape the hot Texas heat. For a fee, there is area that you can go pet kangaroos, supervised of course.
You can also take a fun train ride outside of the zoo area that will take you around Breckenridge park. You can get on and off the train, but we love just going around the loop and learning about the park.
The Japanese Tea Gardens were originally a rock quarry. The paths are lined with rocks. It's beautiful. There are little hidden trails everywhere too. They have a little bakery/tea shop that was really good and air conditioned. You will spend a couple hours here. We usually like to go to the Tea Gardens along with the zoo train. Unfortunately there are plenty of small paths that aren't stroller friendly. So leave that stroller in the car. Did I mention it is free?!
The gardens are one of our favorite places to go. I love spending the day enjoying all the beautiful gardens & displays. Hummingbirds & butterflies were all over the place. There was a seasonal exhibit of "Big Bugs" made of wood that were spectacular. The kids are given a scavenger hunt to find all the bugs. One of the newer sections of the gardens is the family friendly area. There are fun things to do and a stream to play in.
The San Fernando Cathedral has an amazing 30 minute multi-media on the dark facade of San Fernando Cathedral with the use of lazers wonderful It is a fun presentation of San Antonio history. Be sure to check the website to make sure there is a performance. They have been doing annual maintenance downtown. This is another free thing to do.
If you're tired of the typical San Antonio's tourist spots, a visit to the Witte will refresh you. It is an excellent introduction to the area's history, landscape, flora and fauna, along with a dinosaur exhibit. There are also plenty of places for the kids to explore and play. Plan on spending at least half a day here. Be sure to check out our other post about more family friendly museums in San Antonio
Need more ideas? Check out these other posts on San Antonio
Pinterest Pin for the Family Travel Guide to San Antonio