One of the best ways to fill up your warm summer days is by floating the many rivers around San Antonio Texas. The San Antonio area has some of the most beautiful places for a fun day of swimming. The Hill Country is full of hidden places to swim and cool off, including 10 unexpected watering holes within driving distance of San Antonio that would be great for a day trip. If you're looking for a natural places to swim in San Antonio, check out this list of the San Antonio Swimming Holes.
Pro Tip: During the summer season, floating down the river can get pretty crowded. Be sure to get there early to ensure parking and to make sure the park is still open. Some have capacity caps that are met early in the day. As long as you are confident, all are kid/baby friendly. Just take extra precautions if your children aren't great swimmers.
Check out these fun parks in San Antonio, best restaurants with outdoor playgrounds, and beautiful Texas state parks and top 5 ziplines in San Antonio.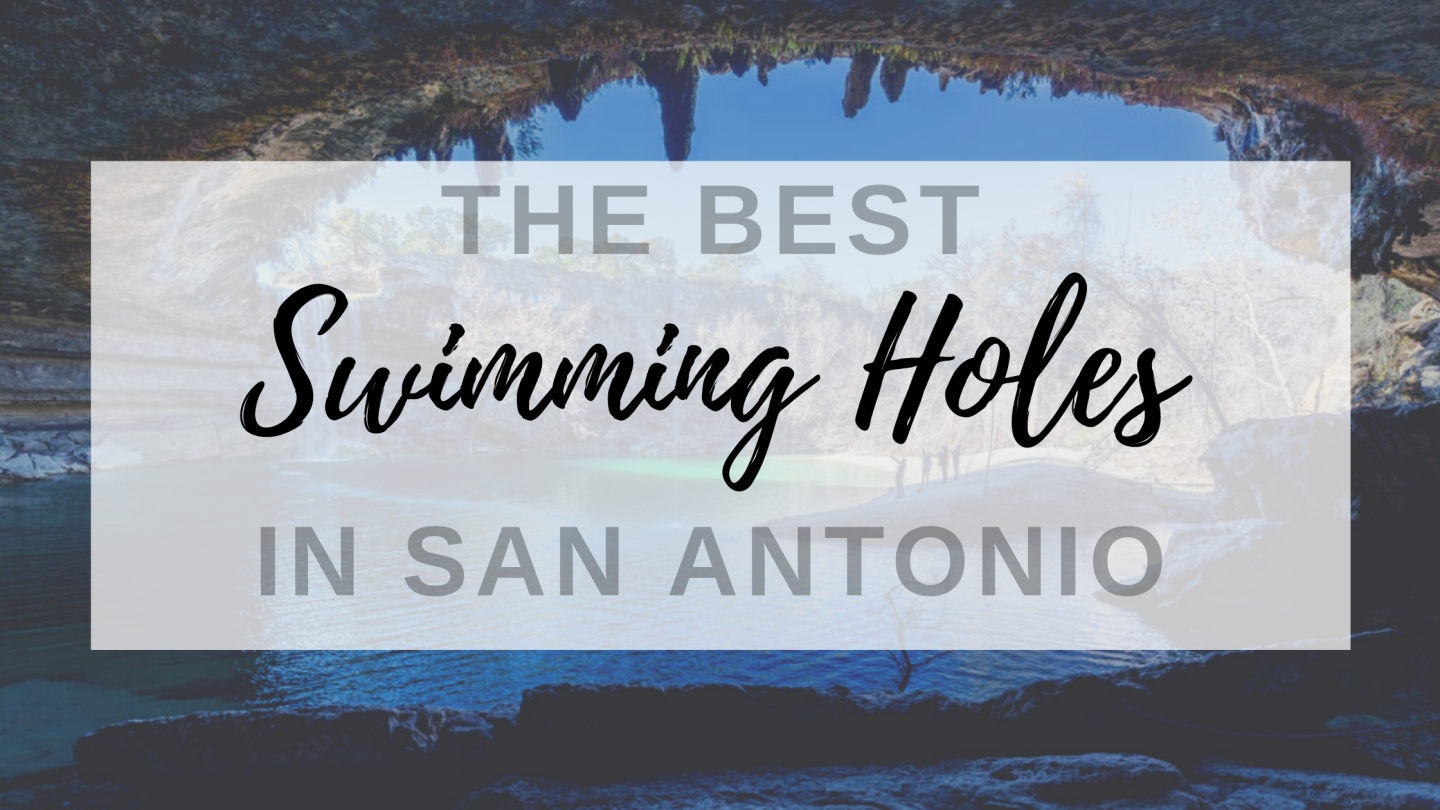 Best San Antonio Rivers and Swimming Holes
1. San Marcos River
This river is beautiful!! When floating this river you'll love all the beautiful surroundings. The tubing line is short, free, and fun. The tube shoot water fall at the end are the kids' favorite part. We always stay longer than we should, but it is so much fun. It can be absolutely free if you take your own tubes. When we've gone with friends, the dads usually run back to get the car while we wait and play in the river.
2. Frio River
The Frio is on the west side of San Antonio Texas. Both the upper and lower parts of the river have their pros and cons. We have only been to the section in the Garner State Park. This park can be crazy busy. So, get there early to avoid the crowd waiting to purchase tickets. The park has rope swings, huge boulders to jump off of, and is all around a fun time.
3. Medina River
This is another one of my favorites as it is the closest to us in Bandera, Texas. The rope swings are epic. It goes from one side of the river to the other. There are some baby rope swings for those brave enough to try them. This river also has a section that is shallow. My kids love the shallow part to look for fish, float down the river, and swim. They are more comfortable being able to see the bottom. This river is FREE if you go during the week. They do have an entrance fee on the weekends.
4. Guadeloupe River
The Guadeloupe is one of the most popular rivers. It is ever changing as the flow fluctuates with the release rate of water from Canyon dam turbines. On the weekends, it is considered a party river and brings in the crowds. It is a pretty fun river, but just be prepared for the crowds. We like to go during the week when it isn't as busy.
5. Cibolo River
So, this river isn't the best for floating, but they do have a section that is great for playing in the river, fishing, and taking pictures. My kids love playing in the water and catching baby fish and frogs.
San Antonio Swimming Holes and Lakes
These are just a few amazing places around San Antonio Texas. So grab your sunscreen, waterproof camera or case, vests for your kiddos, tubes, and head to any San Antonio swimming holes for a day of fun in the sun.
6. Hamilton Pool
Hamilton Pool is located about an hour and a half north of San Antonio. It is one of the coolest Texas swimming holes you will find with its 40 foot waterfall. It basically looks like a meteor hit the side of a hill and left behind a giant cave that filled with water. You are REQUIRED to make reservations in advance, which can be done here.
7. Landa Park
Your inner child will thank you for going to Landa Park in New Braunfels with its fun slides and zip lines. The park features three swimming areas, a spring fed pool, an Olympic sized pool, and an area for younger swimmers. This place is perfect for a fun family swim day.
8. Blue Hole
Save yourself from getting beaten by the Texas sun by jumping in these waters with plenty of shade from the trees. Blue Hole is close to Jacob's Well and is a city-owned park. The park has trails, picnic areas, volleyball courts, and more. This is another San Antonio swimming hole that you must make a reservation. You can make reservations here.
9. Westcave Waterfall
Westcave Waterfall is north of San Antonio. Explore their caves and relax underneath the natural waterfall. Your guide will take you along a 15 minute walk from the waiting area in an arid savanna through a limestone crevice down a 100 foot staircase into a sheltered canyon of lush plant life. After a 15 minute walk you will reach the head of the canyon where a stunning 40-foot waterfall stands replenishing the grotto pool below! Guests will have 30 minutes to absorb the beauty of the grotto area and relax. You must make a reservation. You can do that here.
10. Blanco State Park
This fun San Antonio swimming hole is located right down the street from downtown Blanco. The dam creates a series of waterfalls and is so fun to play in. There is also finishing and camping to make it a fun family weekend getaway. Just like other Texas State parks it is recommended you make a reservation to get in.
11. Paradise Canyon
Paradise Canyon is one of the closest San Antonio swimming hole you'll find. It is on the west side, just across the county line in Medina. Gaze into the clear, blue-green Medina River or jump in and swim. Be sure to bring a picnic to make a day of it. There is also camping here to make a fun weekend. You do need to make a reservation. You can do that here.
12. Jacobs Well
This San Antonio swimming hole is one of the best known and beautiful places to swim in the area. The water here is cool and clear. It does get busy. So make your way there early. The swimming hole is only open during summer months, and you need a reservation. You can make reservations here.
Be sure to check out all of our articles for fun things to do with your family in San Antonio Texas here.
Pinterest Pin for San Antonio Swimming Holes and Rivers