One of the best parts about living in and visiting San Antonio is the food. The San Antonio Riverwalk is one of the most visited tourist destinations and attracts millions of tourists each year. The Riverwalk is in the heart of the city and has some of the best restaurants in town.
While you're here make sure you grab a table by the water and eat a romantic meal as you watch the boats cruise by. We've compiled a list of 10 San Antonio Riverwalk restaurants you must try when you visit the Alamo City.
Restaurants on the San Antonio Riverwalk
Boudro's on the Riverwalk
Boudros Texas Bistro on the Riverwalk is a local favorite as it embraces all the flavor of our regional heritage with distinctive Texas and Southwestern specialties. They are known for their tableside guacamole which is hands down has the BEST guacamole you will ever have.
If you can, reserve a table right along the river for some of the best views around. For a main dish I would recommend one of their Wood Grilled Steaks or if you're a seafood person try the Herb Crested Red Fish.
Casa Rio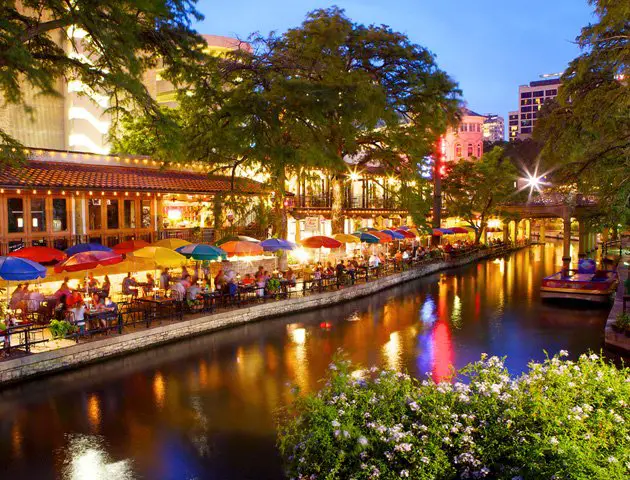 Opened in 1946, Casa Rio was one of the first restaurants on the San Antonio Riverwalk. It is best know for the colorful umbrellas and Tex-Mex food along with wonderful views of the Riverwalk.
Casa Rio includes the staples of San Antonio Mexican fare; a tamale, tacos, enchilada, chili, rice and beans. See their menu here.
Casa Rio is also one of the few restaurants that offer a lunch or dinner cruise where you can experience floating down the San Antonio river while enjoying your food and drinks. A friend did this for her birthday. It was a lot of fun.
Rio Rio Cantina
Let Rio Rio Cantina's Fresh Tex-Mex take you south of the border without ever leaving San Antonio. Enjoy fresh, flavorful Tex-Mex, always served with a side of Riverwalk fun!
This Mexican restaurant on the San Antonio Riverwalk offers amazing Tex-Mex food. You get a wide range of options here such as street tacos, quesadillas, salsa, fajitas, guacamole, and more.
It is owned by the same owners as Paesanos. So you know you will get quality food that will tickle your taste buds.
Ocho
Situated in the Hotel Havana, in a glass conservatory overlooking the River Walk, Ocho serves breakfast, lunch, dinner and late-night snacks indoors and on their breezeway. Ocho has created a menu rooted in the hotel's pan-Latin cultural influences from Mexico, Cuba and Texas.
Some delicious dishes to try include the red velvet waffle and chicken, the return of the mac, and the bun mi fried chicken burger.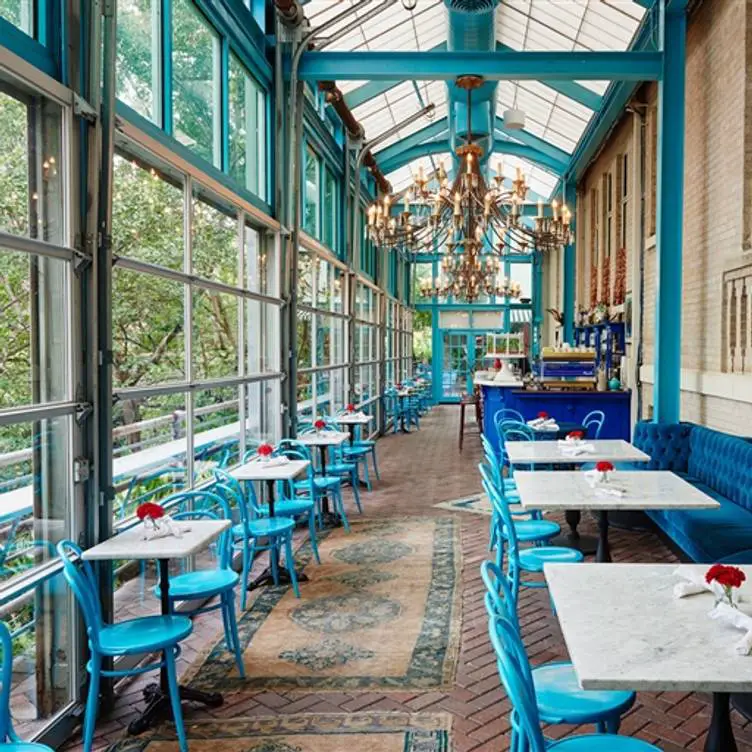 Acenar Mexican Restaurant
This restaurant on the San Antonio Riverwalk is an innovative contemporary Mexican Restaurant and bar. Acenar has multiple levels with balcony and outdoor seating to overlook the Riverwalk.
When you go here you need to try the short-rib tacos and the Alambres mini skewers to start.
Elsewhere Garden Bar & Kitchen
Elsewhere Garden was established in 2020 and is already a hidden gem on the San Antonio Riverwalk as it is a popular riverside beed garden with classic comfort food.
Here are Elsewhere Garden you can bring your pets to sit on the patio and enjoy outdoor games while you wait for you food. The menu is a small, but it is a great atmosphere and delicious food.
Restaurant Gwendolyn
This local favorite offers upscale American fare that is locally sourced and prepared using old-school methods. There is no use of modern equipment such as fryers, microwave, etc. This restaurant even prepares dished using their recipes from the 1850s or earlier.
Enjoy their outdoor patio with a view of the scenic San Antonio River and delicious food.
This restaurant offers a prix fixe, three course menu that is outstanding. If you're looking for a higher end dinner, be sure to check this place out!
Iron Cactus Mexican Restaurant
Established in 1996 on the historic Sixth Street in Austin Texas and on the San Antonio Riverwalk are iconic as Texas. This is a contemporary Mexican food restaurant called Iron Cactus Mexican Restaurant. It is also known for its Margarita bar and tequila cocktails.
I personally love this San Antonio Riverwalk restaurants brisket enchiladas with chocolate mole sauce.
Iron Cactus is perfect for date nights and for sitting under the holiday lights of the Riverwalk in winter.
Paesanos
If you're looking for something other than Mexican or Tex-Mex than you need to head over to Paesanos on the Riverwalk for some amazing Italian cuisine. They are known for being "locally famous and famously local". They strive to be creative and deliver fresh delicious food.
Honestly you can't go wrong with anything on their menu. Some of their best dishes include the shrimp paesanos, lobster bisque, stuffed shells, and Tortellini alla Visuvio.
Tre Trattoria
Tre Trattoria is another great Italian San Antonio Riverwalk restaurant. It is inspired by Tuscan hillsides and the region's family-style dining. This trendy Italian eatery has an outdoor patio overlooking the Riverwalk and is located closer to the San Antonio Museum of Art (SAMA).
Their menu features classic Italian dishes such as fresh antipasti collection to delicious pasta, pizzas and other family-style main courses.
Supper
Supper is an elevated farm-to-table American cuisine restaurant. It is matched with Hotel Emma's distinctive historical ambiance and modern allure. According to USA Today, Supper is their best representation of what good food is all about. This farm-to-table restaurant almost dares you to not like veggies…"
When you go enjoy the beautiful views of the river from their outdoor patio, and the simple feeling that you're somewhere special.
Yard House
If you're craving some all American type cuisine than you need to try Yard House. The Yard House at the Riverwalk offers over 100 beers on draft and prepares American-style cuisine. Their Pork Nachos and Nashville Hot Chicken are a must try.
Each Yard House has a distinct vibe with original artwork, a hand-picked playlist of 10,000 classic songs, and glass-enclosed keg room housing up to 3,000 gallons of fresh, quality beer. This one is located by the Shops at Rivercenter.
We hope you've enjoyed this list of must try San Antonio Riverwalk restaurants. The city has so many amazing adventures to be had. If you need more ideas on what to do in San Antonio, be sure to check our our locals guide to San Antonio.