Nicknamed the "Little Alsace of Texas", the small town of Castroville Texas is best known for its Alsatian architecture and culture. The city houses a Home of the 17th century imported from France built there. There are a number of fun things to do in Castroville. Here are best things to do in Castroville TX in less than 2 hours.
Things to do in Castroville Texas
Grab some pastries in a European bakery
Positively dripping with curb appeal, Haby's Alsatian Bakery is located just across the street from the Steinbach Haus. Haby's Bakery is essentially a Castroville tradition. Arrive early and enjoy all the most delicious baked goodies.
Seek out more Alsatian architecture
Castroville was like visiting history at times. Grab a map from the visitor's center and stroll along the historic walking tour. There are still man of these historic buildings standing around. Some historic buildings used to be stores where it is possible to shop; some have been turned into restaurants; while others have become residences.
Castroville Regional Park
Located on the Medina River, Castroville Regional Park is absolutely beautiful, and the perfect place to walk, swim, play, and enjoy views of the river lined with bald cypress trees.
You can walk along the trails to the high point of Cross Hill and enjoy panoramic views of the countryside. Explore the "Jardin des Racines" or "Garden of Roots" with shrub trees especially gifted by Alsace people.
You can also take a swim and cool off in the summer. It has many options on where you can swim. The Medina River winds itself into the fringes of the park creating a picturesque setting.  
Admire Steinbach Haus
Steinbach Haus was first brought to Castroville as a gift by the inhabitants of Alsace to Castroville in 1998. Built between 1618 and 1648 in Wahlbach France this is one of the more unusual structures in Texas.
Without a doubt, this is one of the most unique buildings in Texas and one of the best places to visit in Castroville! Be sure to go during the day to tour the house and the museum upstairs. They love having a visitor or two.
Have lunch at Castroville Cafe
Castroville Café is a small little place with sandwiches and burgers. Ranked #1 out of 23 restaurants in Castroville from Trip Advisor, this cafe has several options such as vegetarian friendly, vegan options, and gluten free. It has excellent food and is open throughout the week. Be sure to check their website for more menu options and hours as they might change.
Visit Castroville Poppy House
Castroville Poppy House is home to Castroville's oldest, free-standing one-bedroom log cabin. The property is best known for its gorgeous Poppies that bloom every spring in the yard. Throughout the holiday season you will have to view the house from the street.
Here's the catch: the property is only open to tours when the poppies are in bloom! During the rest of the year, you'll have to admire the cabin from the street. It is just down the street from the Landmark Inn.
Magnolia Filling Station
The Magnolia Filling Station has re-purposed this building to serve up coffee and drinks. It is a great stop to make after walking the Historic Walking Tour and admiring all of the Alsatian architecture.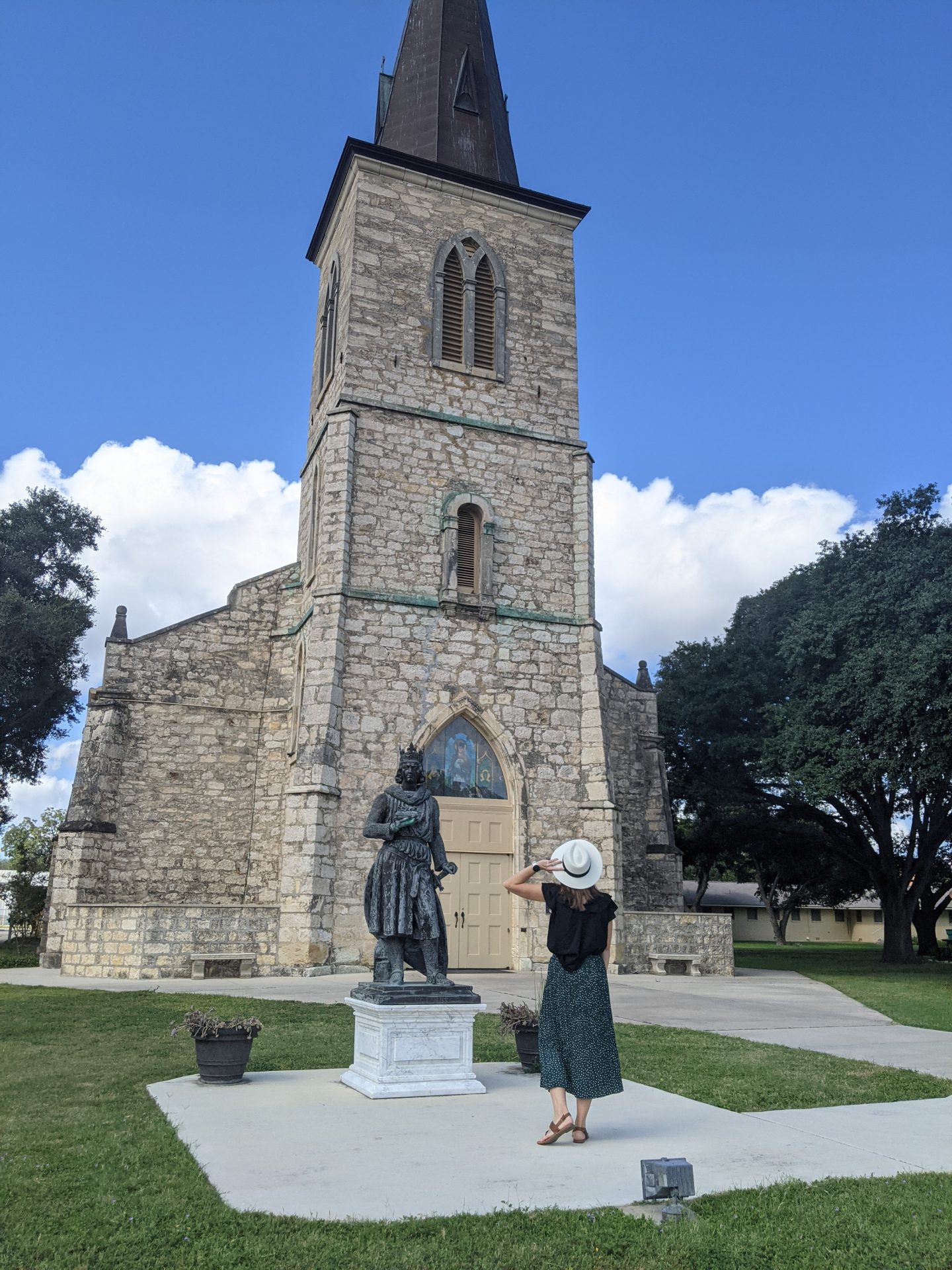 This beautiful limestone church stands proudly along the edge of Houston Square and features stunning stained-glass windows and a park right next door. Though the parish has been located in Castroville since 1844, the current building was built between 1868 and 1870.
Building within the pattern of historic European churches the architecture and the atmosphere of the St Louis Catholic church is beautiful. If you're in town in August make time to visit mega festival held by church every year. The church held its annual big festival in August with the church holding a gigantic outdoor festival every season during the summer.
Stroll through Houston Square
This enormous open-air square is in downtown Castroville's historic district. Events takes place throughout the year. Even when there isn't a festival, it is still worth visiting this open square.
Go Shopping
There are some pretty boutique shops located in Castroville. We enjoyed doing some shopping and seeing all these unique items.
Granny M & Friends: If you're looking to support local artisans, this shop houses about 50 local artists and crafters full of fun goods of all kinds.
Castroville Emporium: There are so many fun finds in this vintage shop.
Rhonda J's Shoppe: Just be warned: I wanted just about everything in this shop! They had so many cute items and tops. Plus they had a dog to greet the guests.
Southern Creek Boutique: Another cute boutique filled with fun items.
Landmark Inn State Historic Site
Landmark Inn tells the story of migration, industry, and preservation in Texas on the banks of the Medina River. It serves as both a state historic site and a bed & breakfast with eight overnight rooms. It is a charming place to stay the night which is why it made it to our list of things to do in Castroville Tx.
Where is Castroville, TX?
Castroville, Texas is located just west of San Antonio, on the southern edge of the Texas Hill Country. It's about 30 minutes (28 miles) from downtown San Antonio, about 1 hour, 30 minutes (85 miles) south of Fredericksburg, and about 2 hours (105 miles) southwest of Austin.
In 1844 Castroville was founded and welcomed immigrants from Alsatian region of France. The town and buildings were built like Europa and much of them still remain. Castroville is a perfect location for a lovely weekend stay or you can easily combine the best things to do in Castroville TX with a weekend in San Antonio, Boerne, or Bandera.